'Emmys 2021': Sterling K. Brown Is Nominated For More Than Just 'This Is Us'
Sterling K. Brown is no stranger to the Emmys. The multiple-nominated actor is most known for playing Randall Pearson — one of the three adult children on NBC's This Is Us. As the series prepares to enter its sixth and final season, Brown snagged his fifth consecutive Emmy nomination — but it's not the only project of his the Academy nominated.
Sterling K. Brown won Emmys in the past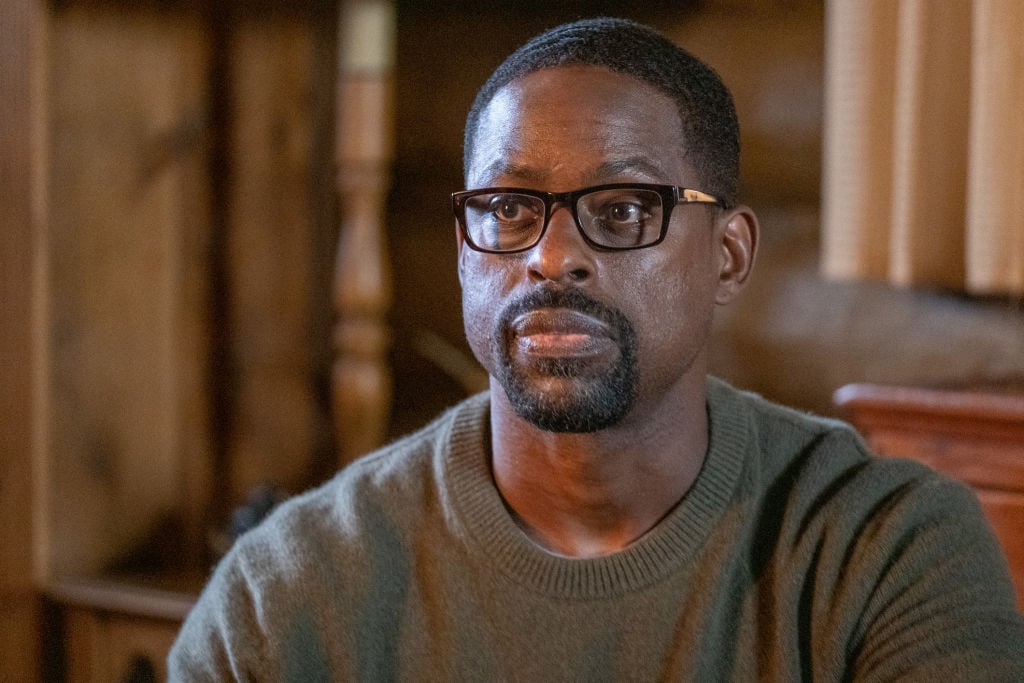 Playing Randall Pearson has brought Brown more attention than any project before. The Dan Fogelman-created drama is a regular tear-jerker that knows how to pull at the heartstrings. The sixth and final season is slated for an early 2022 premiere, leaving Brown free to explore other opportunities.
For five consecutive years, Brown earned an Emmy nomination for Best Drama Actor. He walked away with the win in 2017. This Is Us didn't make the list for Best Drama Series for last year's virtual Emmys, so 2021 is a sort of redemption.
"Dan Fogelman was a little sad by not being there last year," Brown said via Gold Derby. "It's always more fun to celebrate when you get a chance to celebrate the collective rather than just the individual success. The only sad part about this year is that it's limited regarding who can show up due to COVID, but I love this show. For the past five years, this journey, this character with these people, has been a dream come true."
Season 5 storylines included real-life events such as the coronavirus pandemic (COVID-19), race issues, and the Black Lives Matter movement.
"Difficult conversations can take place without people being antagonistic," Brown said. "They had to articulate what was going on. That doesn't mean I hate you. That doesn't mean I don't love you. It just means I kind of need to take care of myself in this particular moment."
'This Is Us' isn't the only Emmy nomination Brown received
While This Is Us deserves all the wins, Brown also received recognition for another project: CNN's Lincoln: Divided We Stand, which Brown narrates. The Outstanding Narrator win put his nominations for the year to nine total.
"They sent me the pitch deck, and it was really interesting," he said via Gold Derby. "There's a big discourse going on in the world in terms of history, who gets to tell history and how who tells the history shapes the way we experience the world. When something hits you on an intellectual level, and you get a chance to be the voice of something that has historically only been for white voices to tell, to have someone who is African-American tell that was an interesting take."
"It never gets old," Brown said. "I'm like a kid in a candy store."
'This Is Us' faces tough competition this year
Even though it's not Brown's first rodeo, this year's Emmy competition is fierce, making another win a little more complicated. For Oustanding Drama Series, This Is Us faces off against The Boys (Amazon), Bridgerton (Netflix), The Crown (Netflix), The Handmaid's Tale (Hulu), Lovecraft Country (HBO), The Mandalorian (Disney+), and Pose (FX). The likely winner in this category will likely go to The Crown for their Princess Diana storyline.
In Brown's category (Outstanding Lead Actor in a Drama), there's Jonathan Majors, Lovecraft Country (HBO), Josh, O'Connor, The Crown (Netflix), Regé-Jean Page, Bridgerton (Netflix), Billy Porter, Pose (FX), and Matthew Rhys, Perry Mason (HBO) to contend. Billy Porter or Josh O'Connor will probably win this one.
If Brown doesn't win for This Is Us, he at least took the Outstanding Narrator award. Plus, there's always next year.
The 73rd Primetime Emmy Awards airs Sun., Sept. 19, at 8:00 p.m. ET on CBS.