'Empire' Fans Are Wondering Why Hakeem Lyon Seemingly Disappeared From the Show
In the first few seasons, the youngest and seemingly spoiled son, Hakeem Lyon, was featured prominently in Empire. However, Hakeem has all but disappeared from Season 6 as he's only appeared in a few scenes so far. Fans have noticed his absence and expressed their confusion on social media.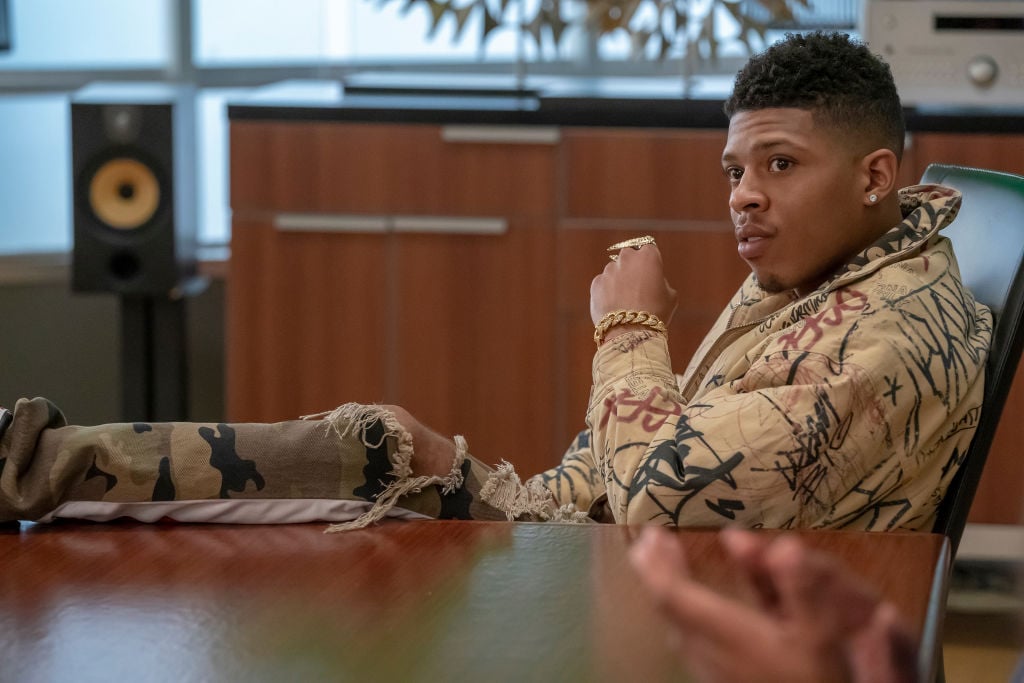 Hakeem Lyon on 'Empire'
Rapper and actor Bryshere Gray portrays the youngest and once-prized son on musical drama series, Empire. Out of him and his two older brothers, he possessed the talent to become a superstar like his father but notably lacked discipline.
Throughout the first few seasons, Hakeem was a successful rapper at his father's record company before he started seriously dating labelmate, Tiana (Serayah). She helped him raise Bella, the daughter he had with his father's ex-wife, Anika (Grace Byers).
In Season 4, after the couple had broken up and reunited a few times, Tiana revealed she was pregnant with Hakeem's child. The youngest Lyon was prepared to raise the baby with her until rapper Blake's dad shot Hakeem.
In the following season, Hakeem and Tiana discovered she was pregnant with twins but lost one of the babies, only giving birth to a son, Prince. After the shooting and the miscarriage, Hakeem began acting out and playing with guns, worrying Tiana, and she ended the relationship for good.
Hakeem Lyon hasn't been visible in 'Empire' Season 6
So far in Season 6, the storyline has revolved around Cookie and Lucious finally getting a divorce and continuing in music separately. Additionally, the oldest son, Andre, is now the CEO of Empire, creating animosity between him and his father, who believes the eldest stole the company from him.
After Lucious' first baby mother, Tracy, attempted to kill the estranged couple, Cookie picked up a gun, killing her, causing her to suffer from flashbacks when she murdered the abusive father of her sister's kids.
Finally, Andre, who has bipolar disorder, has to deal with Tracy's deceased son, Kingsley, his older half-brother, who messes with his head because he wants revenge for his late mother.
So far, Hakeem has only starred in a few episodes this season when he appeared for the launch of the Empire biopic and hooked up with his ex-girlfriend.
His screentime in Season 6 has been noticeably reduced, and fans are beginning to wonder why.
Fans are wondering why Hakeem Lyon hasn't had any Season 6 storylines
During the latest episode of Empire, many fans expressed their confusion about Hakeem's absence on Twitter. One viewer pointed out that "we've only seen Hakeem one time" this season, and several more asked about his whereabouts.
Another fan tweeted they "haven't watched" the show "in so long" only "to find out Hakeem isn't on it anymore." Someone else noted they "hope" to "see my boo Hakeem next week."
While theories are circulating that he isn't shown much because he turns out to be Lucious' shooter at the end of the series in a twist similar to Power, no one has confirmed why the youngest Lyon has seemingly disappeared from the show.
Will Hakeem have a more prominent role later in the season? Watch Empire Tuesdays at 9 p.m. EST on Fox to find out.