'Entourage': Where Is the Cast Now?
It's been a few years since HBO's spin on the Hollywood life, Entourage, last aired. The show ran for eight seasons, concluding with a feature-length film in 2015. That said, where is the cast now and have they garnered roles as high-profile since?
Mark Wahlberg is literally everywhere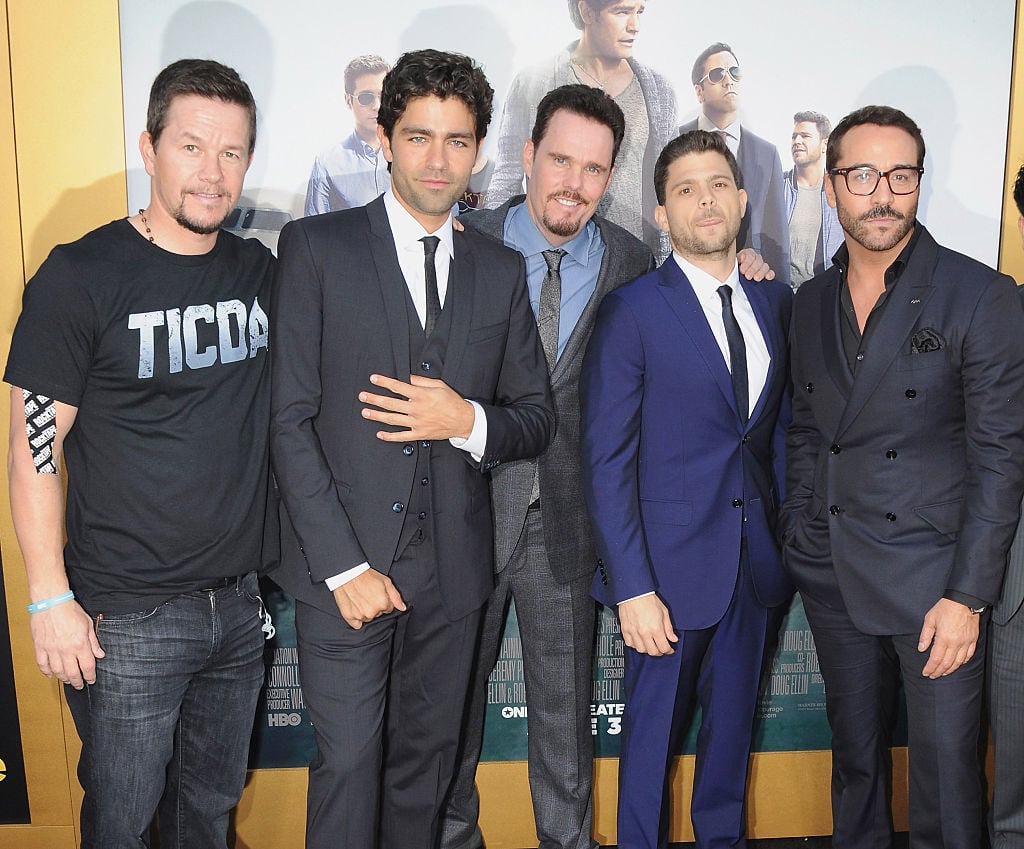 The actor and producer who created Entourage is no stranger to success. Anyone who has a beating pulse knows the Wahlburg name. Entourage's leading man, Vincent Chase (Adrien Grenier), is loosely based on Wahlberg's Hollywood exploits.
Between Shooter, Ballers, and Entourage, Wahlburg has solidified himself into executive producer status. In the movie arena, he starred in Daddy's Home and its sequel recently, Mile 22. He has a few projects on the way such as The Six Billion Dollar Man and The Roman.
As of late, Wahlburg's focus has been on fitness and family. His Instagram page is all about the F45 Training program which is team training that is, "Innovative, high-intensity group workouts that are fast, fun & results-driven."
Wahlberg is also an owner/partner in Performance Inspired nutrition, Mark Wahlberg Chevrolet (yes, really), and Wahlburgers, a family-owned franchise of burger restaurants.
Adrien Grenier is a man of many talents
Grenier is the face of Entourage, playing Vincent Chase. These days, his roles are more like Vinny's earlier acting gigs. Grenier's name hasn't garnered a lot of big projects over the last few years, but that doesn't mean he isn't working.
The actor and activist felt the post-Entourage life had him typecast, which made those big roles a little harder to obtain.
"It's funny because what people don't know is I too wish that I was Vince," Grenier said in a previous interview. "I'm not, I play the character. At the end of the day, I go home and I'm me. I share that fantasy as well — have a lifestyle with no consequences? Sounds great!"
In the space between TV and movie projects, Grenier plays in two New York-based rock bands, Kid Friendly, and the Honey Brothers. He loves music so much, he created his own recording studio, Wreckroom Records, which is free for bands to use. They'll even make your band a music video for free.
Grenier's passion for environmentalism has led to the show, Alter Eco, for Discovery Channel's sister station Planet Green. He also worked on the app, EcoHero, which is a barcode scanning tool to help consumers see the environmental impact of a product before purchasing.
As for the Hollywood life, Grenier has a few projects on his slate. Deadline just announced Grenier's part in the upcoming Netflix series, Clickbait.
The show will, "explore the ways in which our most dangerous and uncontrolled impulses are fueled in the age of social media and reveal the ever-widening fractures we find between our virtual and real-life personas."
Per Grenier's IMDb page, we also spotted a Hallmark original Christmas movie, Christmas at Graceland: Home For the Holidays, among a few other things coming up, for the star.
Kevin Connolly wears a different hat these days
Connolly's credits span all the way back to 1990 with few gaps in between. As Vinny's right-hand-man in Entourage, Connolly played the (mostly) level-headed, Eric Murphy (or just "E"), for all eight seasons.
Since the series ended, he landed the role of Charlie Graham on the 2016 series, Pitch, and he's now on The Oath. However, Connolly's worn his directing hat more than the acting fedora. He even directed episodes of Entourage.
His other credits include directing John Travolta in Gotti, producing a handful of projects, and appearing as himself in numerous other spaces. And, based on Connolly's Instagram page, he still hangs out with former Entourage castmates.
Jerry Ferrara's latest character has fans talking
Ferrara's "Turtle" on the show is one of the more memorable, if only for the name. The real person Turtle was loosely based on, Donnie "Donkey" Carroll was "Wahlberg's childhood friend and occasional assistant," according to Rolling Stone.
However, Carroll (who tried to make it as a rapper, Murda One) died from an asthma attack in 2005.
Ferrara, who's now a husband and father, recently appeared on ABC's A Million Little Things opposite his former Think Like a Man co-star, Romany Malco.
But, fans are still buzzing about Ferrara's shady lawyer character, Joe Proctor, on the Starz drama, Power, because — spoiler — he died.
There's only one more project listed on Ferrara's IMDb page to look forward to, but we're sure he'll pop up somewhere soon.
Kevin Dillon stays busy
Johnny Drama, played by Dillon, is based on the "unrelated Wahlberg "cousin" and musician-actor Johnny 'Drama' Alves." Dillon just finalized a divorce that had been going on sine 2016, as TMZ reported.
Aside from events and conventions, Dillon hasn't landed many roles in the time since Entourage ended. His credits go back to 1983, so it's probably cool if he takes a break. Plus, just like Connolly, Dillon's Instagram page shows him catching up with former castmates, too.
Dillon is the younger brother of actor, Matt Dillon. Their dad, Paul, previously told People, there's never been any sibling rivalry.
"We have six kids, five sons, and a daughter, and they're all wonderful, all very successful," he said. "Kevin has always worked, but he hasn't had this much fame."
He added, "They're great brothers, very close."
As for what's next for Dillon, it's anyone's guess. For now, it looks like he's having the time of his life.
Jeremy Piven is navigating controversy
Piven, who played Vinny's fast-talking, womanizing agent, Ari Gold. HE's said to be loosely based on William Morris Endeavor co-CEO, Ari Emanual, who reps Oprah, Martin Scorsese, and Larry David.
Piven's name took a hit amid the #MeToo movement, in which he told USA Today, he became "collateral damage." Piven faced multiple sexual misconduct allegations, which he denied.
The controversy caused CBS to take Piven's series, Wisdom of the Crown off the air in 2017. Though there are four other upcoming projects listed on Piven's IMDb page, he spends most of his time on the road performing stand-up comedy.