Episode Recap: 'Never Have I Ever' Returns for Season 2
The second season of 'Never Have I Ever' premiered on Netflix on July 15. In the first episode, Devi grapples with her feelings for both Ben and Paxton while her mom Nalini continues with her plan to move the family to India. This article recaps season 2 episode 1 of 'Never Have I Ever.'
On July 15, season 2 of Never Have I Ever premiered on Netflix. The new season features 10 episodes and stars Maitreyi Ramakrishnan as Devi Vishwakumar, Darren Barnet as Paxton Hall-Yoshida, Jaren Lewison as Ben Gross, Poorna Jagannathan as Dr. Nalini Vishwakumar, and Richa Moorjani as Kamala Nandiwada. This article recaps season 2 episode 1 of Never Have I Ever, "… been a playa."
[Spoiler Alert: This article contains spoilers for season 2 episode 1 of Never Have I Ever.]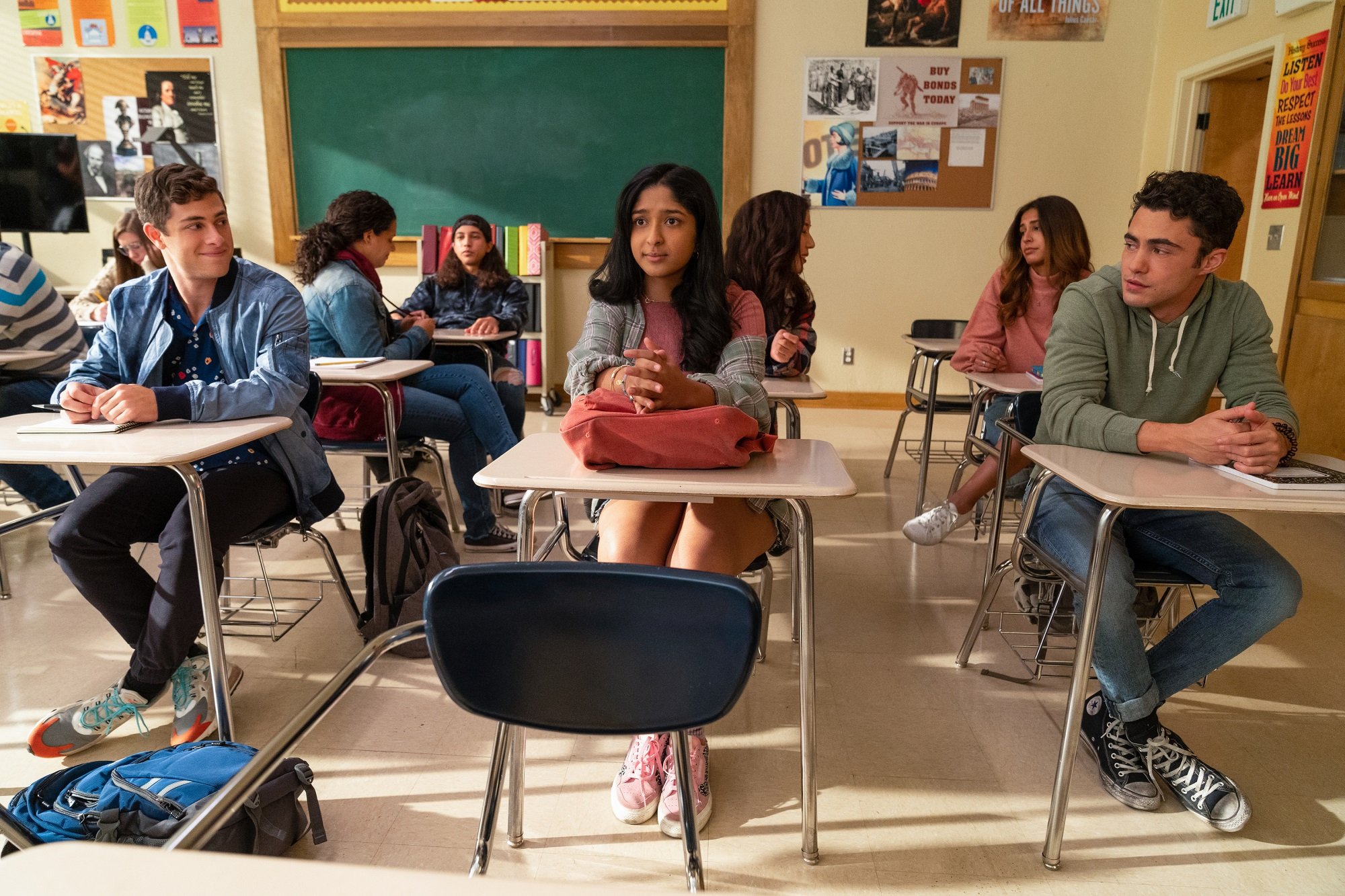 Ben and Paxton both show interest in Devi in 'Never Have I Ever'
The episode begins where the first season of Never Have I Ever left off. Ben and Devi kiss after Ben drove Devi to meet her family in Malibu to spread her father's ashes. Nalini opens the passenger car door in anger and insists that Devi leave with her.
"Are you kissing?" She asks. "Your father's ashes have barely begun to drift out to sea. Get out of this car!"
As they drive home, Nalini chastises Devi for her choices.
"I mean, what disgraceful behavior, Devi! What are you gonna do at my funeral? Just have sex on top of my grave? I pray it's a closed casket," Nalini tells her daughter.
Devi apologizes, and when she checks her voicemail, she realizes Paxton called her asking to hang out. When she arrives home, Paxton is still at her house waiting for her. He apologizes for how he treated Devi after their kiss in season 1 of Never Have I Ever and asks her to have dinner with him the next day.
Devi's mom still wants to move to India
Later that night, Devi thinks about Paxton's voicemail and finds a voicemail from her late father Mohan (Sendhil Ramamurthy). The next morning, Nalini continues with her plan of moving the family to India to be closer to family.
While Devi originally was not enthusiastic about the idea, she wants to support her mom and agrees to the move. Nalini meets with another dermatologist Dr. Chris Jackson (Common) to try and sell him her client list.
Elsewhere, Devi's cousin Kamala starts her lab rotation for her Ph.D. program at the California Institute of Technology. She is excited that the rotation is led by Dr. Peters, a renowned scientist in her field. To her dismay, Evan (P. J. Byrne), the head research assistant, does not let her meet Dr. Peters and insists that she needs to spend her time cleaning beakers.
Devi decides to date both Ben and Paxton in 'Never Have I Ever'
Devi tells her best friends Fabiola (Lee Rodriguez) and Eleanor (Ramona Young) her dilemma with Paxton and Ben. The three of them make a pros and cons list, but before Devi can even finish the list, Fabiola and Eleanor convince Devi to pick Paxton.
Devi attempts to break up with Ben but is unsuccessful. That night, she goes to dinner at Paxton's only to find out dinner means playing video games with him and his friends. The disastrous night convinces Devi to pick Ben, but when she tries to break up with Paxton it does not work.
She tells him she is moving to India in a month, but Paxton only responds, "Well I guess we'll have to make this time count," and kisses her.
Because of her impending move, Devi decides to date both Ben and Paxton for the next month with the plan that if they find out, she is moving and will not have to face the consequences of her actions.