'ER': Laura Innes Is 1 of 2 Cast Members That Were on the Show the Longest
In the far-away days before streaming TV shows, there was Must See TV on Thursday nights on NBC.
Yes, children, everyone you-or your parents-know stayed home and watched the same thing on TV for three hours straight.  Come to think of it, Thursday nights were the original binge times — who knew it was pandemic prep back in 1995?
If you missed Must See TV, these were the classics — Seinfeld, Cheers, and Friends — comedies capped by the hospital drama ER at 10 p.m. 
'ER' sat on the shelf for 20 years
Medical doctor/writer Michael Crichton wrote the screenplay for ER in 1974, but it didn't get produced until 1994. The one change the producers made was in changing the all-white male docs in the original script to reflect reality a bit better. Dr. Lewis became a woman and Dr. Benton morphed into a black man. 
In fact, ER was originally planned to be a Steven Spielberg-directed movie, but producers declined to make the movie, saying it was too technical and fast-paced. Their loss. 
The ensemble cast was headlined by Anthony Edwards
RELATED: Tom Cruise Tells Fans That 'No One's Ever Done' What They Pull Off In 'Maverick
Back in 1994, the cast of ER was an ensemble of relatively equally-known actors. Perhaps the best known was Anthony Edwards — Goose in 1986's Top Gun.
George Clooney wasn't a heartthrob — yet — and Julianna Margulies career was just beginning. Just like real life, the cast changed as actors left the show or their characters were written out.
Anthony Edwards, who was considered the "star" in the cast, decided to leave the show but the writers took two seasons for the brain tumor to finally end his role. 
Laura Innes' Dr. Weaver was in 'ER' for 13 out of 15 seasons
Kerry Weaver came to Chicago's fictional County General in Season 2 of the show. She walked with a limp, but that was never addressed until Season 14. Dr Weaver had congenital hip dysplasia, and Innes later said that walking with a limp all those years actually did damage her spine.
Innes wondered what caused her limp when she auditioned for the role, but ER's executive producer, John Wells, told her they hadn't really decided yet. Innes herself chose to use the arm cuff crutch rather than a cane.
According to Ability Magazine, she came to the conclusion that as an ER physician, her hands needed to be clean and functional all the time. The cuff freed her hand in ways a cane could not. 
Laura Innes and Noah Wyle were in the cast longer than anyone else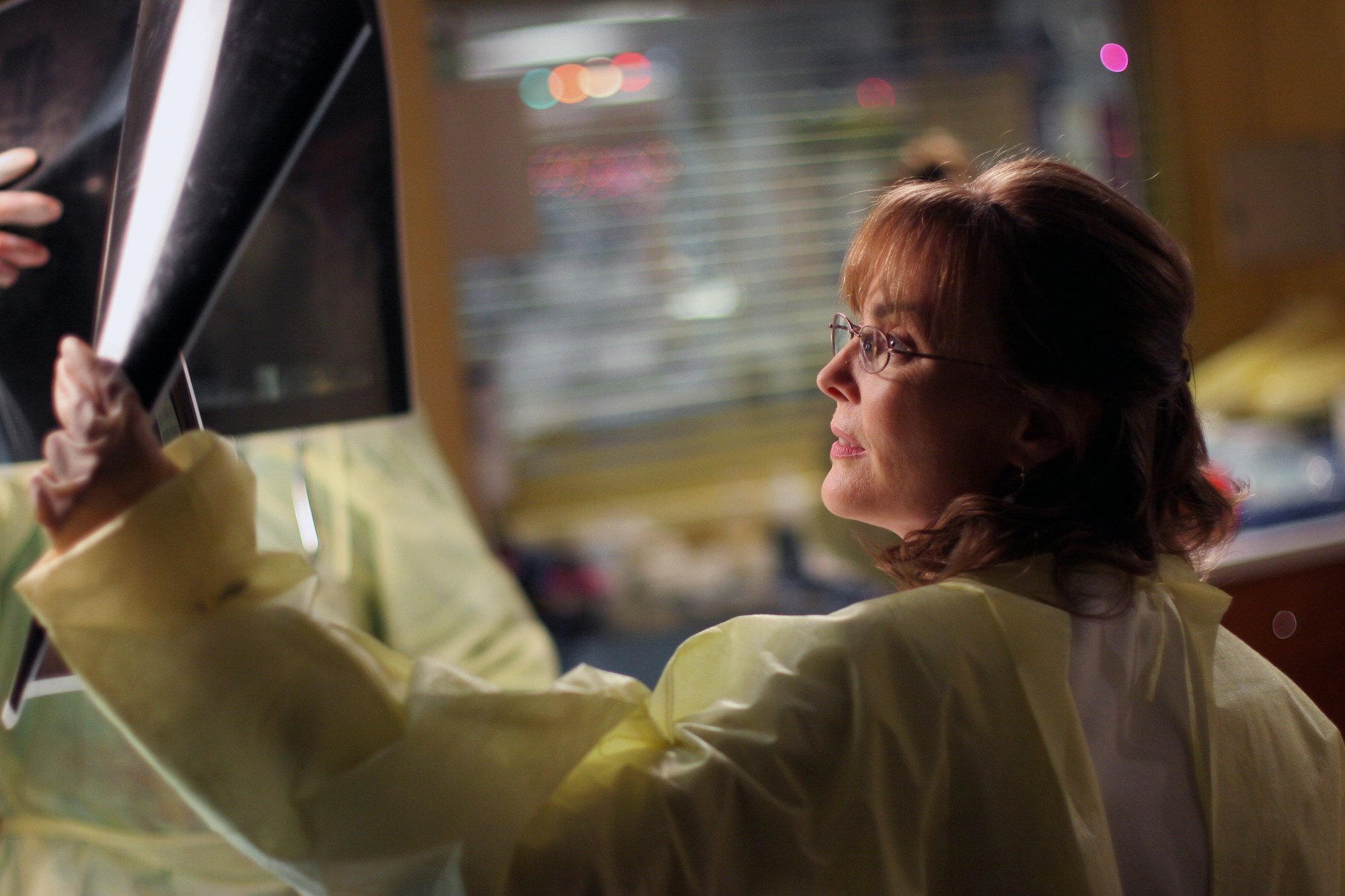 Noah Wyle's character, Dr. John Carter, first appeared on ER in Season 1 and stayed through the Season 11 finale. He returned for a few episodes in Seasons 12 and 15. Wyle took a break from acting while his kids were younger, but he's back in the reboot of Leverage. He's playing the lead role of Harry, taking over for Timothy Hutton.
Leverage will air on IMDb TV, but it hasn't yet been announced when. Shooting has started in New Orleans, but with the pandemic still a factor, safety protocols have slowed production. 
Dr. Weaver really wanted to direct
Innes is a graduate of the theater program at Northwestern, and like most actors, really wanted to direct. She did direct 12 episodes of ER during her years on the show, and went on to direct episodes of The West Wing, Brothers and Sisters, and Studio 60 on the Sunset Strip. She won an Emmy nomination for her West Wing work. 
These days, Innes is still directing and acting. Her most recent role was Governor Lynn Birkhead in How to Get Away With Murder, and she also has directed several episodes.
Her experience playing Kerry Weaver has staying power–Innes is very active in supporting the disabled, and seeks disabled actors for roles when she is directing. 
You can Innes as Kerry Weaver, and the rest of the ER team, streaming on Hulu.