'ER': The 'Friends' Easter Eggs Most Fans Probably Missed
In 1994, ER brought the critical issues faced by doctors and nurses of the fictional emergency room of County General Hospital to the small screen. The primetime NBC television series ER, created by Michael Crichton, aired for 15 seasons, receiving 124 Emmy nominations and winning 22 Emmy Awards.
During that same time, America was captivated with the hit NBC television sitcom Friends. Six beloved twenty-somethings shared an intense friendship living in a New York City apartment building. In 2004, more than 52.5 million viewers tuned in for the final episode. The iconic show has become a part of popular culture and is known as one of the greatest sitcoms of all time.
In the nineties, when television crossovers frequently occurred, these two shows collided. There are hidden Easter eggs in ER, guest star appearances from our favorite doctors on Friends, and even a cameo walk-on role on the Chicago-based drama from one of our New York pals.
The semi-crossover with 'ER' and 'Friends'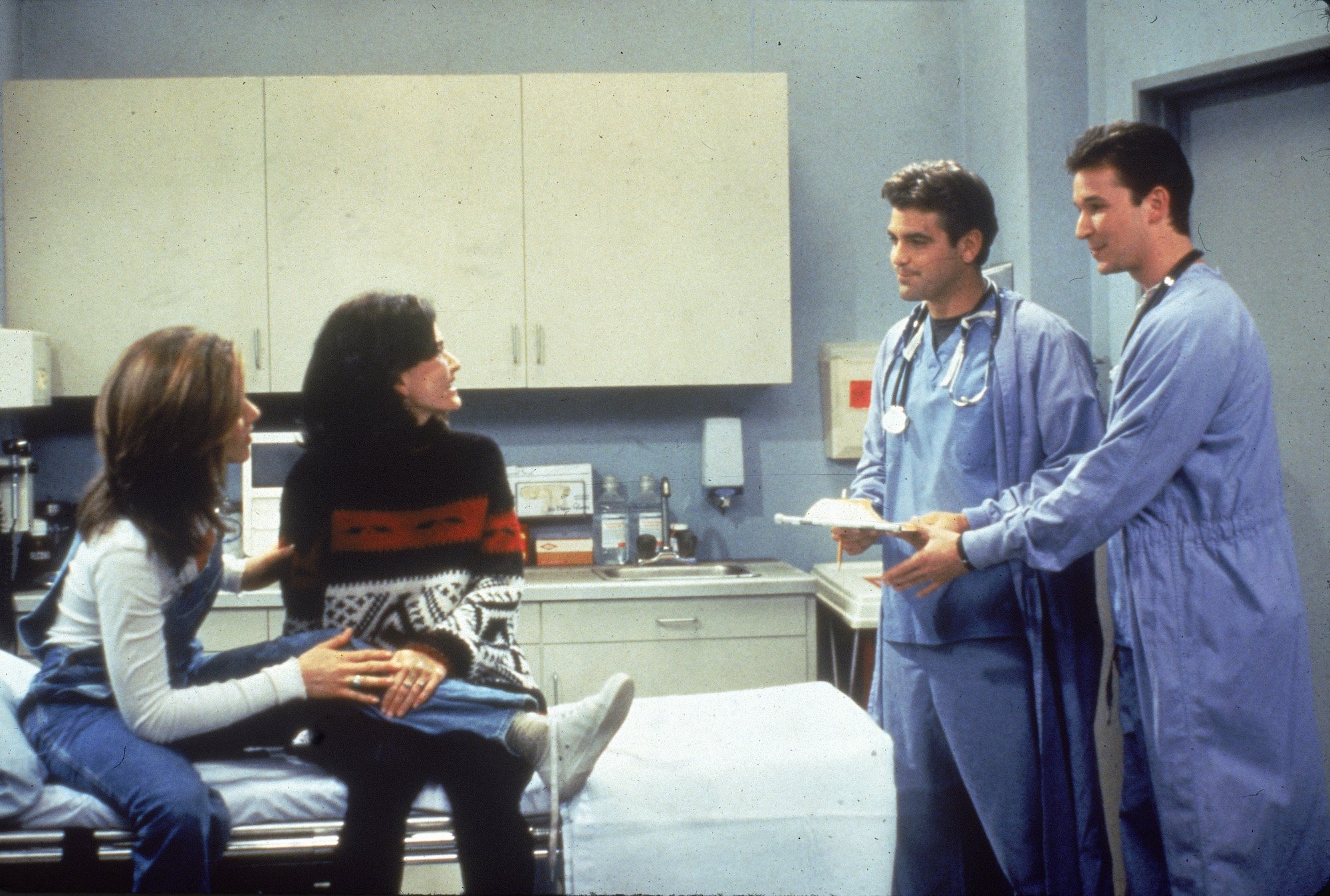 Crossovers were, and still are, a huge success. When two storylines intertwine, and characters appear in other popular shows, fans go wild.
In 1995, Friends and ER had a semi-crossover that, if you watch now, still leaves a smile on your face. George Clooney starred as Dr. Doug Ross on the popular medical series.
Noah Wyle also played a handsome doctor on ER, starring as Dr. John Carter. Both of them made a guest star appearance together on Friends season one, episode 17 "The One With Two Parts: Part 2."
Unlike most crossovers of its time, the doctors did not play their actual characters on Friends but instead took on the role of doctors Mitchell and Rosen. 
The two men took an interest in Rachel and Monica when they appeared in their emergency room. The girls switched names after Rachel hurt her ankle and pretended to be Monica to use her insurance.
They try to continue the charade when the handsome doctors come to their apartment for a date. Hilarity ensues as Rachel and Monica throw one insult after the other as they pretend to be who they aren't.
So, why doctors Ross and Carter never actually show up on an episode of Friends, Clooney and Wyle do, and the result is incredible.
'Friends' Easter eggs that appear on 'ER'
Before the days of streaming and on-demand television, network sitcoms fiercely battled it out for the top ratings. NBC's incredibly successful Thursday night lineup included both Friends and ER.
There are several indirect Easter eggs buried throughout these shows. Dr. Greene, played by Anthony Edwards, ran the emergency room on ER. He had a daughter named Rachel. Sound familiar? It is only one letter removed from the iconic Rachel Green on Friends.
David Schwimmer, who plays the role of Ross Geller on Friends, appeared in the premiere episode of season three of ER, according to Elle. It was a small cameo appearance, and his face is never actually seen. Although not highly publicized, it still happened.
Another famous doctor appeared on an early episode of 'Friends'
In Season 4 of Friends, Ross plans to marry Emily on episode 23, "The One With Ross's Wedding: Part 1." On a flight to London to attend the wedding, Rachel is seated on a plane next to a stranger.
She nervously explains to him about her intentions of getting back together with Ross. The man tells her it is a terrible idea and that "no good can come of this."
As many people will recall, Ross and Rachel broke up after she discovered he slept with another woman while they were "on a break." This catchphrase became a long-running debate on the show and is still discussed today.
Back on the plane, as Rachel incessantly rambles on to the man next to her, he says, "It seems to be perfectly clear that you were on a break."
That man was none other than Hugh Laurie, who played Dr. Gregory House on the Fox hit television medical drama series, House.
[Correction: An earlier version used an incorrect name for Dr. John Carter.]