Eric Church Became a 'Fan' of Jazmine Sullivan After Not Knowing Who She Was Before the Super Bowl- 'She May Be the Best Singer'
Music artists Eric Church and Jazmine Sullivan were the performers for Super Bowl 55 on Sunday, Feb. 7, 2021. Both singers joined forces to sing the Star-Spangled Banner before the big game. Here's what the pair felt about their collaboration.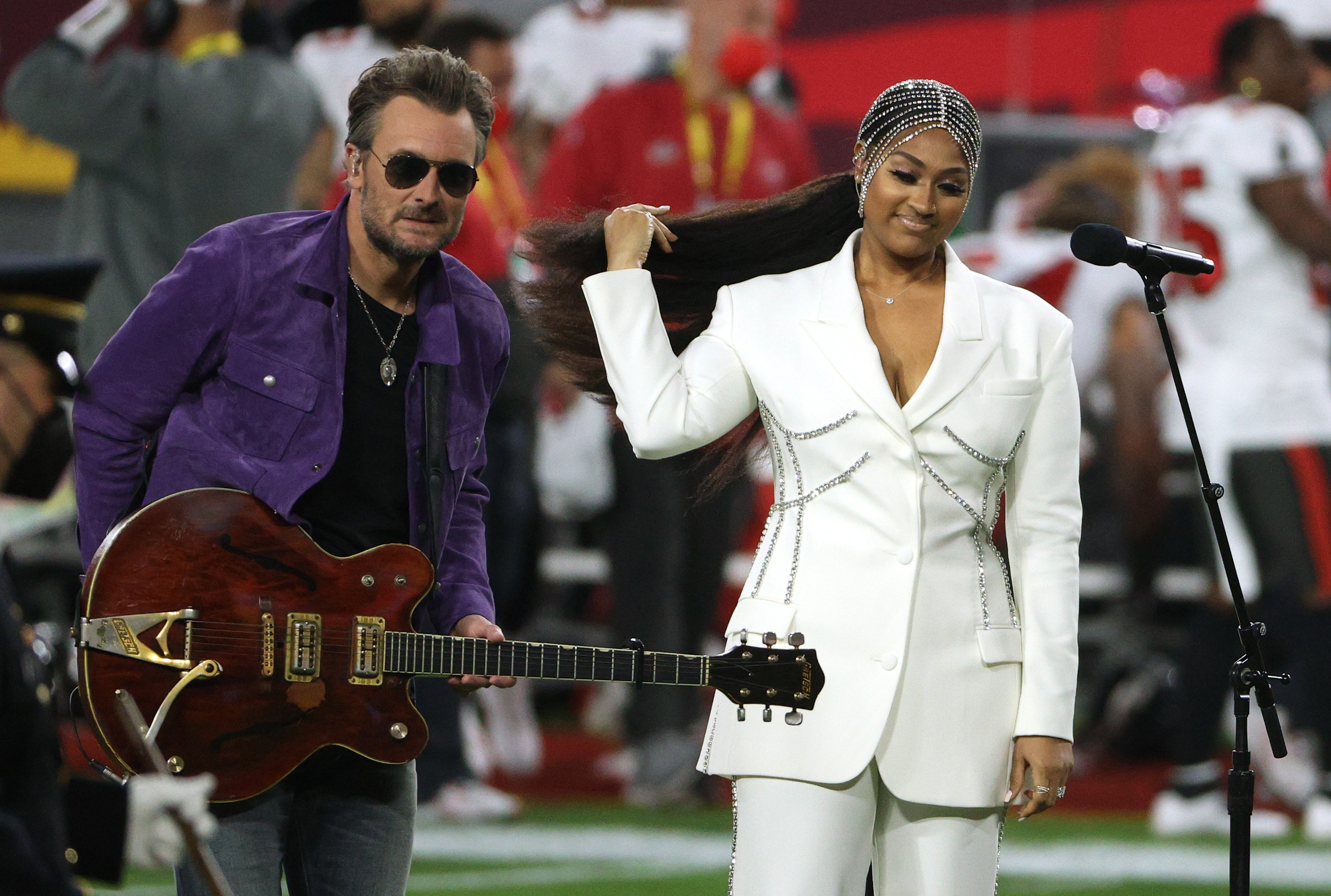 Super Bowl performers Eric Church and Jazmine Sullivan have unique backgrounds
Church and Sullivan are known for different genres of music. However, both artists have a career that spans over a decade. After he released his debut album, Sinners Like Me, in 2006, Church became recognized for his top hits, including "How 'Bout You," "Two Pink Lines," and "Guys Like Me." Throughout his career, he's become one of the most notable country musicians and has had 17 Top 10 hits on the Hot Country Songs Billboard chart.."
RELATED: Singer Jazmine Sullivan Wrote This Iconic Hit Song for Monica
Sullivan's career began with being discovered by Jive Records at the age of 15. When the label dropped her at 18, she started working as Missy Elliott's protege. Together, the twosome wrote for artists such as Monica in 2003. In 2008, Missy helped Sullivan with her debut album, Fearless. The album earned the songstress five 2009 Grammy Award nominations for the album, including Best Female R&B Vocal Performance ("Need U Bad"), Best Traditional R&B Vocal Performance ("I'm in Love with Another Man"), Best R&B Song ("Bust Your Windows")
Before their National Anthem performance, Sullivan opened up about the differences between her and Church.
"I have not met Eric yet. I'm excited to meet him; we definitely come from two totally different, um, everything," she told Entertainment Tonight. "But, I'm excited; I think it will be cool to blend the different sounds of music and just show some unity."
Eric Church says he was 'floored' by Jazmine Sullivan's singing
RELATED: Super Bowl Halftime Show: Who Performed at the First One Ever?
Although they perform different music genres, Church was equally excited to work with Sullivan. While speaking with Today's Country Music podcast, he admitted that he wasn't familiar with his partner's music before the Super Bowl. He also said listening to Sullivan's music made him her newest fan. 
"Let me tell you something. She may be the best singer. I was floored," Church said.
"And you know what, the best thing about this, no matter what happens, because that's a nervy thing that we got to do, but what a fan, I'm a fan," he continued. "I've went in and listened to everything she did. And I had heard her name, but full disclosure, I had not listened."
'I'm not missing a chance to sing with her'
RELATED: Super Bowl 55: The Weeknd Just Did Something No Halftime Performer Has Ever Done
During his podcast interview, Church said producer Adam Blackstone suggested he and Sullivan work together. Even though he had his reservations, Church said he couldn't pass up the chance to work with the "Lost One" singer. 
"I heard her, and I'm not missing a chance to sing with her. And that was it," he said. "Once I heard her voice, I said, 'Okay, I'm in.'"