Eric Clapton Gave Jeff Beck Advice About Not Liking His Voice When Making Music
Guitarist and classic rock legend Jeff Beck died at the age of 78 on Jan. 10. The guitarist was known for his work as a solo artist and as a member of the Yardbirds. In a 2016 interview with Total Guitar, Beck revealed that he disliked his voice and received advice from Eric Clapton on how to overcome that.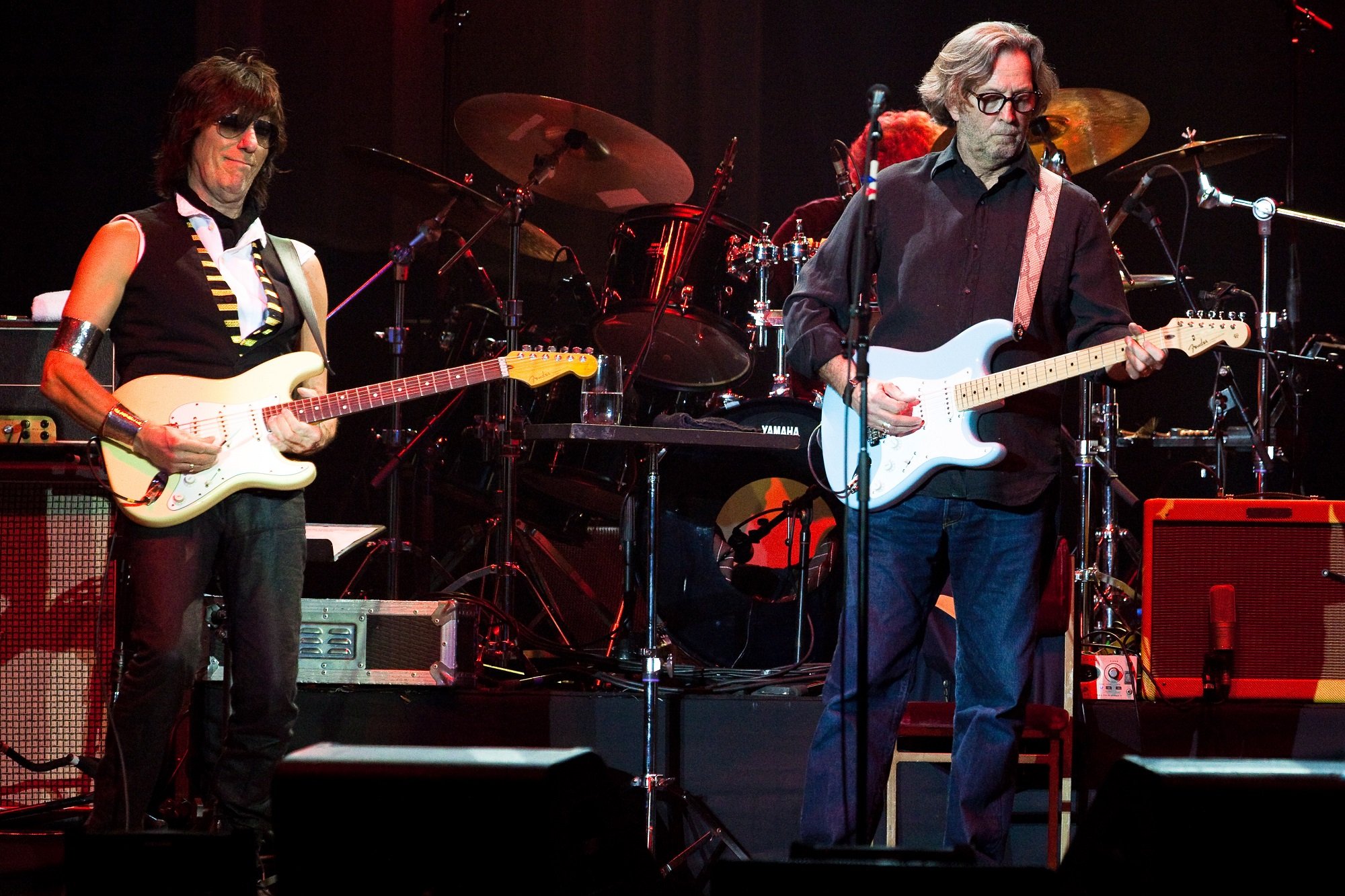 Jeff Beck received advice from Eric Clapton
In 2016, Beck was interviewed by Total Guitar about his career. When asked about his music-making process, Beck brought up advice that Clapton gave him.
"It's so difficult because I didn't sing. Eric [Clapton] said, and it was words of great wisdom, 'Get used to the fact that you hate your voice, because I did.' And I went, 'But you sound good, I sound unbearably bad. I loathe it. I would never enjoy it even if we had another single like [Hi Ho] Silver Lining, I just couldn't bear it,'" said Beck.
He continued, "He said, 'I'm telling you, if you don't, it's going to be tough.' And it was tough, but then I can turn around and say, 'Blow By Blow, put that in your pipe and smoke it, mate.' But he's right, if I did come up with a song and everybody loved it, it would instil confidence automatically and I might even get to like what I sound like but letting that out there is more than I can bear."
Jeff Beck and Eric Clapton were both members of the Yardbirds
Over the years, Beck and Clapton had both a friendship and rivalry in the world of rock music. Beck became well-known after he replaced Clapton in the band the Yardbirds.
"I know he didn't like the fact that I took over from him in the Yardbirds and we did great. The general buzz of the band was that they though they were finished when Eric left. At my debut with the Yardbirds at the Marquee I showed them what was what and I got a standing ovation, so that was the end of that," Beck once told Classic Rock. "Two months after that things took off in the States, which pissed Eric off big time."
However, after Beck left the Yardbirds and Clapton's solo career grew, the rivalry seemed to mellow out over the years. Clapton even appeared in the documentary Still on the Run: The Jeff Beck Story.
"I must admit there was a tear [laughs], especially with Eric. I never expected him to bother to be in it. I studied his face over and over, just to make sure there wasn't something else going on [laughs]. But no, it was just overwhelming," Beck told Rolling Stone.
Jeff Beck died at the age of 78
On Jan. 11, Beck's family published a statement on Beck's Twitter account announcing that he died the day before on Jan. 10.
"On behalf of his family, it is with deep and profound sadness that we share the news of Jeff Beck's passing. After suddenly contracting bacterial meningitis, he peacefully passed away yesterday. His family ask for privacy while they process this tremendous loss," the statement reads on Twitter.
Following his death, multiple of Beck's peers shared their condolences for the guitarist.