Modern Family: What is Eric Stonestreet's Net Worth, and What Are His Movies and TV Shows?
It wouldn't be a stretch to say that the TV show Modern Family changed Eric Stonestreet's life. The actor that plays Cameron Tucker had a few other roles to his name before the show started, but Modern Family took him to the next level. It has some of the highest paid cast members of any show on TV, so the show changed Stonestreet's financial standing, and it opened up new opportunities for him. What is Eric Stonestreet's net worth these days, and what are his other TV shows and movies? Let's find out.
Eric Stonestreet's earliest roles
Many actors, even all-time greats such as Robert De Niro and Clint Eastwood, have to settle for lesser roles in obscure productions early in their careers, but not Eric Stonestreet. His first credited role came on the TV show Dharma & Greg in 1999. The following year, he had single-episode stints on Malcolm in the Middle, Party of Five, and Spin City on TV, and he popped up as a hotel desk clerk in the movie Almost Famous.
Stonestreet also had steady work in commercials early in his career. He filmed ads for Volkswagen, U.S. Cellular, IBM, and the NCAA around the time he earned his first professional roles.
What is his salary for Modern Family?
The Emmys weren't kind to Modern Family in 2018 as the show failed to earn a major nomination for the first time. However, Eric Stonestreet's salary after spending a decade starring on a hit show is nothing to scoff at.
Stonestreet and five of his Modern Family castmates — Sofia Vergara, Jesse Tyler Ferguson, Julie Bowen, and Ty Burrell — earned $500,000 per episode during Season 9 in 2017-18. Those five might be making even more for Season 10 in 2018-19.
What is Eric Stonestreet's net worth?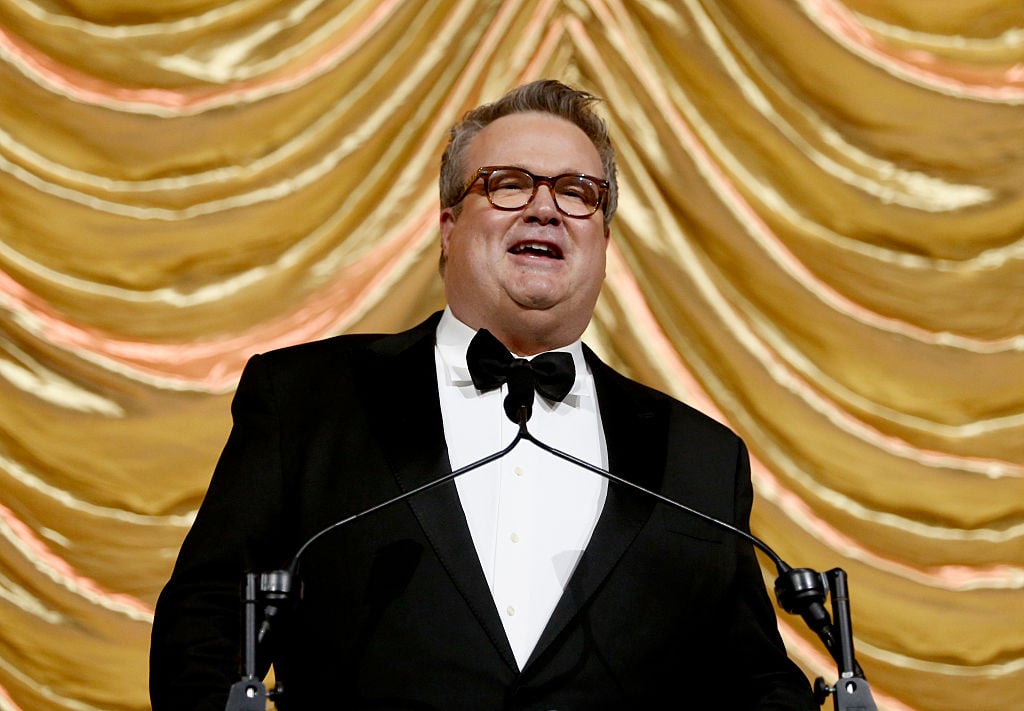 Some actors branch out to directing and producing, but Eric Stonestreet sticks to acting. He has one writing credit for a short that aired at the 2012 Emmys, but acting is his primary job, according to his IMDb profile. However, focusing on acting is helping Eric Stonestreet's net worth.
He has a $23 million fortune in 2019, according to Celebrity Net Worth. That right in the middle between the net worth of co-stars Julie Bowen and Ty Burrell.
Has he been in any other TV shows or movies?
We mentioned some of Stonestreet's early works a minute ago, and he has several other notable roles to his name.
He shared the screen with Ewan MacGregor and Scarlett Johansson in the 2005 movie The Island, and he played Ronnie Litre in 13 episodes of CSI: Crime Scene Investigation between 2001 and 2005.
Stonestreet had a part in Identity Thief with Jason Bateman and Melissa McCarthy in 2013, and he voiced Minimus on the Disney Junior show Sofia the First starting in 2013. He plays Duke in the animated movie The Secret Life of Pets, which made more than $368 million at the box office, and the 2019 sequel.
Is Eric Stonestreet's married?
Eric Stonestreet's Cameron Tucker is married to Jesse Tyler Ferguson's Mitchell Pritchett on Modern Family, but Stonestreet has a girlfriend in real life.
He started dating nurse Lindsay Schweitzer in 2017, according to People, and they're still together. They attended a Kansas City Chiefs game after Christmas in December 2018, and Stonestreet posted a sideline pic to his Instagram account.
Check out The Cheat Sheet on Facebook!