Erin Andrews' Net Worth: How Much She Makes as an NFL Sideline Reporter and 'Dancing with the Stars' Host
Every fall when Dancing with the Stars kicks off a new season and the NFL is in full swing, Erin Andrews performs double duty on the airwaves.
She's been a figure on the sideline for years and has co-hosted the hit ABC dance competition alongside Tom Bergeron since 2014. While it may seem like those gigs couldn't be more different, they're actually pretty similar.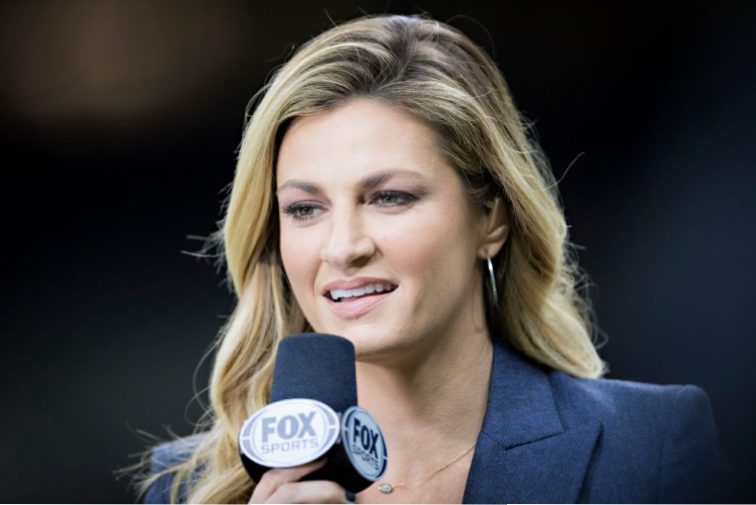 For the NFL games, Andrews interviews the star players after their performance on the football field. And in the ballroom, she talks to the star contestants after their performance on the dancefloor. The celebrity contestants she'll be chatting with on Season 27 include Bobby Bones, DeMarcus Ware, Milo Manheim, Danielle Umstead, Joe Amabile, John Schneider, Nancy McKeon, Mary Lou Retton, Tinashe, Juan Pablo Di Pace, Nikki Glaser, Alexis Ren, and Evanna Lynch.
Andrews wanted to be a sportscaster ever since she was a child and today she has become one of the most respected broadcasters in the industry. You may recall that in 2010, she stepped out of her comfort zone and appeared as a contestant on Dancing with the Stars. She was paired with fan-favorite Maksim Chmerkovskiy and although they didn't win the Mirrorball trophy that season, they did make it to the finals and came in third place.
Andrews' dancing days are behind her now but we can still rely on her to get answers to the questions viewers care about. Here's how much Andrews makes for both gigs and what her total net worth is.
Andrews' annual salary and net worth
Andrews followed in her father's footsteps of becoming a journalist as he was an investigative reporter in the Tampa area when she was growing up.
In 2000, she became a freelance reporter for Fox Sports-Florida South and a Tampa Bay Lightning reporter for the Sunshine Network. Four years later, she began working for ESPN as a reporter for the network's National Hockey League coverage and later transitioned into covering college football and basketball. She left ESPN in 2012 to join Fox Sports. In 2014, it was announced that she was replacing Pam Oliver on the sidelines and Brooke Burke-Charvet in the ballroom. For Dancing with the Stars and her reporting, Andrews has an annual salary of $2 million.
Her total net worth is $20 million. Not all of that cash has come solely from her TV jobs as some of it is from her endorsement deals with Trubiotics and other companies she's partnered with.
Tom Bergeron's salary and net worth
You may be wondering how Andrews' salary compares to her Dancing with the Stars co-host.
While Andrews didn't take over co-hosting duties until Season 18, Bergeron has been the host of the competition since its inception in 2005. He makes $150,000 per episode. Since there are typically 10 weeks to a season and two seasons every year his annual salary comes out to $3 million.
Bergeron has also hosted several other reality and games shows over the years and has a total net worth of $16 million.
Read more: What is the Net Worth of Each Celebrity Appearing on 'Dancing with the Stars' Season 27?
Check out The Cheat Sheet on Facebook!