'Eternals': How Angelina Jolie Thinks Her Kids Will React to Her Marvel Superhero Costume
Actor Angelina Jolie has portrayed action-adventurers, fantasy villains, femme fatales, and much more throughout her acclaimed career. But her turn as a Marvel superhero in Eternals might not go over well with her children — at least, not at first. Here's what she's worried about.
Angelina Jolie has 6 kids with ex-husband Brad Pitt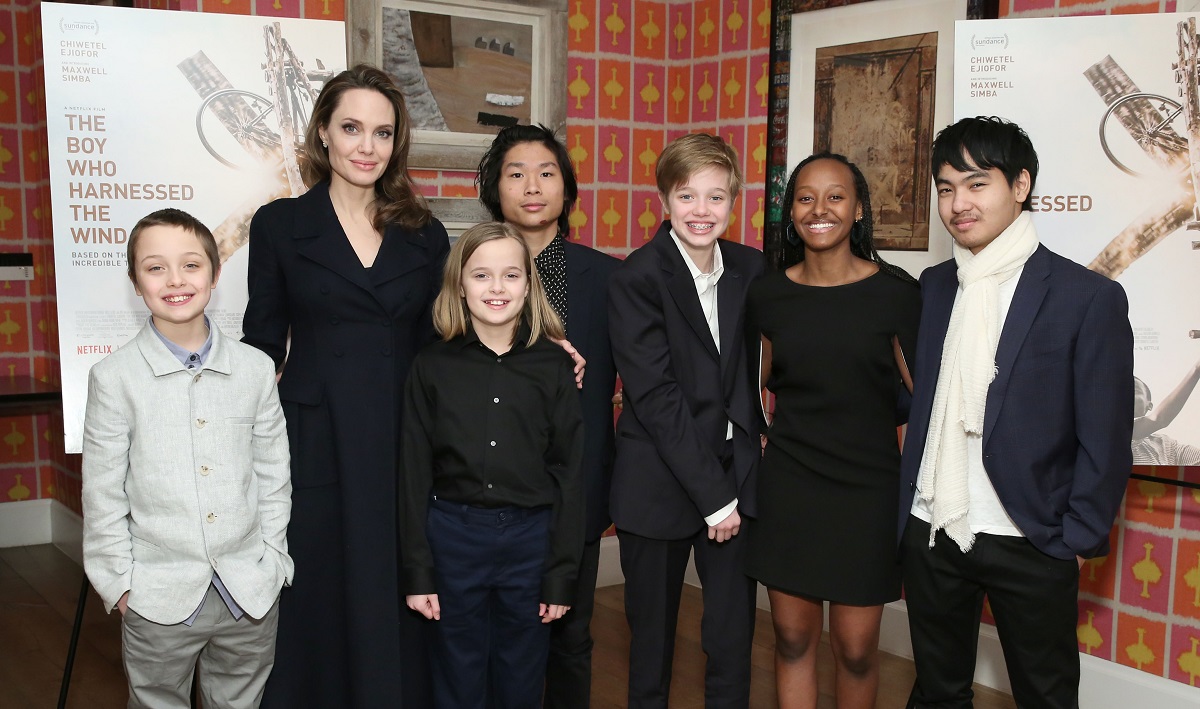 Jolie began her journey as a mother alone. She initiated the adoption of her first child, Maddox, when she was with Billy Bob Thornton. They broke up, and she adopted Maddox in 2002, followed by a daughter, Zahara, in 2005. After she and now-ex-husband Brad Pitt started dating, he adopted them as well.
Together Pitt and Jolie adopted another child, Pax, in 2007. They also welcomed three children biologically: Shiloh in 2006 and twins Knox and Vivienne in 2008. All the kids have the hyphenated last name Jolie-Pitt. Following Jolie and Pitt's divorce, the children have made headlines regarding custody.
She stars in the upcoming Marvel film 'Eternals'
In the past decade, Jolie's focused on her career behind-the-scenes, directing films such as First They Killed My Father and producing others. However, she hasn't left acting behind entirely. And her upcoming role in a Marvel Cinematic Universe film certainly aligns with her recent focus on family-friendly content.
Marvel President Kevin Feige officially announced Jolie's participation along with the rest of the star-studded Eternals cast. "I'm so excited to be here," she said at San Diego Comic-Con 2019 (via Entertainment Weekly). "I'm going to work 10 times harder because I think what it means to be a part of the MCU, what it means to be an Eternal, to be a part of this family, I know what we all need to do."
Jolie's reaction to the first trailer clip
Filming for Eternals began in 2019 and wrapped in early 2020, shortly before the coronavirus (COVID-19) pandemic shut down productions worldwide. However, Marvel pushed the film's release date by a year due to the other movies in the franchise being delayed. In May 2021, the company released a trailer previewing upcoming titles — among them, Eternals.
Though she's only shown for a brief moment, Jolie's appearance was notable. "How many times I've done that in my career is quite funny," she told Access Hollywood of the pose she strikes holding a sword. "You just look back at your life like, 'I'm always with some random weapon.'"
Why she thinks her kids will be 'shocked'
Though her pose may ring familiar to fans of films like Salt and Lara Croft: Tomb Raider, Jolie's white-blonde locks and ethereal costume aren't exactly her usual wear. And she's not sure how the superhero look will go over with her kids.
"I think so," she said of her plan to watch the movie as a family. "I hope so. As long as my kids get over the shock of me in a gold suit. When it's your own children, they just kind of go 'augh,'" Jolie laughed, rubbing her forehead in an annoyed gesture.