'Eternals': Kit Harington Plays Coy When It Comes to His Future in the Marvel Cinematic Universe
ARTICLE HIGHLIGHTS
Kit Harington's Dane Whitman is not a member of the Eternals
But he is part of the first love triangle in the Marvel Cinematic Universe with Sersi and Ikaris.
Kit Harington refuses to reveal if he has a future in the MCU after 'Eternals.'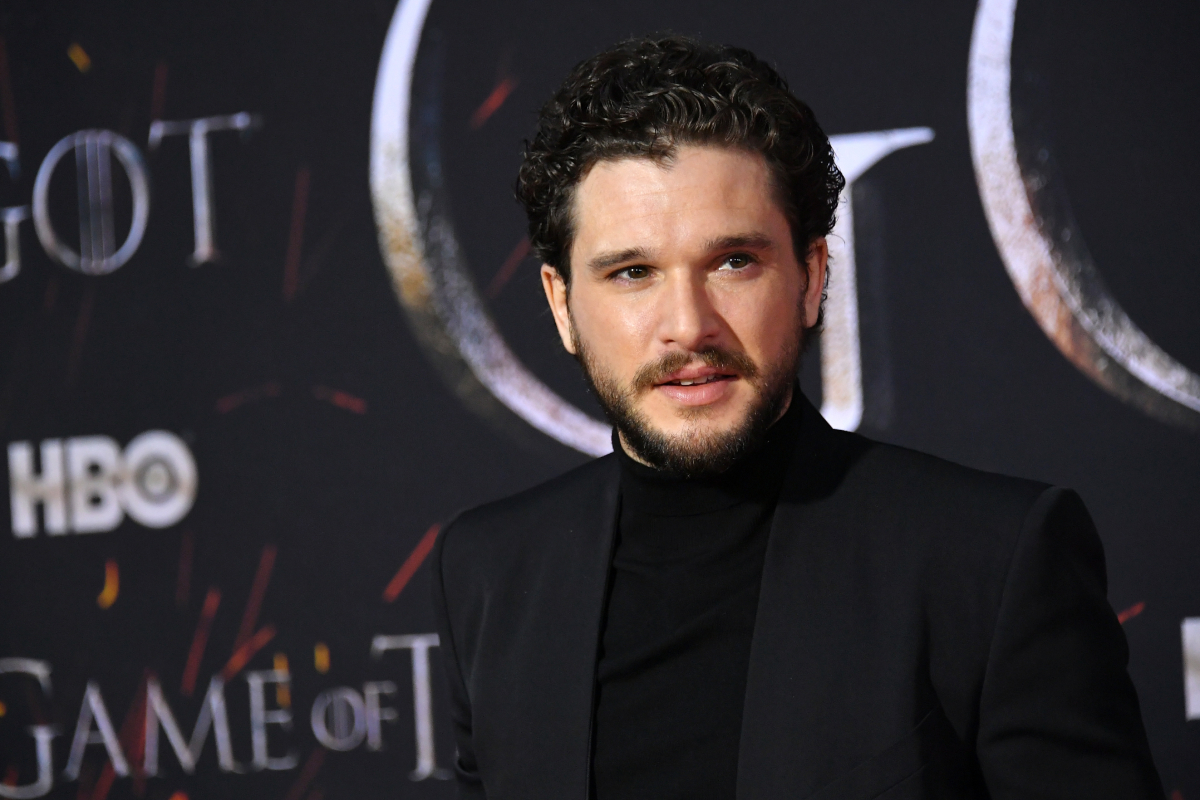 Eternals will introduce Kit Harington's Dane Whitman into the Marvel Cinematic Universe. The human character — known in the comics as the Black Knight — is not part of the titular supergroup.
Which begs the question: what does that mean for the future of Harington's character? Will he appear in other Marvel films? Will he get a solo movie? Or, could Eternals be his only MCU appearance?
Dane Whitman has a romantic relationship with a member of the 'Eternals'
In the Marvel comics, Whitman gets involved with a member of the Eternals known as Sersi. But she's also linked to another Eternal named Ikaris, which creates a comic book love triangle. The teaser trailer for Eternals hints that this storyline will make it into the film — with Gemma Chan as Sersi and Harington's Game of Thrones co-star Richard Madden playing Ikaris.
According to Harington, Sersi and Dane do have a "special connection." But, he wouldn't reveal if moviegoers would see a love triangle.
"I think there's been a few things said about that in the press," Harington told Total Film. "I wouldn't say that a lot of it is accurate. But he has a connection with Sersi, as does Richard's character."
Kit Harington shares the 'main takeaway' of his character
Harington wouldn't reveal any plot details about the upcoming Marvel film. But he did give a general description of his character, who has quite the lengthy history in the comic books.
The Game of Thrones alum says that Dane Whitman is "the human character of the story. He's not an Eternal. He's a character who works with the Natural History Museum in London. But he's not an Eternal – that's the main takeaway!"
The 'Eternals' star plays coy about his future in the MCU
With Dane Whitman not being a member of the Eternals, what does that mean for his character in the MCU? Will this film set up the character for a solo outing? Maybe he will become part of the New Avengers in future phases of the MCU? Harington claims that even he doesn't know the answer to those questions.
"I've got no idea whether my character goes on or not," Harington says. "I had read up on who he could be, or might be. So there's the possibility for a longer trajectory. And hopefully, I think this is the tip of the iceberg for my character. I hope. But I just don't know, you know?
Kit Harington tries to avoid living 'too far ahead in the future'
When it comes down to it, only one person truly knows the future of the MCU — Marvel boss Kevin Feige. Numerous Marvel actors have claimed they don't know what's coming for their respective characters. With Harington being the latest to reveal he has no idea what's next.
"I'm as in the dark as anyone else," Harington insisted. "And I try not to live too far ahead in the future with anything. Even when I was in Game of Thrones, even on the sixth season, I presumed the seventh season wasn't going to happen!"
Before fans start thinking about Harington's future in the MCU, there are also many questions that need to be asked about the Dane Whitman character in the upcoming film. Most notably: will fans see Dane become the Black Knight?
Will the Black Knight appear in 'Eternals'?
Eternals is already introducing 10 new superheroes in this one film. Will they even have time for Dane's transformation into the Black Knight? According to ComicBook.com, producer Nate Moore ruled out any chance of Black Knight showing up in Eternals. However, he promised that Harington's character would have a big future in the MCU.
"We think he's interesting and a great character and actually Kit Harington who just wrapped yesterday was fantastic," Moore said in January 2020.
"But we very much explored the relationship between Dane Whitman and Sersi, which is something, for comic readers who loved the Avengers in the '90s, was very relevant and sort of planted the seeds that there could be more. He's not going to be Black Knight necessarily, but that is something that we get to play with down the road."
Eternals will hit theaters on Nov. 5.