'Eternals' Star Is 'Proud' of How Marvel Approached the First Gay Romance in the MCU
Eternals will finally hit theaters later this year. And when it does, the film will feature the first gay kiss in the Marvel Cinematic Universe, featuring Phastos (Brian Tyree Henry) and his husband (Haaz Sleiman).
In a new interview, Sleiman says he is proud to be a part of a groundbreaking MCU moment. But, he believes Marvel Studios still has some improvements to make when it comes to representation.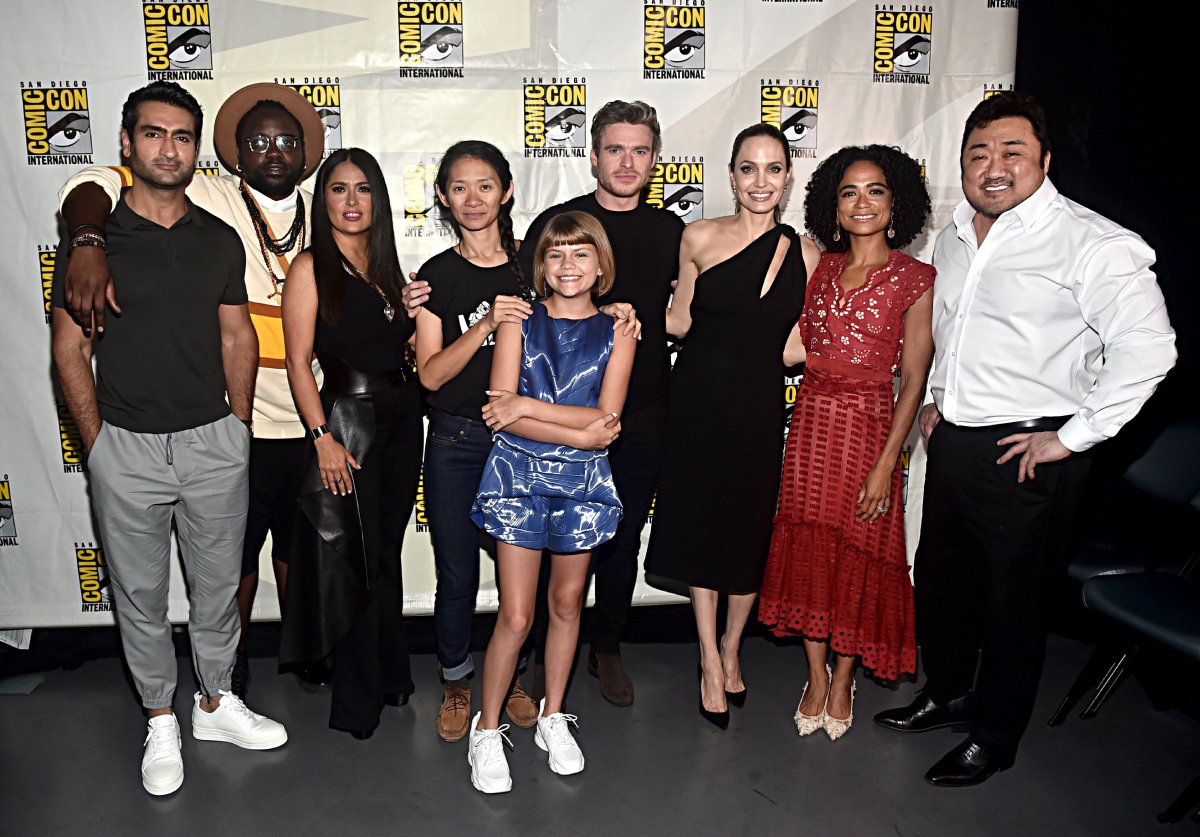 Marvel hopes 'Eternals' is the new 'Guardians of the Galaxy'
It's hard to remember now, but back before Guardians of the Galaxy hit theaters in 2014, they were one of Marvel Comics' more obscure properties. Despite the group of relatively unknown characters, James Gunn and the Guardians' cast and crew hit box office gold with both the original and the sequel.
Now, Eternals is the unknown Marvel property that the studio hopes will follow in the Guardians' footsteps. The entire cast consists of brand new MCU characters, and they are mining a new corner of the universe. But that doesn't mean fans won't see a familiar face or two.
According to Cinema Blend, there's a chance that Thanos could appear. Jim Starlin — the comic book artist and writer who created the character — said during a recent episode of the Phase Zero podcast that he's heard Thanos will be present.
"I believe I've heard some rumors that he's coming back in different things. I think I've heard confirmed from Marvel Studios that he's going to be… at least a guest appearance inside the Eternals, so he's gonna be around. This is not anything I'm making up. This is something I've read somewhere," Starlin revealed.
Who are Marvel's 'Eternals'?
Eternals is one of the most anticipated Marvel movies coming to theaters in phase 4. It features a group of well-known actors who are all making their MCU debut. The list includes Angelina Jolie, Salma Hayek, Barry Keoghan, Brian Tyree Henry, Gemma Chan, Kit Harington, Kumail Nanjiani, and Richard Madden.
Written and directed by Chloé Zhao, the movie introduces an immortal alien race that comes together to protect humanity from their evil counterparts. It will also feature a few MCU firsts, like the kiss between Phastos and his husband.
Haaz Sleiman recently sat down with New Now Next to promote his new movie Breaking Fast. During the chat, the actor talked about being part of such a big MCU moment. He said that he hasn't seen the film yet. But, he's still proud about what Marvel's been able to accomplish.
"It's my first Marvel film, so of course I'm excited. My gut feeling is you'll be so proud. What Marvel has been able to accomplish, I'm so proud of them because they approached it in a very thoughtful way, and Phastos is one of the biggest superheroes in the film," Sleiman said.
Will the MCU ever have a gay superhero?
Sleiman also gave fans a few details about his Eternals character. He revealed that he plays an architect who is Phastos' husband, and the couple shares a child together. Sleiman admits that he wished he would have been playing the superhero. And he hopes to see more representation in the MCU in the future.
"I'm his husband, an architect; we have a child. Even though I wished I was the superhero, because when will we see an Arab Muslim openly gay actor playing a superhero? I can't wait to see it," Sleiman said.
Other Marvel actors have spoken out about the need for more representation in the superhero genre. According to Screen Rant, Tom Holland has shared his desire for an openly gay Spider-Man someday. Tessa Thompson has also teased that Valkyrie would be looking for a partner in Thor: Love and Thunder.
Eternals is currently scheduled to hit theaters on November 5, 2021.