'Eternals' Star Salma Hayek Got Herself an Owl After Seeing One in Her Dreams
Salma Hayek is known for her impeccable comedic timing and love for action roles, but she's also got a reputation for being an animal lover. The Eternals star has an array of unique pets that include dogs, horses, alpacas, rabbits, and chicken, but it seems that her favorite might be her pet owl.
For the average person, an owl might seem like an unusual pet. But the bird has a deeper meaning to Hayek, who felt compelled to get one after she saw them in her dreams at night.
Now, the Desperado actor has a pet owl that tries to steal her wine, bites her toes, and throws up on celebrities' heads.
Salma Hayek got a pet owl after having dreams about them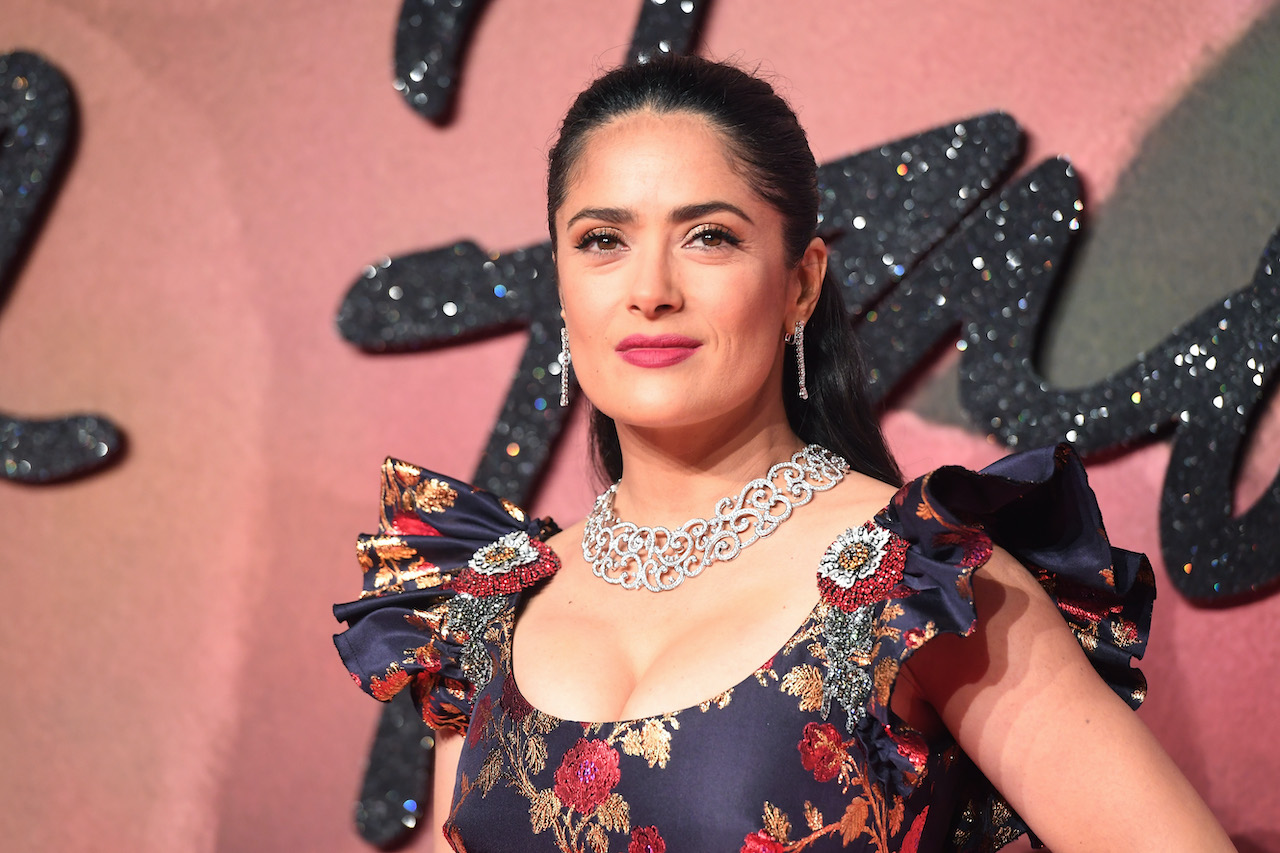 Hayek explained why she got an owl during a recent interview with Stephen Colbert.
"I don't know, I became obsessed with the owls and dreaming about it, and I didn't understand they were everywhere," Hayek said. "And I said, 'Can you even—can people have owls?' And it turns out that you can in London, it's legal."
Her owl tries to drink her expensive wine
Having an owl is definitely an exciting experience, but it's not without its fair share of oddities. Despite the fact that Hayek's owl only consumes its liquids through the food it eats, the bird enjoys trying to steal sips of her expensive red wine.
"Another thing that is strange is, like I said, they don't drink liquids, but there is one kind of wine that when we take it out—it's an expensive wine, too, not the other wine—we have to cover the cups because she will dig in it," Hayek said. "And it's not that she thinks it's blood, because the other red wine, she doesn't go for. She has an expensive taste in wine."
The 'Hitman's Bodyguard's Wife' star says her owl once vomited on Harry Styles' head
Hayek's owl has a few more habits that aren't ideal for the standard household either. In a separate interview with Ellen Degeneres, Hayek revealed that it threw up a hairball on Harry Styles' head when he came over once.
"The worst is when they like—there's this ball of hair that comes out of their mouth," Hayek said. "And one time there was a very important celebrity—I will not say his name—and he was really excited about the owl, and was hoping that the owl would go on his head, because it was on me. And he's like, 'Oh, I need an owl in my life, how do you do that?' And the minute he least expected it, it came on his head, but then he did the thing. And this thing came out," she said. "This ball of rat hair was on his head. He was ok. It happens sometimes when you have guests in this house."
Even though Hayek initially refrained from revealing who the owl threw up on, she later admitted it was Harry Styles.
"I hope I'm not in trouble," Hayek said. "He was super cool, by the way. He was super cool, even with that happening."
Salma Hayek's newest film, The Hitman's Wife's Bodyguard, is now playing in theaters.