'Euphoria': Alexa Demie Broke Sydney Sweeney's Toe During That Fight
Ever since the Euphoria Season 2 premiere, fans had been waiting on bated breath for the fight between Maddy Perez and Cassie Howard. It was only a matter of time before Maddy discovered that Cassie was hooking up with her ex-boyfriend, Nate Jacobs, and exacted her revenge. Fortunately, Cassie got her comeuppance during the season 2 finale. Unfortunately, the fight scene left Sydney Sweeney even more injured than her character, Cassie.
More often than not, fight scenes on TV shows are carefully choreographed. This is to help make sure that the cast stays safe while filming. And, for more complex sequences, trained body doubles can be utilized for an additional form of protection. However, accidents can and do happen and can lead to unintended injuries. This was the case when the Euphoria Season 2 finale was being filmed. Unfortunately, a fake fight led to some very real issues for one of the actors.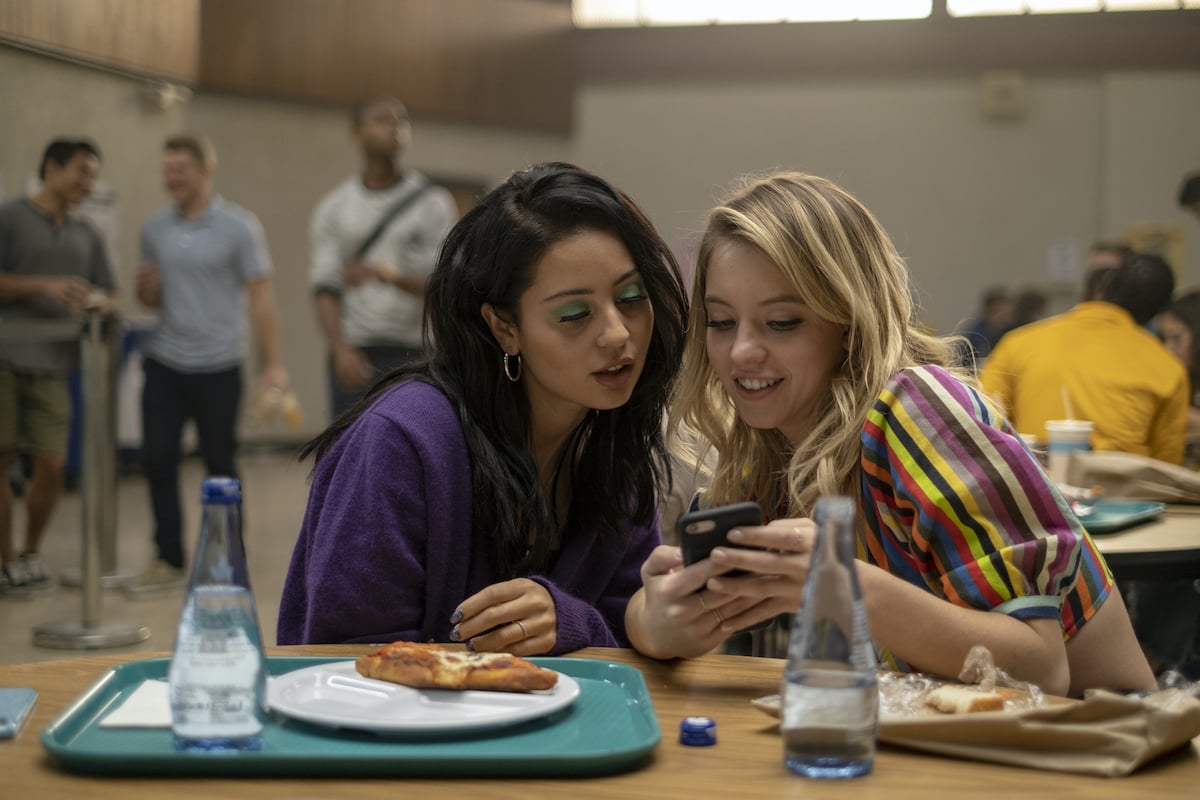 Sydney Sweeney revealed that her toe got broken during the 'Euphoria' Season 2 finale fight scene
During an interview on The Late Late Show with James Corden, Sweeney revealed that her toe got broken while she was filming Euphoria. The injury was so severe that The White Lotus actor actually had to go to the emergency room before making her way back to set for the wrap party. "My toe got stepped on during filming and it just exploded, so I ended up in the ER," Sweeney explained. "And then I showed up and I was high on morphine. They were like 'We have never seen you like this before.' I'm like neither has my toe."
RELATED: 'Euphoria' Fans Aren't Expecting Season 3 Until 2024
'The Players Table' producer revealed the extent of her injury
Continuing on, Sweeney explained how the injury happened. "Well in one of the episodes, a character that's very upset with Cassie right now, accidentally stepped on me and it broke my toe in three places," the Sharp Objects alum revealed. Of course, after watching the Euphoria Season 2 finale, fans now know exactly what episode and scene Sweeney was referring to.
Alexa Demie had absolutely no idea that she injured her 'Euphoria' castmate
Funnily enough, Alexa Demie, who portrays Maddy, had absolutely no idea that Sweeney had sustained a real injury during their fight scene. Sweeney intentionally kept her Euphoria castmate in the dark about her broken toe because she didn't want to make her feel bad about the accidental injury.
RELATED: 'Euphoria': Alexa Demie Reveals Cassie's Hot Tub Vomit 'Wasn't Fake'
"No, I didn't tell her," Sweeney shared, revealing that she hadn't told Demie. "I'm so sorry, Alexa. I'm so sorry. Alexa don't hate me." Clearly, both Sweeney and Demie took their fight scene very seriously. That being said, we're sure fans of Euphoria will understand if Sweeney wants to use a stunt double if Maddy and Cassie come to blows again in Season 3.
RELATED: 'Euphoria' Director Sam Levinson Admits He Yells Out Lines to the Cast