'Euphoria': Alexa Demie Reveals Cassie's Hot Tub Vomit 'Wasn't Fake'
Fans of 'Euphoria' likely recall Cassie's hot tub breakdown which involved puking, crying, and apologizing. But apparently, some of it wasn't just faked for cameras.
The finale of Euphoria Season 2 is just around the corner and fans are chomping at the bit to see what unfolds. However, there are still plenty of conversations to be had about how crazy the sophomore season of the show has been thus far. One character, in particular, that has captured fans' attention this season is Cassie Howard.
Portrayed by Sydney Sweeney, Cassie has truly spiraled out of control in Euphoria Season 2. Since hooking up with her best friend's ex-boyfriend, Nate Jacobs, in the season premiere, Cassie has continued to reach new lows. The doe-eyed blonde has had many memorable moments thus far. However, one of her most memeable was when she puked in a hot tub.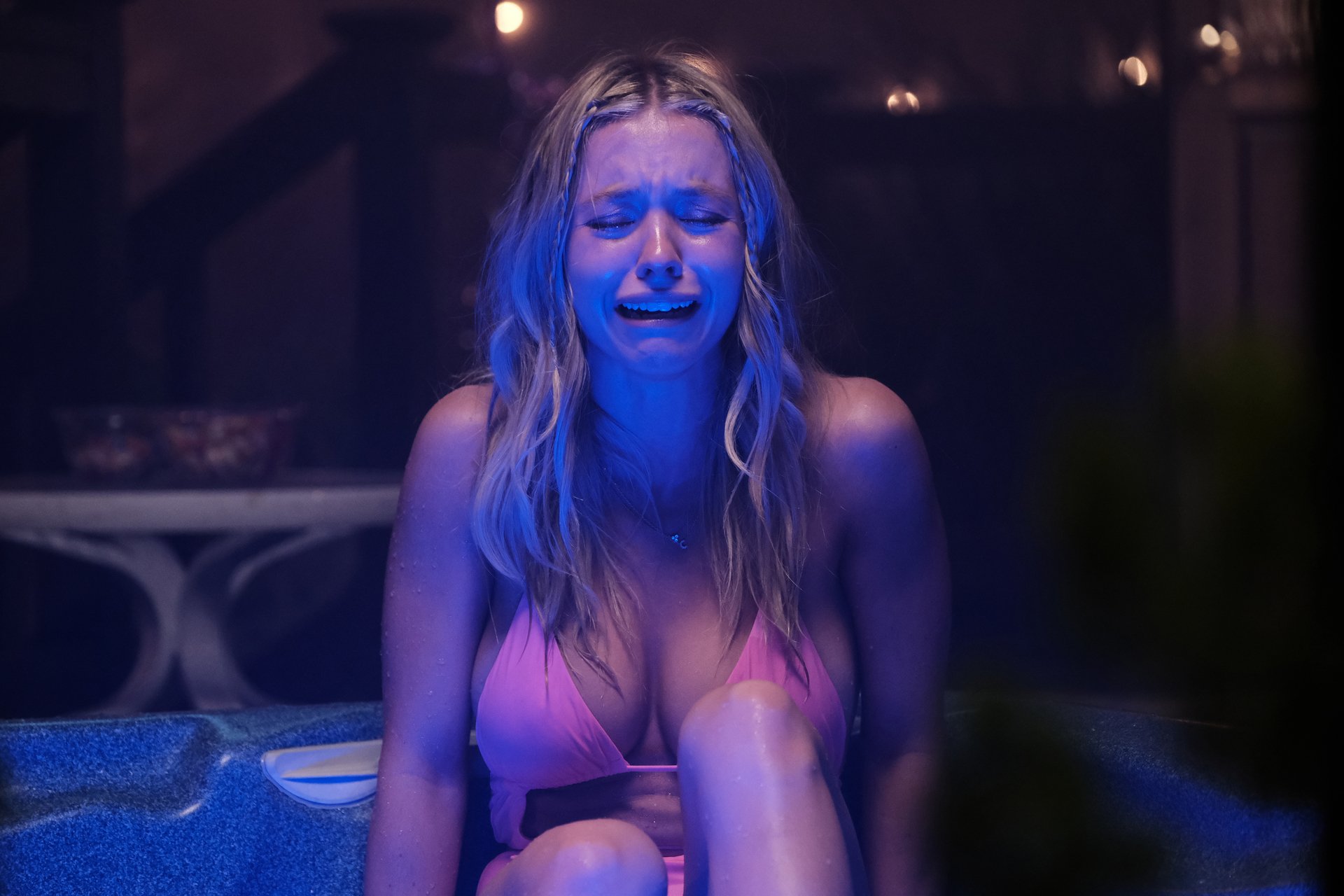 Cassie's drunken hot tub scene got 'Euphoria' fans talking
Fans of Euphoria will recall that Cassie gets exceptionally drunk when celebrating Maddy's birthday. Because Nate is in attendance, Cassie turns to alcohol to help her cope with the precarious situation. While in the hot tub with Maddy, Nate, and Kat, Cassie ends up projectile vomiting. Rife with guilt about her illicit affair, Cassie repeatedly apologizes to Maddy before her mom drags her out of the hot tub.
While the puking scene may have been fun for Euphoria fans to watch, it wasn't fun for the cast to film. In an interview with Collider, Alexa Demie (who plays Maddy Perez) revealed that Cassie's vomit wasn't nearly as fake as fans seem to think it was.
Alexia Demie reveals Cassie's vomit wasn't fake
"That wasn't fake," Demie explained about Sweeney's vomit scene. "It came out of her mouth. She vomited." Sweeney was quick to echo her Euphoria co-star's sentiments. "It came out my mouth," The Players Table producer co-signed. But while the puke was coming from Sweeney's mouth, it wasn't technically hers. In the aforementioned interview, Sweeney revealed how the technical moment was accomplished.
Sydney Sweeney explains how her puking scene was accomplished
"It was very disgusting," Sweeney shared about the memorable Euphoria scene. "There was this clear pipe that was a little tube, that they weaved behind my back, and then into my mouth with a horse bit. During the scene, they would fill my mouth with throw up. I had to sit there, as if nothing was going into my mouth, and let it fill and fill and fill, and then throw up. I was really worried that I was actually gonna throw up."
Demie broke Sweeney's toe while filming the 'Euphoria' Season 2 finale
Fortunately, Sweeney made it through the scene without getting physically ill herself. However, she did have a more painful and equally disgusting moment while filming Euphoria. While appearing on The Late Late Show with James Corden, Sweeney admitted that one of her scenes left her with an exploded toe. "Well in one of the episodes, a character that's very upset with Cassie right now, accidentally stepped on me and it broke my toe in three places," Sweeney shared.
Sweeney eventually admitted that it was Demie who unwittingly broke her toe. So, hopefully, Euphoria fans will finally get the Maddy/Cassie showdown they've been waiting for in the season 2 finale.