'Euphoria': Alexa Demie Thinks Samantha Helps Maddy Move on From Nate
There were plenty of new characters introduced in Euphoria Season 2. However, Minka Kelly's Samantha is certainly one of the most mysterious. For weeks, fans have been debating about Samantha's true intentions with her babysitter, Maddy. The interactions between the pair are charged and potentially problematic. But how does Alexa Demie (who plays Maddy Perez) define the bond between her character and Samantha?
On Euphoria Samantha is the mother of the little boy that Maddy babysits. However, she has developed an outside personal relationship with Maddy. The 40-something shares life advice with the teen, drinks wine with her in the pool, gifts her expensive clothing, and even asks Maddy to assist her with undressing. And, unbeknownst to Maddy, Samantha seems to have videos of Maddy dressing up in her outfits.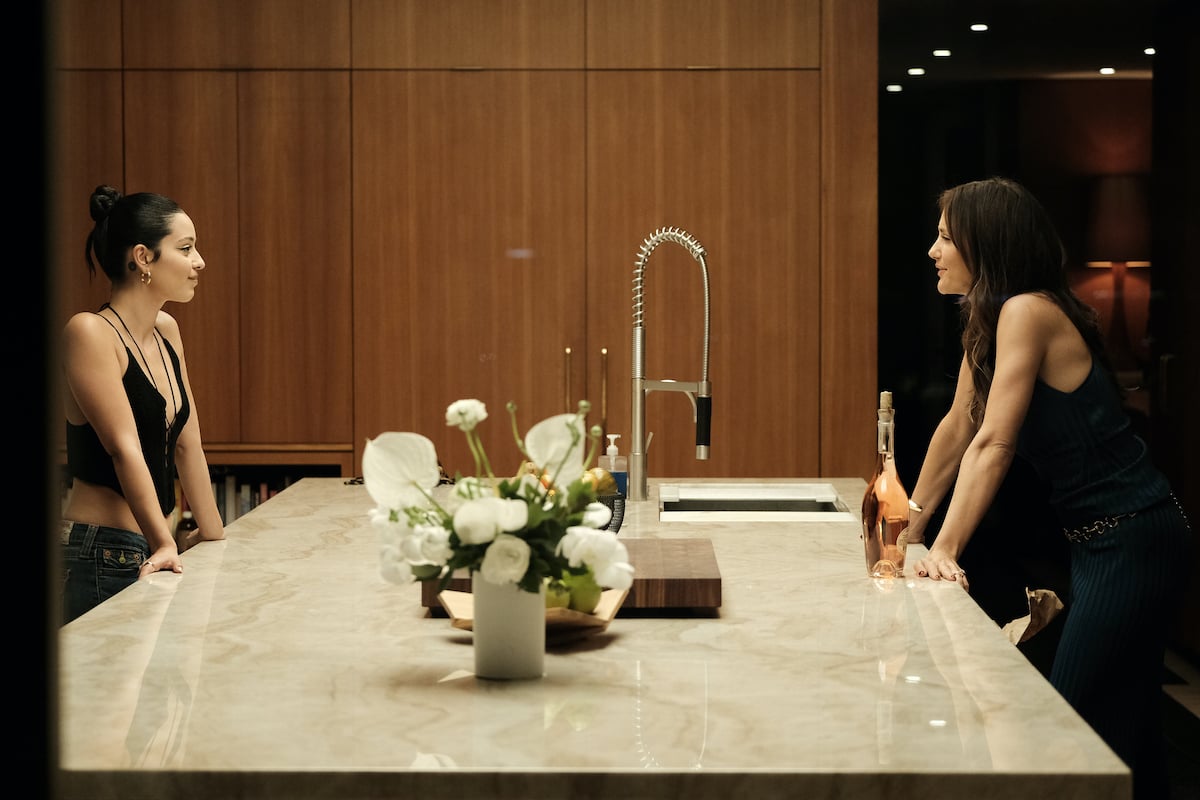 'Euphoria' star Alexa Demie explains Maddy's relationship with Samantha
While Euphoria fans have been speculating about the tension between the two characters, Demie seems to think that their relationship is fairly innocent. In an interview with Collider, the Waves actor explained how she views the relationship between her character and the older woman.
RELATED: Alexa Demie Reveals 'Euphoria's' Nudity Was 'Tough': 'It Was Hard for Me'
"I think Maddy just finally feels like she has a female mentor in someone who's older than her," the Euphoria star shared about Maddy and Samantha. "We see in season one that she doesn't really respect the decisions that her parents have made. And then, she sees this woman in this gorgeous house with these gorgeous clothes, and she seems so put together."
How Samantha helps Maddy think differently about Nate
Continuing on, Demie revealed that Samantha may have helped Maddy get to a healthier place in regards to her highly-abusive relationship with her ex-boyfriend, Nate Jacobs. According to the Euphoria actor, it is Samantha who begins to help Maddy realize that there is much healthier romantic love beyond Nate that she is deserving of.
RELATED: Minka Kelly Was Supposed to Be Nude in Her First 'Euphoria' Episode: 'I Just Didn't Feel Comfortable'
"She really takes in what she says, and Minka Kelly's character helps her feel like the decision she's made with the relationship is normal," Demie shared. "It's normal to have these toxic relationships when you're younger because you're learning. And so, I think she helps her realize, 'I did this too. This is not what you have to stay with. You can move on. It's just a phase.' I think she just helps her realize what isn't true love and what could be."
'Euphoria' creator wrote Samantha to be an older version of Maddy
Demie's interpretation of Samantha and Maddy's relationship seems to be in line with what Euphoria's creator, Sam Levinson, was thinking when he wrote the character into the show. In an interview with Vanity Fair, Kelly revealed that Samantha is supposed to give fans a glimpse of who Maddy could be in the future.
 "After our first day working together, [Sam Levinson] said, 'I want you to be the older, wiser version of [Maddy],'" Kelly revealed. "I was like, 'Yes, please! I love that. I see so much of myself in this girl.'" Hopefully, the relationship between Maddy and Samantha can remain a non-sinister one. After all, Euphoria fans know all too well that Maddy has been through the wringer more than enough times.
RELATED: Alexa Demie Has a 'Hard Time Being Vulnerable, Especially With Men'