'Euphoria': The Fight Between Nate and Fezco Took '8 or 9 Hours to Film'
The fight scene between Nate and Fezco in the season 2 premiere of 'Euphoria' took 'eight or nine hours to film.'
Season 2 of Euphoria premiered on HBO on Jan. 9. The first episode of the new season featured an intense scene between Nate Jacobs (Jacob Elordi) and Fezco (Angus Cloud). In an interview with GQ Magazine, Cloud revealed the scene took "eight or nine hours to film."
[Spoiler alert: This article contains spoilers for season 2 episode 1 of Euphoria.]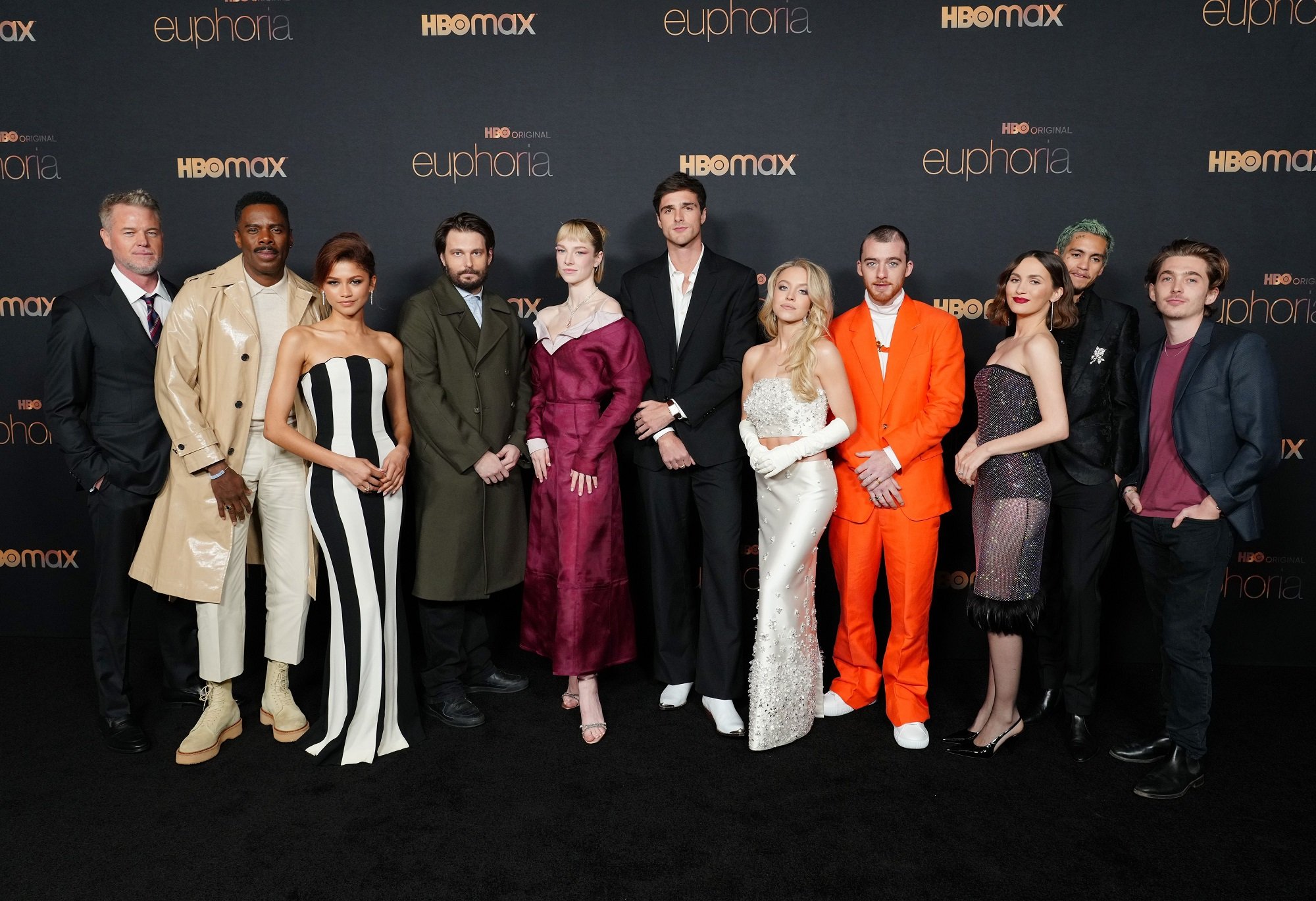 Fezco beat Nate in the season 2 premiere of 'Euphoria'
A majority of the season 2 premiere of Euphoria takes place at a New Year's Eve party. Right after the clock strikes midnight, Fezco approaches Nate who jokes that Fezco once threatened to kill him. Fezco proceeds to beat Nate, vindicating viewers who hate Nate's villainous ways.
"Yeah he definitely had it coming. It's well deserved. It was good to read that in the script. I was like, 'Hell yeah, there you go!' Snitches get stitches. Code of the streets right there," Cloud said in an interview with GQ Magazine.
He continued, "I don't think he came to the party to do that, no. It was fun because he saw… That's his enemy at that point, so he sees his opportunity and it had to get handled."
The 'Euphoria' scene took a long time to film
While the fight between Fezco and Nate is brief at the end of the episode, Cloud revealed that it took quite a long time to actually film.
"It was a hard scene to shoot, man. A lot of broken bottles and a lot of different movements. I was swinging my fist for like three hours. My arm was sore as s***, man. I swear to God, my whole shoulder, just from swinging fake air punches that weren't even hitting anything," Cloud told GQ Magazine.
According to the actor, filming the scene lasted "eight or nine hours."
"Oh no. It took way longer than that. I'm just saying that I was punching for like three hours straight. Yeah, that scene took probably eight or nine hours to film, just the fight. Because we did the countdown to New Year's and then the fight. It was all split," Cloud said.
He continued, "We were filming there for five days and each day was 7:00 PM till sunrise. All solid all-nighters. But that fight scene took a good chunk out of one of those days, so it was at least like six to eight hours."
Why Fezco beat Nate in the season 2 premiere
In the first season of Euphoria, Fezco threatens Nate after he finds out Nate is causing turmoil for his friend Rue (Zendaya) and her friend Jules (Hunter Schafer). In retaliation, Nate has police sent to Fezco's house.
While Fezco beats Nate for reporting him to the police, it is also implied he did so because he views Rue as his "family."
"I think Rue just found Fez in a time of her life when she felt alone and had started turning towards drugs," Cloud told GQ Magazine of Rue's friendship with Fezco.
He continued, "She was just kind of a misfit, so she ended up having a lot of free time and she wasn't hanging with the kids at school and Fez just accepted her with open arms and said, 'You can kick it with me. I like you. You're chill.' And then they became very close because they just kick it every day."