'Euphoria': What Fans Learned About Hunter Schafer's Character Jules in New Episode
In the Euphoria episode "F*ck Anyone Who's Not A Sea Blob," audiences see Hunter Schafer's character Jules Vaughn through her own point of view. This contrasts most of season one, in which she's shown through Zendaya's character Rue Bennett's perspective. Jules reveals her inner thoughts in a therapy session to Dr. Mardy Nichols (Lauren Weedman). Here's what Jules revealed to her therapist and viewers in the new episode.
[Spoiler alert: This article contains spoilers for Euphoria episode "F*ck Anyone Who's Not A Sea Blob.]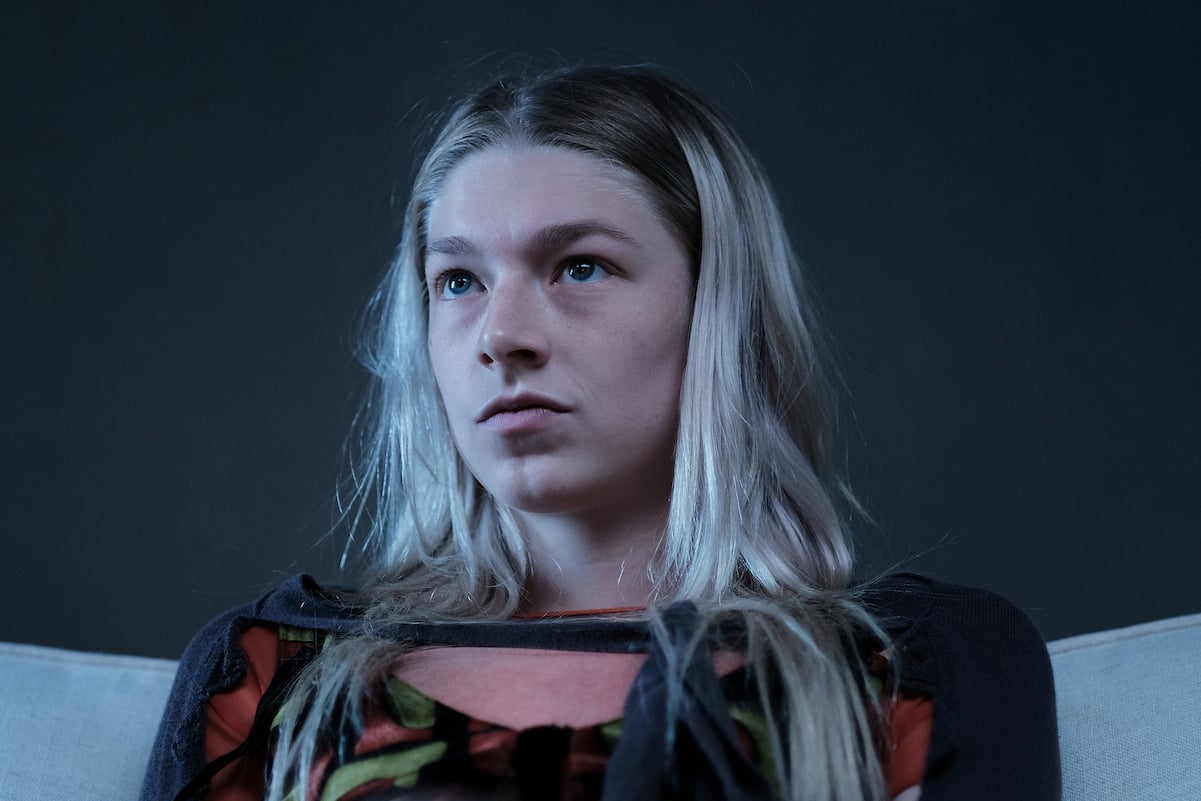 Jules was dealing with her own family issues in season 1
The new episode showcases Jules' difficult home life situation throughout season one. Audiences learn that Jules and her father David (John Ales) deal with her mother Amy's (Pell James) dependency on alcohol.
Viewers previously were unsure why in season one Jules heavily drank at the Halloween party. This new episode gives clarity when it shows that Jules had just heard her mother relapsed before Jules meets Rue for the party.
Jules also expresses to her therapist that her familiarity with dependency makes her relationship with Rue comfortable and familiar. However, Jules also felt pressured to be "available" to Rue constantly and feared if she wasn't, Rue could relapse.
She wants to reexamine how she presents her gender
Jules expresses that she is reexamining how she presents her gender and asks Dr. Nichols if she can go off her hormones.
Jules does not explicitly say she wants to "detransition." She wants to see what it might be like to express her gender without trying to appease men. Jules says she's no longer attracted to men.
This new episode takes a deep dive into Jules as a character, which differs from Euphoria's usually quicker pace. We can't wait to see how Jules is further developed in season two, and where her journey takes her next.
Jules felt a deep love for Rue during season 1
Jules tells Dr. Nichols in her therapy session that she actually is in love with Rue. Some fans previously thought that Jules did not return Rue's deep feelings for her. The episode shows flashback clips of Jules desiring Rue.
Audiences see Jules' perspective from Rue trying to kiss Jules for the first time, and Jules seemingly rejecting her. Jules explains that she was scared and confused. The episode shows her calling Rue, anxiously trying to talk about their almost-kiss together.
At the end of the episode, viewers see Rue with Jules on her way to see Ali (Colman Domingo). This moment is the first time the two are together in real life since season one.
In a tearful confrontation, the two teenagers apologize to one another, but don't clearly communicate their emotions. While the reunion was momentous for "Rules" shippers, it leaves viewers wanting plenty more for season two.
Schafer took over the Euphoria Twitter in a Q+A and she posted a video of herself discussing the last scene.
"We kind of rewrote [the last scene] right in the moment as we started filming it," Schafer revealed on Twitter. "Because it just wasn't working. And we came up with something kind of simpler and quieter and I think it turned out really beautiful and kind of hopeful in a weird way."
This Euphoria episode is available to watch on HBO Max.
RELATED: 'Harry Potter' TV Series in 'Early Talks' at HBO Max