'Euphoria' Season 2: Cassie Used This TikTok Hair Hack in Episode 3
Cassie creates an intense morning routine for herself in 'Euphoria' Season 2 that appears to include a TikTok hair hack for heatless curls.
Euphoria Season 2 is finally streaming on HBO Max and the new episodes are wilder than ever. This season has introduced a new romantic pairing between two characters who previously didn't interact much. Nate and Cassie hook up in the first episode, leaving Cassie obsessed. She begins an intensive beauty regimen every day before school, and it appears that she even uses a hair hack from TikTok.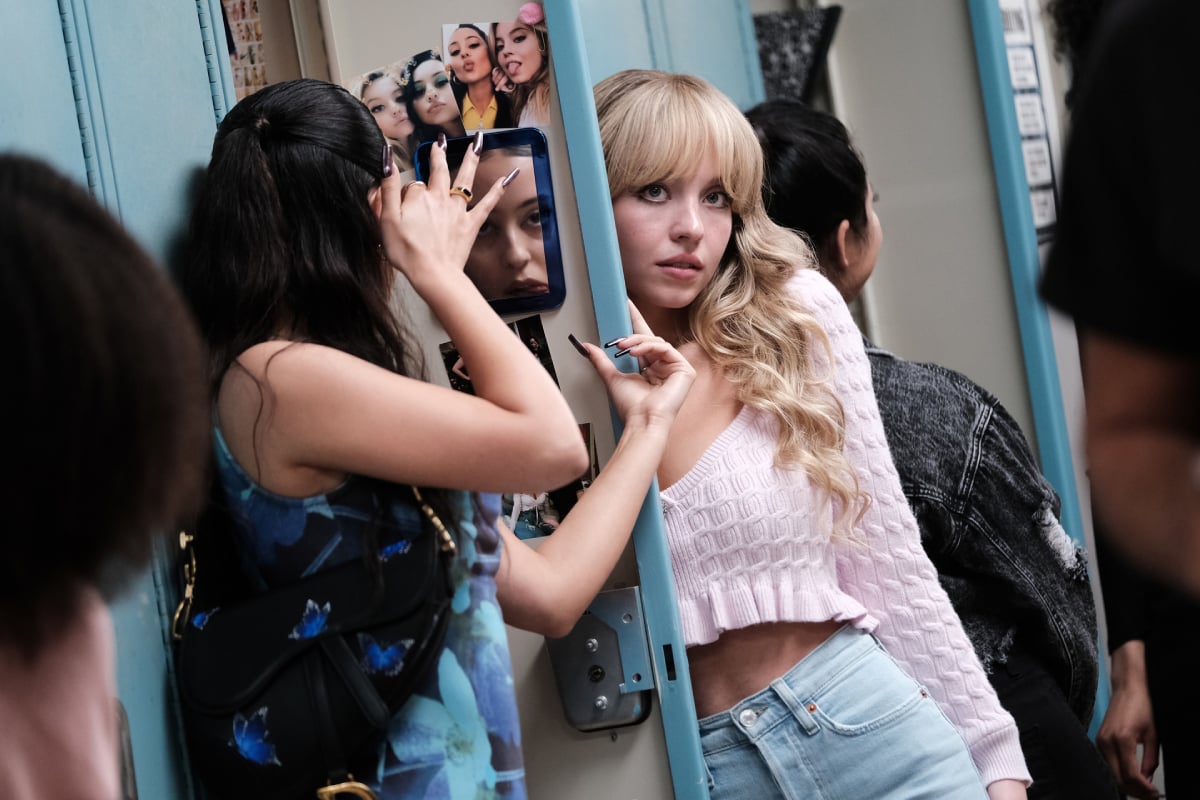 Nate and Cassie hook up in 'Euphoria' Season 2
In Euphoria Season 2, Nate is dealing with a breakup with Maddy while Cassie recently ended things with McKay. Nate and Cassie barely interacted in the first season. In the premiere of season 2, they run into each other at a convenience store and later hook up at a New Year's Eve party.
The pair are interrupted by Maddy banging on the bathroom door. Cassie jumps into the bathtub to hide and Nate and Cassie manage to keep their hookup a secret. In an interview with Decider, Cassie actor Sydney Sweeney described the bathroom sequence as "terrifying."
"Alexa [Demie] was on the other side of the door banging the entire time and I was just like, 'Oh my god, if I was actually in this situation, I would be freaking out,'" Sweeney said. "So Cassie was freaking out."
Cassie used this TikTok hair hack during her 4 a.m. beauty routine
In episode 3, Cassie embarks on a mission to get Nate to notice her. She starts waking up at 4 a.m. every morning to get ready for school in a three-hour-long routine. After showering, Cassie slathers on lotion, uses facial rollers, and applies makeup. According to Popsugar, she can also be seen using the famous heatless hair curling ribbon that was all the rage on TikTok last year.
"The Heatless Curling Rod Headband features a long headband-like tube, two silk scrunchies, and a claw clip that's used to hold the object in place," the outlet wrote. The result is beautiful blown-out curls without having to use a curling wand or iron. However, most fans of the TikTok hair hack wear the headband to bed for an easier morning routine, as opposed to waking up at 4 a.m. Unfortunately for Cassie, even flawless hair didn't make Nate notice her.
Sydney Sweeney brought her own beauty tools to the set of 'Euphoria'
Apparently, Sweeney is a fan of beauty tools herself. "Do you want to know something that's really funny?" Sweeney says in a TikTok video for HBO Max. "Most of those tools during Cassie's 4 a.m. manic routine I brought from my own house because that is my manic routine." 
"So I'm like, 'I'm just gonna bring a bin to set that day and I'll play with all the tools and you tell me if you like it or not," Sweeney laughed.
New episodes of Euphoria air Sundays on HBO and HBO Max at 9 p.m. EST.