'Euphoria' Season 2 Star Jacob Elordi Says Cal Jacobs 'Shock Tactics' Won't Work on Nate Anymore
Euphoria Season 2's premiere episode ended with Jacob Elordi's character, Nate Jacobs, getting his head smashed with a bottle by Fezco (Angus Cloud). The morally corrupt character, which almost all fans universally despise, finally got what was coming to him. However, by Euphoria Season 2 Episode 4, fans watched as Nate experienced a different kind of pain.
[Warning: This article contains spoilers for Euphoria Season 2.]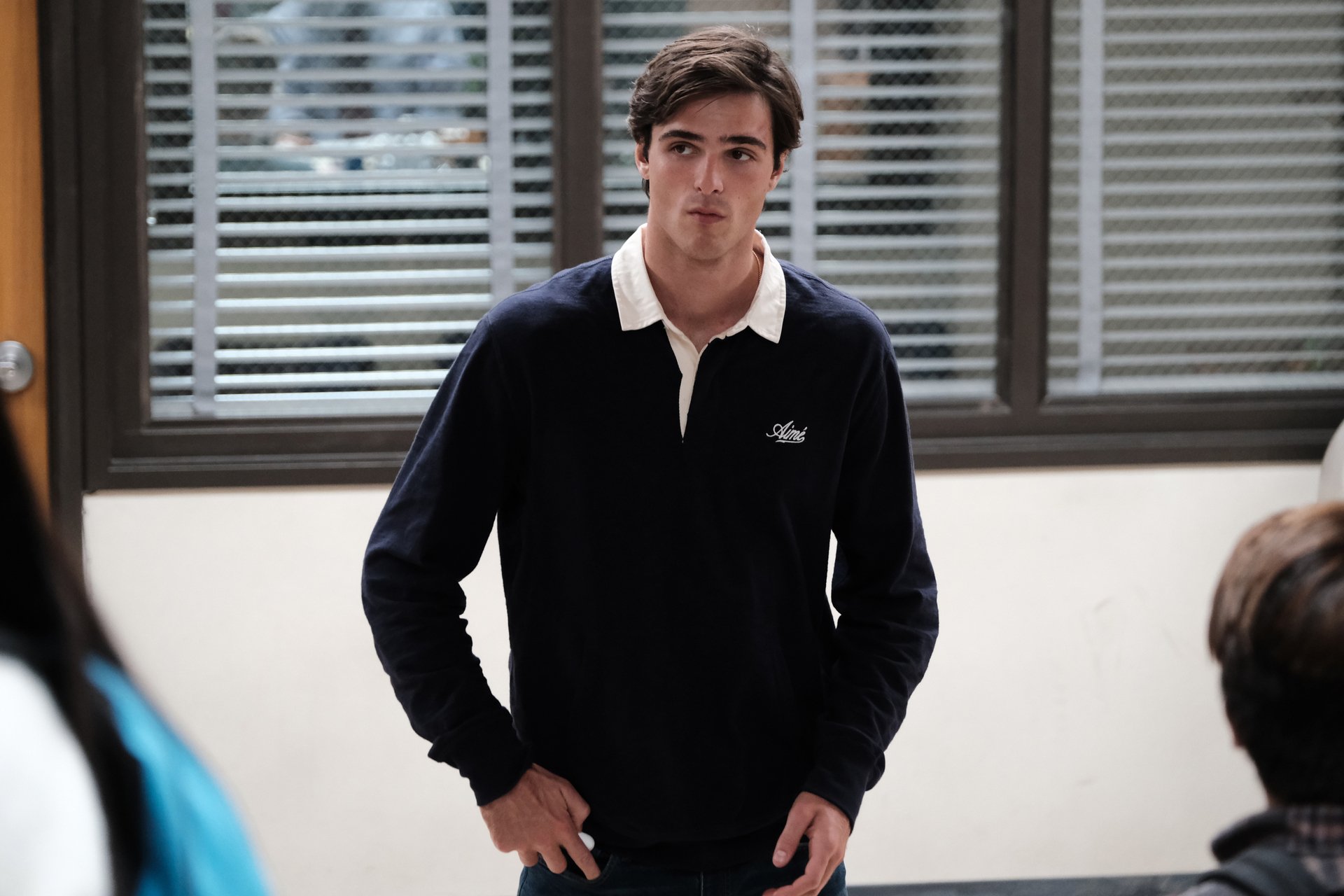 'Euphoria' Season 2's Nate Jacobs decision to stand up for his dad, Cal, landed him in the hospital
When Nate discovers the video of his father having sex with Jules, he tricks Jules into sending him nude photos. He threatens to expose her if anyone found out about the situation with his dad. However, Rue discovers Nate's plan and counters with a plan of her own: Have Fez threaten Nate.
The only problem is that Fez doesn't realize how Nate's twisted mind works. Nate reports Fez's drug dealing business to the Feds. Once Fez discovered this little detail, he smashes a bottle over Nate's head. He then beats Nate's face to a bloody pulp.
Eventually, Cal, played by Eric Dane, discovered the reason behind Nate's altercation. He presses Nate until he receives the truth – Nate's trying to protect his father from that video getting leaked to the public.
Jacob Elordi was in awe of Eric Dane's performance
Cal Jacobs is almost as equally corrupt as his son, Nate. He's strict and overbearing as a father. His secret life of hookups with young men and trans women keeps him on edge. In Euphoria Season 2 Episode 4, Cal's drunken bender ends with him relieving himself on the floor in the foyer of his home with his genitals hanging out for his family to see and ranting to his family in a tense admission of his secrets.
Elordi recently spoke to Entertainment Weekly about Dane's performance, "When he came in on the day that we shot it, it was like experiencing a master class. We were all standing at the top of the stairs as a family, and this player just came, he just kicked down the door and from the moment the door opened, it was just like [Claps], and I remember sitting back in awe, just like, 'Oh s—. This is the real deal."
'Euphoria' Season 2 star Jacob Elordi doesn't think Cal's outburst surprised Nate
Cal's dramatic speech culminates in him confessing that "Nate is his biggest regret." While audiences might have been shocked at the admission, Elordi wasn't.
"Other than the immediate sort of physical insult of seeing his father with his penis out, peeing on the floor, the shock of that, I think outside of it, everything else is not new to him. Even when Cal starts coming in and speaking his truth, that's something I think that Nate's known for such a long time, and the fact that he's doing it in front of his family, I think immediately he needed to go into like, 'OK, how am I gonna deal with this? Your shock tactics aren't gonna work on me now. I'm gonna start moving forward and figure out how I'm gonna deal with you.'"
Dane confirmed with EW that this isn't the end of his time on Euphoria Season 2. Elordi confirmed and added, "The boys are just getting started."
Catch all-new episodes of Euphoria Season 2, Sunday nights on HBO and HBO Max.