'Euphoria': The 8 Best Songs From the Season 1 Soundtrack
Euphoria is work of art, and a big reason for that is the soundtrack. Here are our eight favorite songs from Euphoria's first season soundtrack.
HBO's Euphoria, starring former Disney star Zendaya, aired its season 1 finale August of this year. Much like the show that launched Euphoria producer Drake's acting career, Degrassi: The Next Generation, it goes there. It's also an aesthetically pleasing work of art, and a big reason for that is the music that soundtracks Euphoria.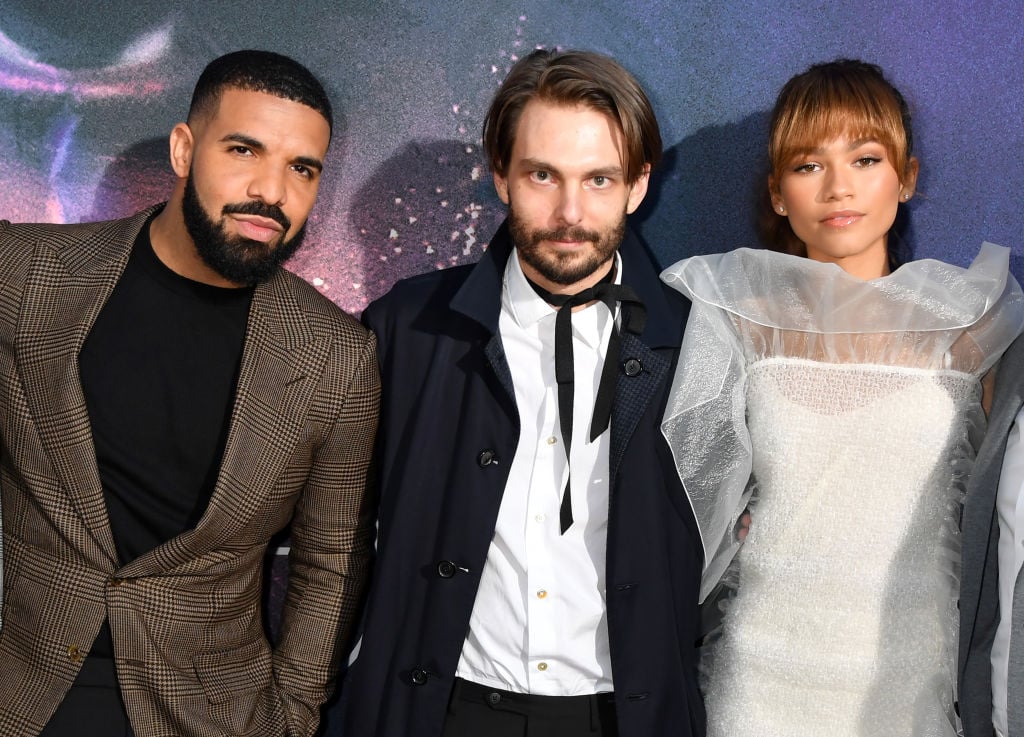 British singer-songwriter/producer Labrinth produced the score, which he released earlier this month; former Atlanta music supervisor Jen Malone chose all the other songs for Euphoria. Here are our eight favorite songs from Labrinth and Malone's collaboration, Euphoria's first season soundtrack. (Spoilers for season 1 ahead).
8. Season finale: 'My Body is a Cage' by Arcade Fire
We hear the opening lines to this song in the Euphoria season 1 finale as Cassie goes under for her abortion. It's the perfect lyric to describe how Cassie is feeling about the pregnancy–something she probably didn't want but maybe, wanted her boyfriend to want.
Cassie, played by Sydney Sweeney, delves in a fantasy of her own making: she's performing an emotional figure-skating routine to the Arcade Fire song in a sparkly blue dress and full makeup. A previous episode showed that Cassie loved to skate as a young girl but had to stop because the family couldn't afford it, so this anesthesia-induced dream is all the more heartbreaking.
7. Episode 6: 'Tempo' feat. Missy Elliot by Lizzo
This absolute bop plays as the show cuts to Kat dancing in her room for her webcam regulars, or as Rue explains, "expanding her empire and collecting her motherf*cking bag."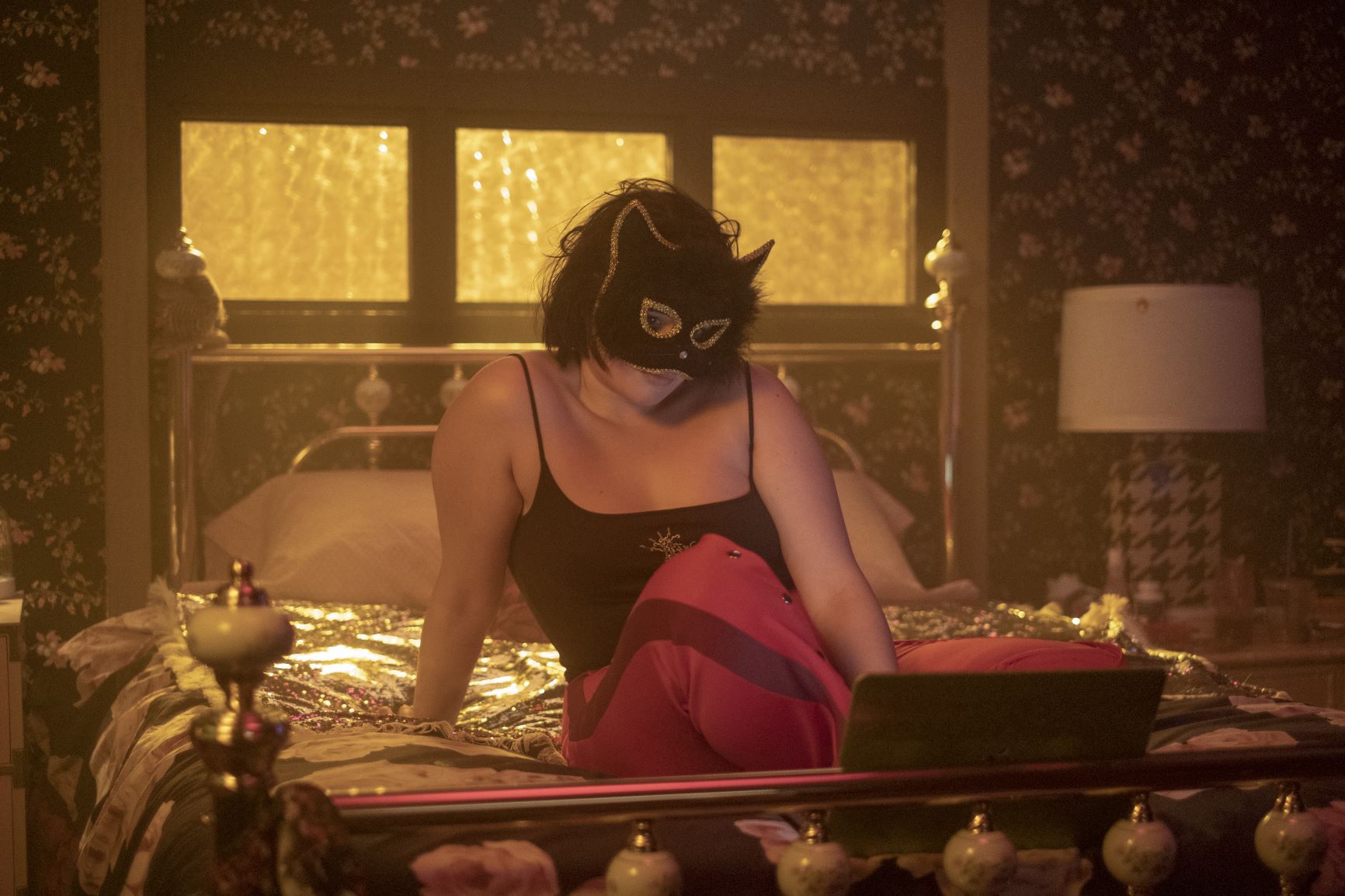 Kat, feminist hero, vapes as she tells a man, "my dream is to bankrupt you."
6. Season finale: 'All for Us' by Labrinth and Zendaya
Labrinth told Rolling Stone that he and Zendaya felt musically connected, even though the two artists didn't meet until Euphoria's premiere, explaining, "that's how 'All for Us' evolved."
Apparently show creator Sam Levison loved the song so much he told Labrinth, "'I'm using it for the finale of the season.'"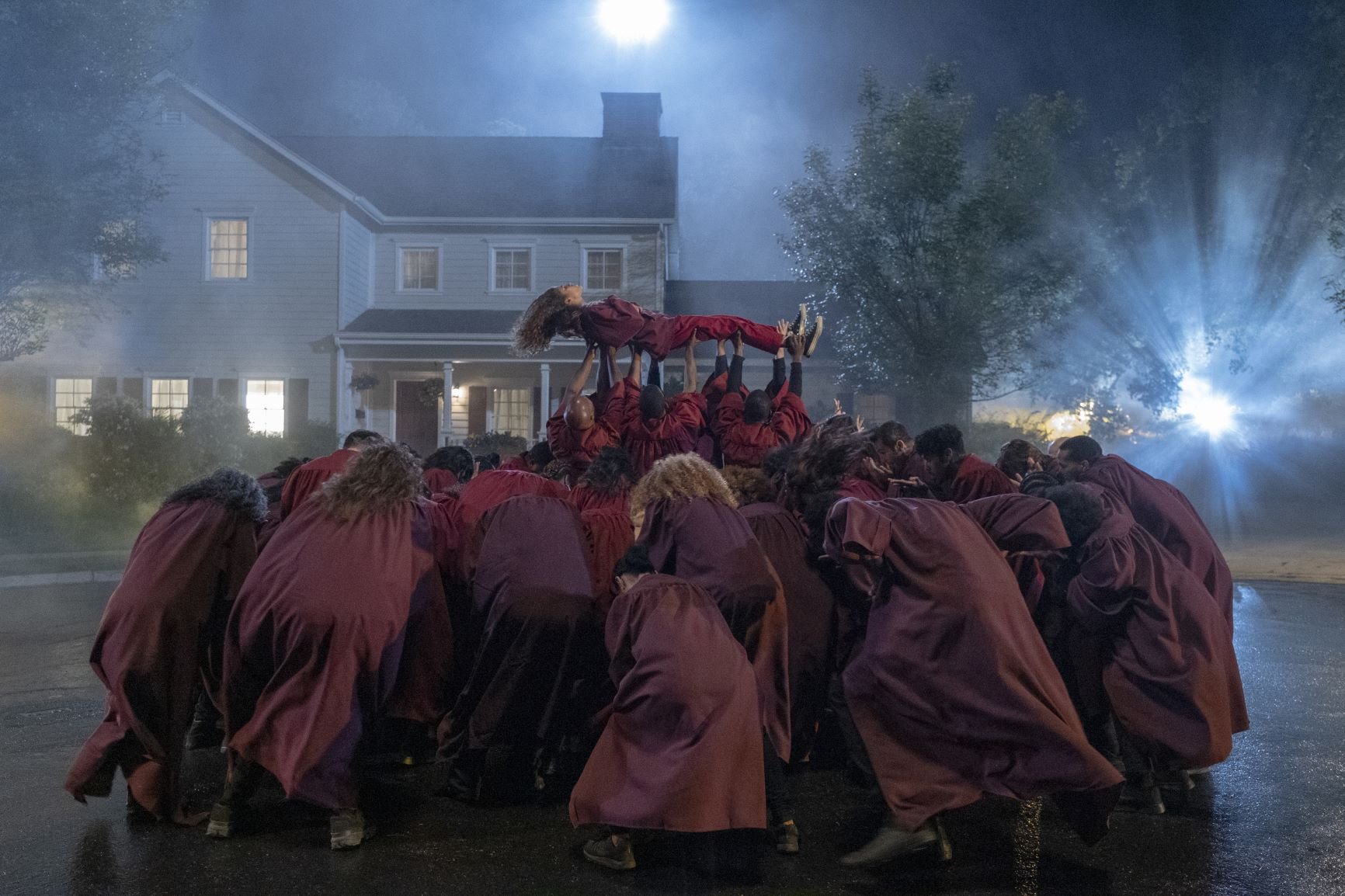 We start to hear the song at the very end of the episode. Rue stumbles out of her bedroom and begins to sing to camera. The season finale closes on a dreamlike sequence that resembles a music video, complete with gospel singers, dancers, and a marching band.
5. Episode 3: 'Work' by Charlotte Day Wilson
"I didn't know it at the time, but Jules was falling in love," Rue narrates to the Euphoria viewers as this song begins playing.
The episode breaks into split screen, showing Jules on one side and Nate, who is posing as Tyler, on the other, as they text each other, constantly throughout the day. We see them in montage: in the hallway, in their beds at night, at different desks in the same class. Jules is excited, ignorant and giggly. Nate is stonefaced.
As Jules gets lost in her dreamy state of infatuation, we hear, from the Charlotte Day Wilson song, the most hopeful words you can utter around a relationship: "I think this'll work." The song hopes, as does Jules, it will work.
4. Episode 2: 'Mount Everest' by Labrinth
"Mount Everest," Labrinth's powerful song, plays as Fez calls Jules and asks for help, worried that Rue overdosed on fentanyl. Nate waits for Maddy outside in the rain or their date, while Kat finds her sex tape on a porn site, realizing what kind of clicks she could get from solo videos.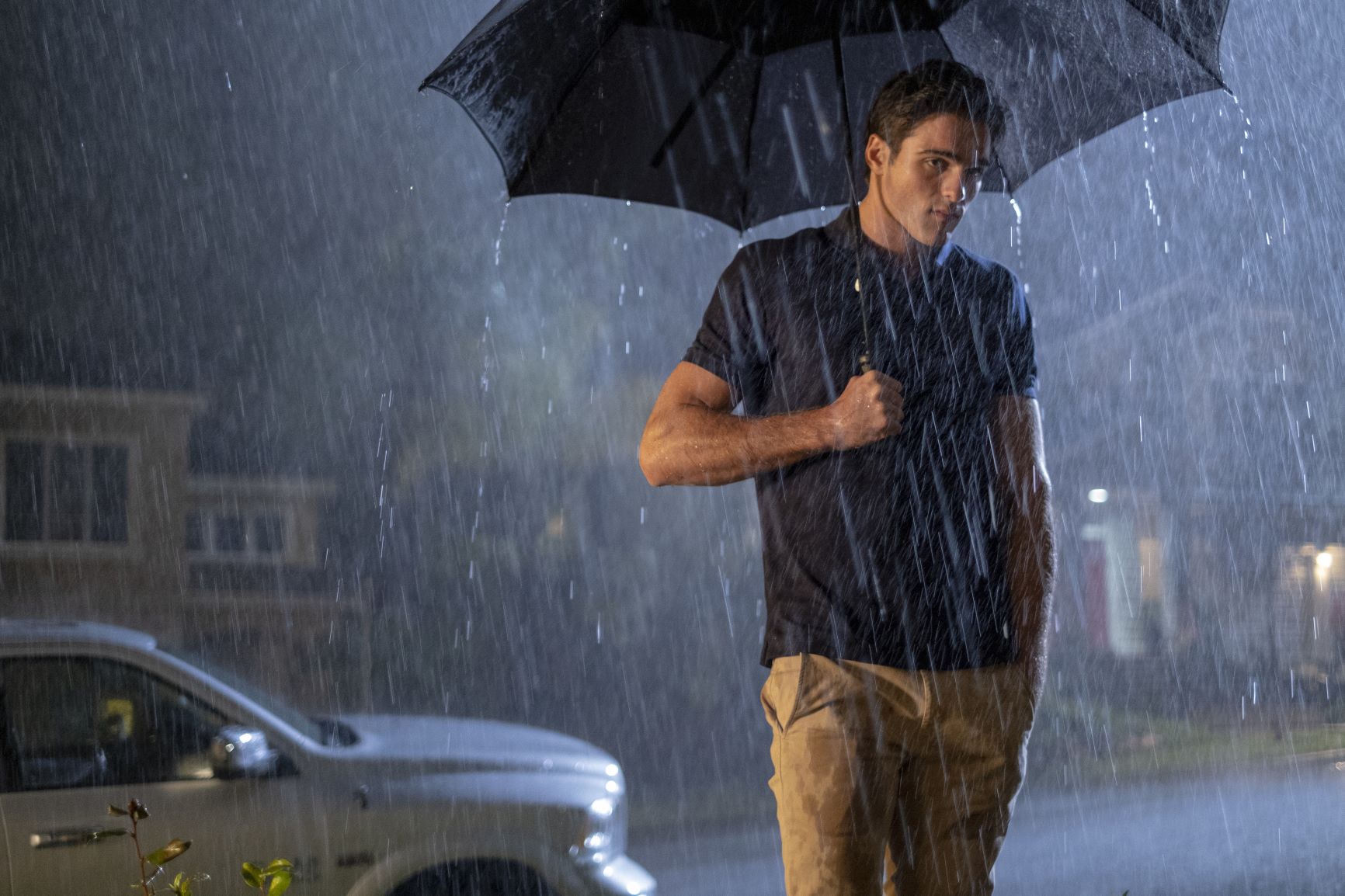 It's so fitting for this montage because the song identifies how each character is in the midst of conquering their own Mount Everest: for Nate, it's getting Maddy back and getting on top socially; for Rue, it's overcoming addiction and literally just surviving; and for Kat, it's accepting that she has a desirable body (and using that to get her coin).
3. Episode 2: 'Fly Me to The Moon (In Other Words)' by Bobby Womack
One of the most emotionally taxing scenes of the season is graced by this glorious throwback. In episode 2, Rue is put on the spot and asked to talk about her summer in class, and we see her on the high school stage, face blinded by a spotlight. Rue starts to panic.
Then, she recalls a memory of driving with her mom and sister back from the hospital, and this Bobby Womack song comes on in the car.
"In other words," Rue sings and she turns back to look at her little sister Gia in the backseat, "I love ya."
As the song plays, Rue flashes back to one memory after the other, between happy family memories, and Rue doing lines in her bedroom.
We see Rue's mom laughing in the car, singing "Fly Me To the Moon" along with her daughter, cut to: Rue threatening her mom with a piece of glass that came from the picture she threw on the floor.
To close out the rollercoaster of a flashback montage, the song ends when the episode cuts to Rue waking up in the hospital after her overdose.
2. Episode 2: 'Still Don't Know My Name' by Labrinth
This episode 2 song starts right as the episode cuts to black.
Labrinth told Rolling Stone this song "was one of the first ones I put together for Rue's character."
"I remember seeing that scene where she's kind of having a trip," he explained. He wanted to make something that "expresses the wonky weirdness and the kind of psychosis that she's going through."
1. Episode 1: 'When I RIP' by Labrinth
It's the first hit of the season, pun intended.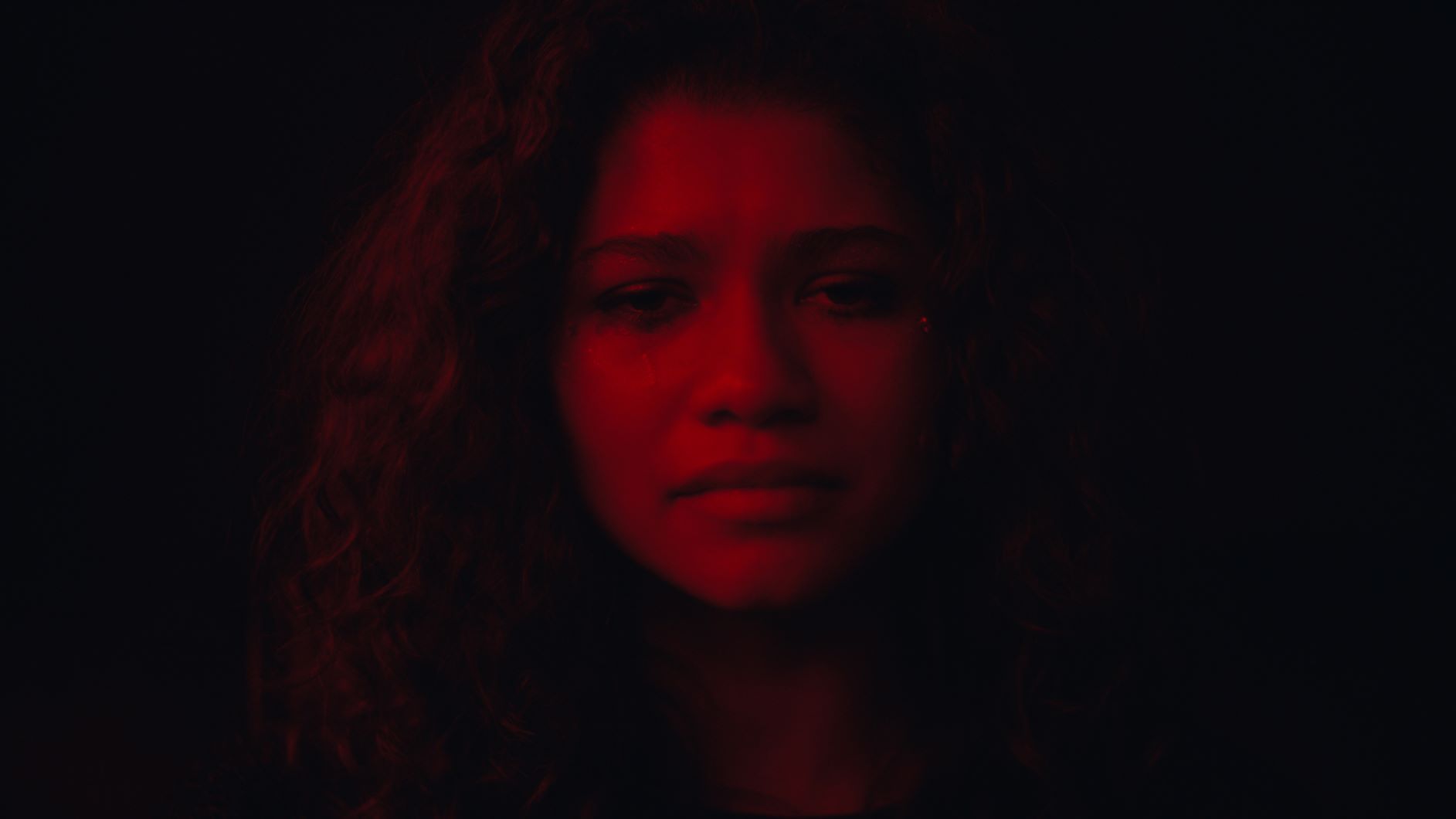 This is the scene–and the song–that sets the theme or the rest of Euphoria Season 1; after all, we can't get too far in this story without coming back to drugs.
As soon as Rue takes a line in her bedroom, we hear Labrinth's opening notes, and we're transported to a party where a glitter-eyed Rue is doing it all: smoking, snorting, drinking.
We hear the lyrics "feel the morning on my face, ain't a pill that I didn't take," ultimately defining Euphoria's entire tone.
While different colored lights illuminate Rue's face, she stares blankly in a trancelike drug state.
Rue explains the reason behind all the drugs. It's that moment when "everything stops … everything you feel and wish and want to forget, it all just sinks."
In other words: euphoria.
"It's all I wanted," Rue says. "Those two seconds of nothingness."
'Euphoria' Season 1 Soundtrack Honorable Mentions:
Episode 1: "Cocky Af" by Megan Thee Stallion
Episode 1: "Run Cried the Crawling" by Agnes Obel
Episode 2: "dead yet (with phem)" by gabriel black, phem
Episode 3: "A Prince" by Jorja Smith
Episode 5: "Nate Growing Up" by Labrinth
Episode 8: "A Song for You" by Donny Hathaway