'Euphoria': Zendaya Calls Filming the Carnival Episode a Nightmare; 'I Couldn't Breathe'
When it was revealed that Zendaya was cast in HBO's newest drama, Euphoria, people weren't quite sure what to think. Though Zendaya had more than proven that she was a talented actor prior to Euphoria, some people wondered how she would fare in such an adult role. As playing a drug-addicted teen was a far cry from Zendaya's Disney days, fans initially questioned if the actor could successfully make such a drastic leap.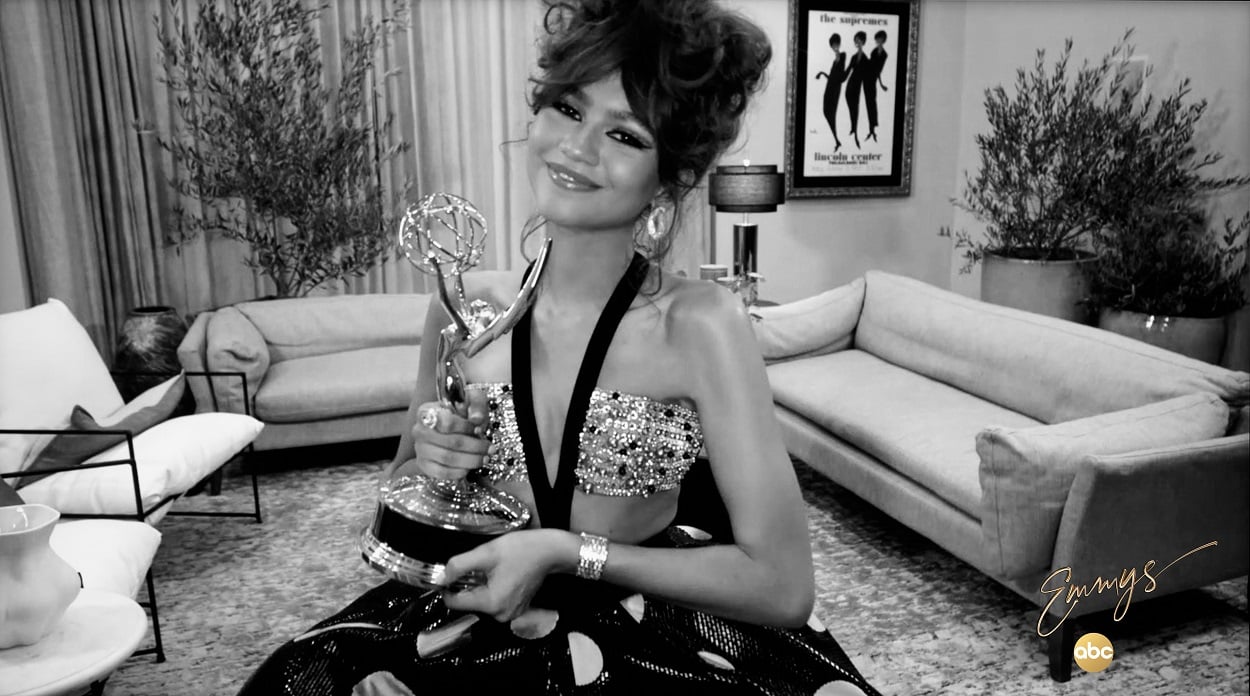 But it seems that Zendaya was more than up for the challenge of playing Rue. She and the rest of the Euphoria cast gave stand out performances which ensnared millions of people. In fact, the show was so wildly popular that HBO chose to renew the show for Season 2 before Season 1 even finished airing. And fans weren't the only ones who were completely enamored with the show.
'Euphoria' returns for two bridge episodes ahead of Season 2
Euphoria also earned top marks amongst critics. The show received six Emmy Award nominations and took home three, including one for Zendaya for Outstanding Lead Actress in a Drama series. Fans are chomping at the bit for season 2 but, unfortunately, production has been significantly delayed thanks to the coronavirus (COVID-19) pandemic. While the cast is just as excited as fans are to get back to filming, they have been adamant that filming will not start up again until it is safe for them to film the way the season should be shot.
Fortunately, fans of Euphoria are getting a bit of a treat. On October 19, 2020, it was announced that two bridge episodes would be airing soon, the first of which premieres on HBO on December 6, 2020. The cast has explained that these episodes will serve as a bridge between Season 1 and Season 2 and offer a check-in to see what the characters have been up to. Until then, fans will have to console themselves by binging the first season of the show.
Why the carnival episode was so challenging to film for the cast and crew
Of course, rewatching Season 1 of Euphoria is certainly no hardship. There are plenty of wonderful episodes that stand out to fans. One such episode is "Shook Ones, Pt. II" also known as the carnival episode. That particular episode manages to pack in plenty of drama, intensity, and romance while also being visually stunning. But as fun as the carnival episode is for viewers to watch, it was a particularly challenging episode to film. In an interview with Collider, Zendaya and Sam Levinson (the show's creator) recalled the challenges of the carnival scene.
"It was a nightmare, but it was also the best," Zendaya shared. Levinson continued on to add context about why the carnival episode of Euphoria was particularly difficult. "It was really tough," Levinson admitted. "It was a nightmare. But what's interesting is that most of the episodes were storyboarded, and we storyboarded 880 storyboards per episode. Then, we would actually build everything around the storyboards. That entire carnival was 125,000 square feet, and we had rides everywhere. We just assembled it to fit our shots, our camera, and the actors. It was freezing cold, it was dusty, it was horrible, and we shot it in six days."
'Euphoria' fans can't wait to see what's in store
Zendaya even added that the weather conditions were so challenging, she struggled to breathe. "All night shoots," the Euphoria star stated. "I couldn't breathe. I needed an inhaler." But while the carnival episode might have been challenging for the cast and crew to film, Levinson and Zendaya admit that it was absolutely worth it, given how stunning the episode was. We'd have to agree with them and look forward to seeing what they do in Season 2.