Eva Marcille Admits She Was Unhappy On 'RHOA' and Stayed For The Money
Eva Marcille shocked fans when she announced her departure from RHOA. After a drama-filled season spent battling most of her co-stars, the supermodel decided to leave the show to focus on other career opportunities. But in a new interview, Marcille hinted that the drama from the show may have been too overwhelming and admitted that she was not happy during her run on the series. Marcille explained that she remained a peach holder because of the salary.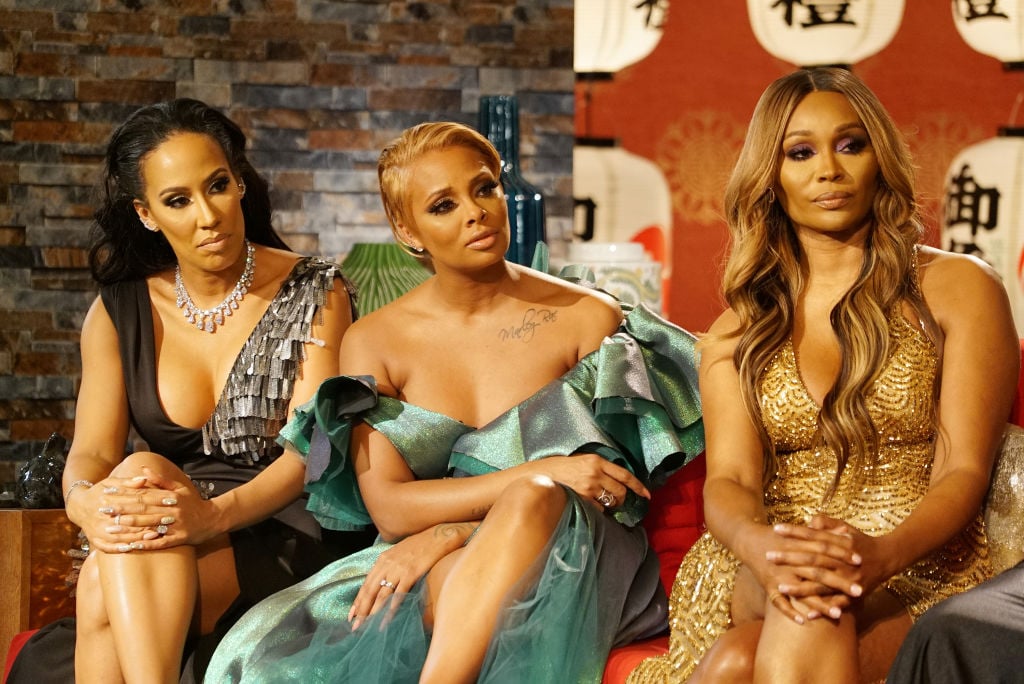 Eva Marcille announces she's not returning to 'RHOA'
As RHOA cast members are receiving their contracts for the upcoming season, Marcille opted not to renew after three seasons on the show. In an exclusive statement to The Jasmine Brand, Marcille announced her departure, just weeks after it was confirmed that friend to the show, Yovanna Momplasair, was offered a full-time role.
"I appreciate the bond of friendship that I have made with several of my cast mates and the strong personal relationships I have with numerous executives and producers at the Bravo and Truly Entertainment companies," the statement read in part.
Marcille explained that after having conversations with her family and management team, she decided that leaving the show was the best option. "I believe that what I hope to accomplish for the culture and community will be better served by focusing on other opportunities."
Eva Marcille says she was unhappy on 'RHOA' but stayed because she made good money
Much of season 12 centered around Marcille's fallout with Porsha Williams and Nene Leakes, both of whom she once had close friendships with. She also welcomed a new baby to her family, purchased her first home, and documented the legal process of her husband adopting her daughter. 
Related: 'RHOA:' Michael Sterling Slams Porsha Williams For Treatment Of Eva Marcille at Virtual Reunion
Though there were many moments of personal progress for Marcille last season, she revealed to her co-hosts on The Rickey Smiley Morning Show that she was not happy on the show.
"The reality is, the ability for upward mobility and that kind of money for African Americans is hard to see. So a lot of times, we find ourselves doing things that we are not necessarily happy doing all the time so that we can get the kind of money that we know we deserve in life," she said. "But, my questions to myself is: What is more important right now? Is it the money, or is it the movement, and the culture, and what I can impact?"
Marcille said that many of her fans, close friends, and family – including Rickey Smiley – were adamant that she was too good for the show. She took their advice into consideration when making her decision to not renew her contract.
What Eva Marcille plans to do after 'RHOA'
Marcille is looking forward to using her platform on The Rickey Smiley Morning Show to continue to participate in the important discussions taking place in Black culture, both in entertainment and regarding the current state of racism and police brutality in America.
More so, she's excited to be able to spend more time with her family, explaining that filming for RHOA took up much of her time that she would have preferred to spend as a wife and mother.
"I have a six-year-old daughter and two boys still in diapers and there are 24 hours a day and there is a lot of work to be done and so I decided to spend my time and energy focused on my kids and my community and not so much reality show business," she said. "I have such an opportunity here [on the radio show] and I don't have to over exhaust myself."
She has several businesses, including a CBD oil line and a home decor line, which she promoted during her time on the show.
Marcille is married to attorney and former Atlanta Mayoral candidate, Michael Sterling. He owns his own practice and the two are heavily involved in social justice work, which Marcille will continue to be part of now that she has more free time to do so. Sterling is also reportedly running for office in Atlanta, which may have contributed to her decision.