What's Evan Peters' Net Worth and What Is He Known For?
Evan Peters is a well-known American actor known for his impressive array of television and movie roles. He captivated a large audience with his acting in the anthology series American Horror Story and the X-Men movies. So just how much is the actor worth and what else is he known for?
Evan Peters' early life
Peters was born in 1987 to his parents in St. Louis, Missouri. He has two siblings named Andrew and a half-sister Michelle. He attended Catholic school at one point during grade school. Peters' family moved to Grand Blanc Township when he was just 14. He wanted to be an actor early on in life. It was around this time that he started taking classes for both acting and modeling in nearby Flint, MI.
Peters attended Grand Blanc Community High School. His pull to be an actor was so undeniable that he moved to Los Angeles, California at 15 with his mother. Once there, he attended another high school, but eventually opted for a homeschooling option.
How did he get his start?
Peters got his start when he won a few awards while participating in a talent competition in Florida. A photographer at the event decided to recommend an agent to the young aspiring actor.
Peters was cast in his very first film in 2004 in Clipping Adam. He won an award for that work at the Phoenix Film Festival for Best Breakthrough Performance. Peters has also appeared in a number of commercials, including for Progressive Insurance and Moviefone. Peters started to work in television as well, appearing in Phil of the Future in 2004.
What's Evan Peters known for?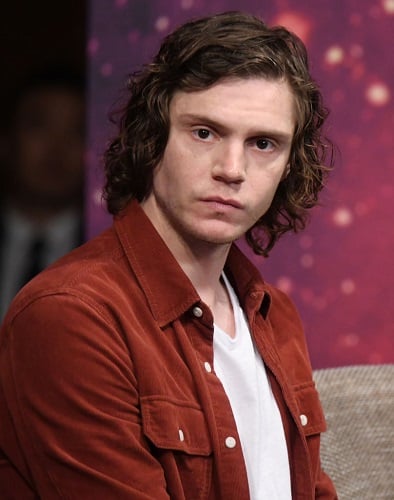 Peters has been cast in a number of big television and movie roles. A few notable projects he's appeared in include Monk, House, One Tree Hill, Ghost Whisperer, Criminal Minds, Kick-Ass, The Good Doctor, Invasion, Dead Pool 2, and Dark Phoenix. Arguably his most popular project is his work on American Horror Story in which he plays a variety of roles. He's also well-known for his work in the X-Men franchise.
What awards has he won?
Peters has won a few awards for his performances and has been nominated numerous times. He won Best Breakthrough Performance at the Phoenix Film Festival for Clipping Adam and he also won Best Actor in a Short Film for The Accomplice. He's even snagged Best Horror TV Actor for his work in American Horror Story.
What's Evan Peters' net worth?
Peters has a net worth of between $3 and $4 million, according to sources. Peters was engaged to Emma Roberts, his co-star on American Horror Story. They met in 2012 on the set of Adult World before calling it quits in March 2019. "Emma and Evan were heading for a split and now are just friends," a source told Us Weekly. "Evan has moved out. It wasn't a bad breakup."
Peters was recently seen with the singer Halsey at Six Flags Magic Mountain on what many sources speculate was a date. An anonymous bystander told The Daily Mail that the two appeared to be flirting. Halsey has actually written a few comments on Twitter in years past about her feelings for Peters, including in 2013: "Petition for Evan Peters to date me," she tweeted. There's no word yet on if they've made anything official.
Evan Peters is a very talented actor. It seems that whatever Peters puts his mind to, he seems to excel at.