Eve Taking a Hiatus From 'Queens' – Will She Return for a Second Season?
Fans can't get enough of the ABC musical drama Queens. The show chronicles the comeback tour of a popular 90s hip hop group as they navigate rebranding, changes in the music industry, and personal issues. Eve stars alongside Brandy, Naturi Naughton, and Nadine Velazquez in the show. But amid Eve's pregnancy, she's taking a step back from filming.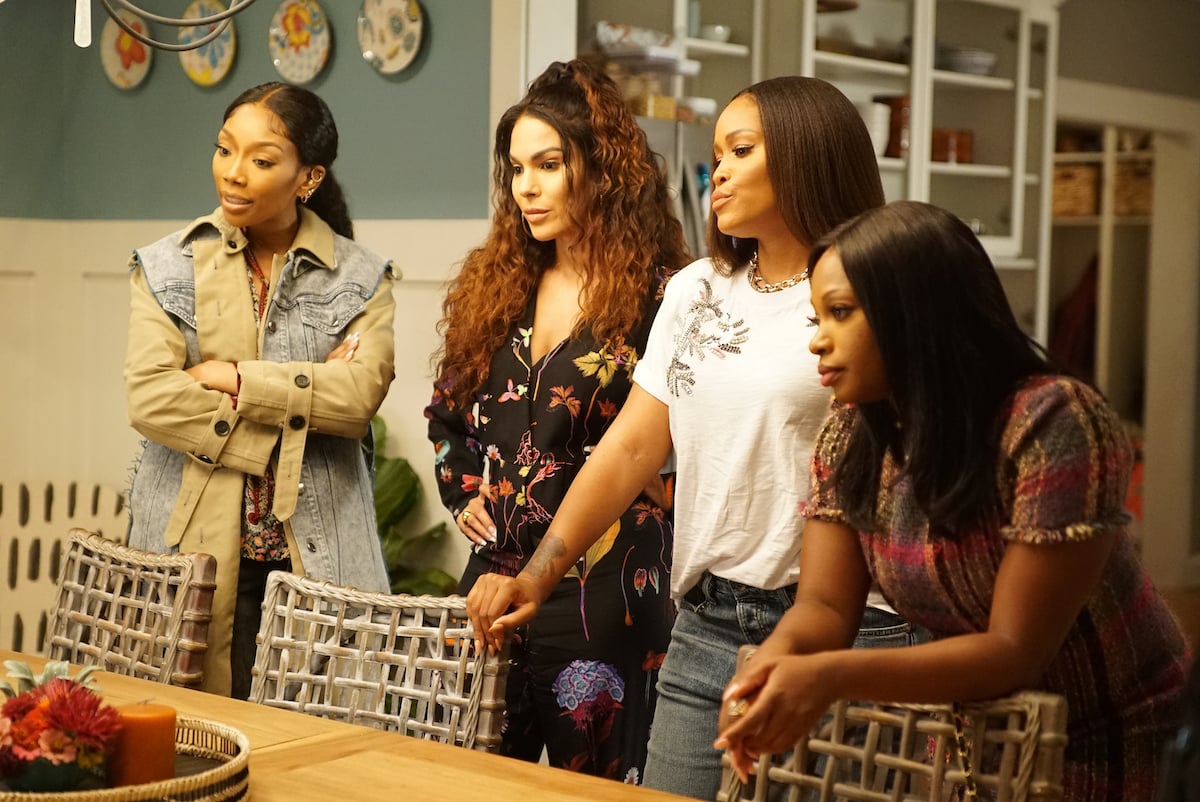 Eve takes hiatus from 'Queens' for maternity leave
The "Blow Ya Mind" rapper stars as Brianna, aka Professor Sex, on Queens. She's been in the middle of a heavy press tour for the show's debut season. Deadline reports that the rapper and actor will be taking a hiatus from the show for maternity leave. She's set to give birth to her first child in February 2022.
Related: Why 'The Talk' Co-Host Eve's Sitcom Was Cancelled
​​Eve, 42, who lives in London full time, has been commuting to Atlanta to film the show. She's been vocal about having the support of the network, ABC, and the show's producers. They have adjusted the schedule to accommodate Eve as she films additional scenes before her official leave begins.
As for the future of her time on the show, her character will be in the majority of the show's original 13-episode order for this season. Her character's storyline is reportedly wrapped up in a way so that Eve has the option to return if she chooses in case the series gets picked up for a second season.
The rapper says her co-stars have been supportive throughout her pregnancy
Luckily, Eve has the support of her co-stars. She shouts out Brandy and Naturi Naughton specifically, as both are working mothers. "Honestly, it's so nice to be on set with women who are in this business. Naturi, specifically, she had been filming Power while she was pregnant with her daughter, Zuri, and so she gave me lots of advice, and Brandy as well," Eve says in a recent interview with ESSENCE. "Brandy, she's such a sweetheart, I love them both."
Related: Why Rapper Eve Had an Emotional Breakdown Ahead of Her Verzus Battle With Trina
She says they were extremely supportive and protective during days where filming went longer than expected. "Just being supportive of me and, also, speaking up for me, that was a big deal," she says. "Sometimes on set if I was really tired, Naturi would speak up for me and so would Brandy, like, 'C'mom guys, you know she's pregnant.' That was really nice to have people who understood my position."
Eve says motherhood has been a dream
The Barbershop star married Maximillion Cooper in 2014. Though she's the stepmother to Cooper's four children, she's long desired to have her own children. But, the couple struggled to conceive. She learned that a medical condition was causing her fertility trouble.
"I had 14 fibroids that I didn't even know that I had," she told the hosts of The Breakfast Club. She underwent a surgical procedure to have the fibroids removed. She admits that she felt ashamed and embarrassed at times that she could not get pregnant.