'Eve,' 'The Sound of Magic' and 4 May K-Dramas Fans Are Eager to Watch
Every month of 2022 is packed with new riveting K-dramas. With Twenty-Five Twenty-One and April K-dramas like Tomorrow taking the cake, there is much more to look forward to. May has an impressive list of K-dramas for fans, like the return of Seo Ye-ji in Eve and Netflix's The Sound of Magic. These K-dramas are only a few of what is in store.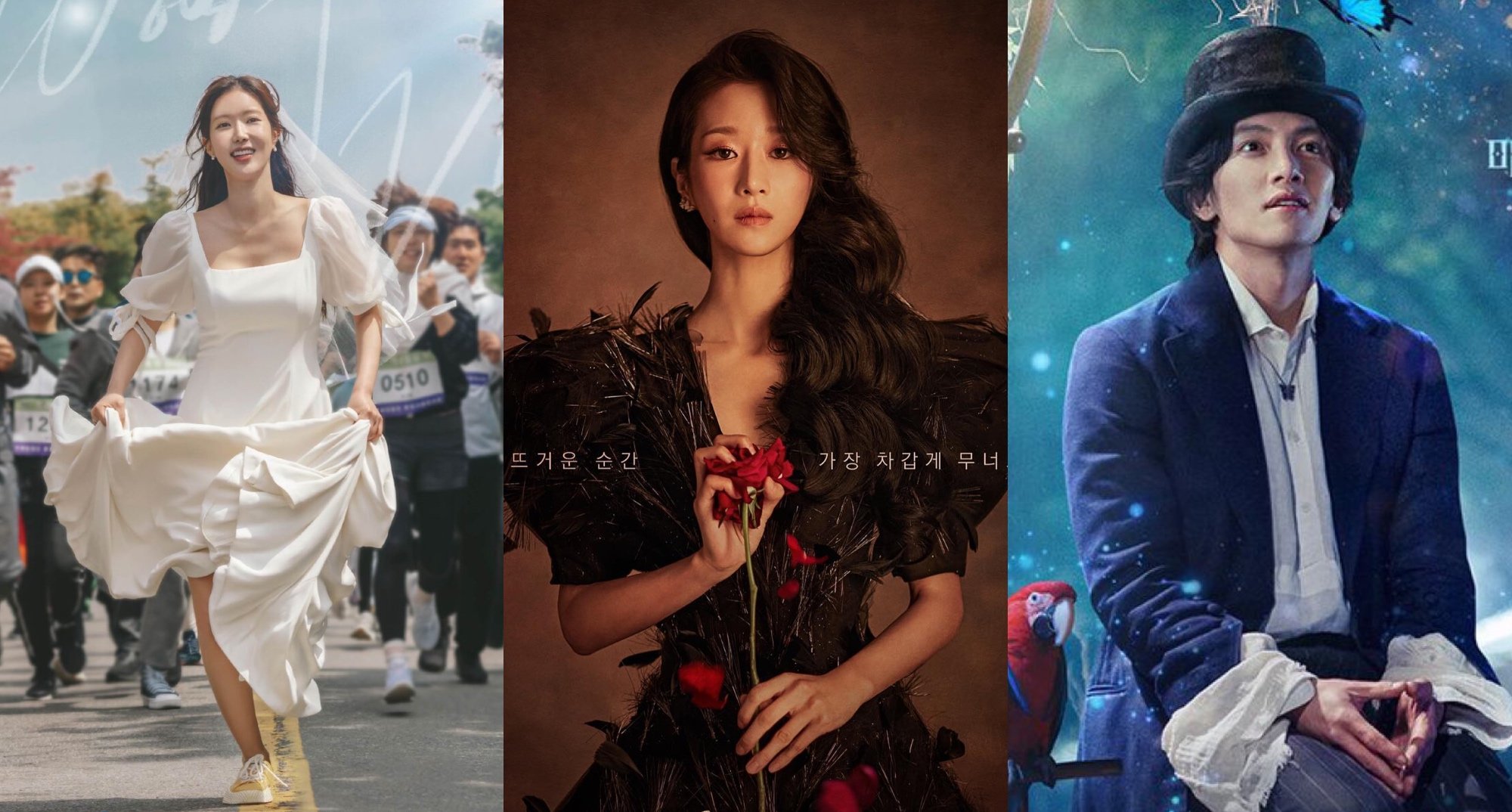 'Rose Mansion' takes a girl with low self-esteem on a case to find her missing sister
Fans have seen this before. The spine-chilling fear of one's neighbors not being who they say they are like in Strangers from Hell. This time the story takes on an interesting twist in the upcoming May K-drama, Rose Mansion. Ji-na (Lim Ji-yeon) seems like an ordinary hotel employee who lives s decent life. In reality, she has self-esteem issues.
When her older sister goes missing, she returns to her parent's home at Rose Mansion, looking for clues. But Ji-na soon feels uneasy as strange things start to happen and the building tenants hide their own secrets. Aiding Ji-na is a homicide detective, Min-soo (Yoon Gyun-sang). He is the only one who believes her, but he too hides his own dangerous secrets.
Rose Mansion will premiere on May 13 on TVing.
'Woori the Virgin' is the K-drama adaptation of the hit American series 'Jane the Virgin'
According to Soompi, in August of 2021, an industry representative stated the series Jane the Virgin would get a Korean remake. The time has finally come as the May K-drama Woori the Virgin is set to premiere on the small-screen. The K-drama has many storyline similarities to the American series.
Oh Woo-ri (Lim Soo-hyang) is an assistant writer for a drama series. She is in a committed relationship with her detective boyfriend, Lee Gang-jae (Shin Dong-wook. Woo-ri has one request, she wants to stay a virgin until her wedding day, and Gang-jae agrees.
Her life goes into shambles when going for a routine OB-GYN visit. Due to her doctor's mistake, she is artificially inseminated. The baby's father is Raphael (Sung Hoon), the CEO of a cosmetics brand. While Raphael seems cold and closed-off, he looks for true love. In reality, he is married to a woman who wants nothing to do with love.
Woori the Virgin will premiere on May 9 and be available on Viki.
'Bloody Heart' will be fans' newest historical romance May K-drama obsession
The newest May K-drama, Bloody Heart, is already on the air for fans to watch. The historical romance K-drama is seeped in political turmoil and unrest. Lee Tae's (Lee Joon) father took over the throne with the help of Park Gye-won (Jang Hyuk). Lee Tae is king after his father's rule and believes in an absolute monarch.
But First Vice-Premier Gye-won opposes and has more power than the king himself. Meanwhile, Yoo Jung (Kang Han-na) comes from a noble family. She is taken in as Lee Tae's wife, and her family gets tangled in the political unrest of the royal court.
Bloody Heart premieres new episodes every Monday and Wednesday on KBS and Disney+.
'Kiss Sixth Sense' will be the newest May K-drama on Disney+
Disney+ has done a good job developing riveting K-dramas like the controversial but well-loved Snowdrop and the limited drama Soundtrack #1. Its newest addition will be Kiss Sixth Sense starring Yoon Kye-sang and Seo Ji-hye.
Based on a webtoon, Ye-sool (Seo) has had a special ability since she was a child. When her lips touch someone else's, she can see their future. But she is unable to know when it will happen. Ye-sool currently works at an advertising company and hates her boss. It all changes when a dramatic incident causes their lips to meet.
Ye-sool is in for the shock of her life when her gift shows a steamy night in bed with her boss. The K-drama trailer has Ye-sool saying, "I've seen a future that can't ever come true. In the future…what am I doing with Cha Min Hoo?!"
Kiss Sixth Sense will premiere on May 25 on Disney+.
'The Sound of Magic' combines the wonder of magic with the struggles of reality
Fans are excited for Netflix's May K-drama The Sound of Magic for its impressive main cast, storyline, and musical element. Based on a webtoon, Yoon Ah-yi (Choi Sung-eun) is a normal school girl who gets good grades. But in reality, her parents abandoned her and left her to raise and provide for her younger sister.
Ah-yi once dreamed of becoming a magician but now wants to hurry through adolescence to become an adult. She meets a mysterious adult magician in an abandoned amusement park named Lee Eul (Ji Chang-wook). He vows to help her find her spar for magic again.
Meanwhile, Ah-yi's classmate Na Il-deung (Hwang In-youp) only focuses on his studies. He, too, tries to find a zest for life and a crush on Ah-yi. But Le Eul has a past he is trying to hide.
The Sound of Magic will premiere on May 6 on Netflix.
'Eve' marks the return of Seo Ye-ji in a revenge May K-drama
After starring in the Emmy nominated K-drama, It's Okay to Not Be Okay, actor Seo Ye-ji stepped away from the small-screen. She makes her return on the tvN May K-drama Eve. Lee La-el (Seo) saw her family's demise at the hands of one man and Korea's elite.
She vows her revenge, and it takes 13 years for her to perfect her plan. Having grown up as a beautiful yet cunning woman, Lee-el sets her sights on her target. She vows to entice Kang Yoon-kyum (Park Byung-eun), the CEO of LY Group, to make him fall in love and destroy him for everything he is worth.
In her pursuit of revenge is human rights lawyer Seo Eun-pyung (Lee Sang-yeob). He saw what happened to her family and helps her with a divorce lawsuit that shocked the nation.
Eve will premiere on June 1 at 10:30 p.m. KST due to a schedule change.