'Eve': This Korean Actor Plays a Character With a Surprising Relationship With Ra-el
The time has come for K-drama fans to fall in love again with actor Seo Yea-ji's acting with Eve. The June K-drama stars the actor as Lee Ra-el, a woman on the path to dangerous revenge. Burdened with the loss and pain of her past, Ra-el vows to take down Korea's elite. Eve Episode 1 is a smashing success, but fans can not help but be surprised by Ra-el's husband.
[WARNING: This article contains MAJOR spoilers for Eve Episode 1]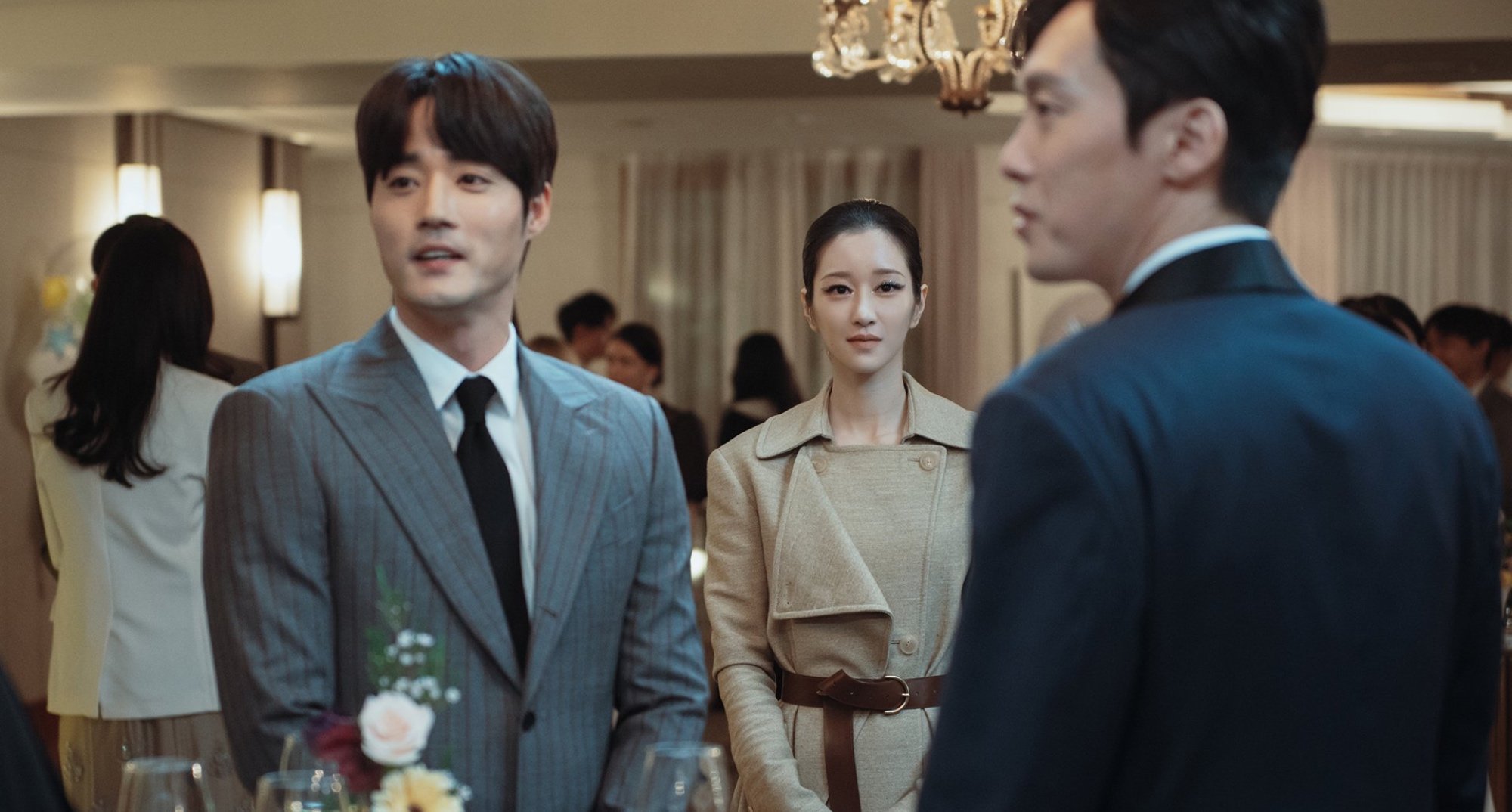 'Eve' Episode 1 reveals the start of Ra-el's journey and her current relationship status
One detail was left a secret from all the teasers, trailers, and information about Eve. In Eve Episode 1, fans learn Ra-el has a husband and a young daughter. The episode begins with Kang Yoon-gyeom (Park Byung-eun) holding a press conference admitting to his infidelity and later meeting with Ra-el. The scene then shifts to the past and the beginning of Ra-el's manipulation to get her revenge.
At an arts recital, Ra-el is a trained dancer and captures the gaze of Yoon-gyeom during her performance. Fans are well aware this is the beginning of her master plan. Fans were surprised when Ra-el appeared to greet the guests afterward, holding hands with her daughter. Later on, she meets her husband outside the venue. He apologizes for missing her performance.
Together they say hello to other guests, meet with their daughter, and are introduced to Yoon-gyeom. By all accounts, Ra-el's husband seems like a kind and genuine man. At the end of the episode, the scene shifts back to her meeting her husband. Ra-el teases him and says there is something he could see that no one else can.
She takes him to a dressing room near the waiting area. She entices him to have sex, while her husband is shocked by her fervor. But when Ra-el looks toward the waiting room, her husband has a knowing gaze. They have sex, and it is revealed that Ra-el dropped her bracelet so that Yoon-gyeom could witness them.
Ra-el's husband in 'Eve' is played by actor Lee Ha-yul
RELATED: 'Eve': Seo Ye-ji Dazzles on the Path for Revenge in K-Drama's Teaser Video
The storyline of Eve centers on Ra-el spending years coming up with the perfect revenge plan. Fans never expected her to have a husband and daughter. It is unclear if Ra-el's husband in Eve is also in cahoots and part of her plan. The character's name is Jang Jin-wook, and fans have fallen a bit head over heels with his good looks, kind charm, and impressive physique.
Playing the role of Ra-el's husband in Eve is actor Lee Ha-yul. The actor has played numerous supporting roles in K-dramas. In the historical K-drama, Diary of a Night Watchman, he played the role of Dae-ho. In Welcome to Waikiki, he appeared in episode 16 as Seo Jin-woo.
Lee had a bigger role in the K-drama remake Designated Survivor: 60 Days as Kim Jun-oh, a NIS agent. In 2020, Lee played a supporting role in the military thriller drama, Search. He played the role of Park Ki-hyung, an active-duty sergeant.
Fans are excited to see where the revenge story takes the characters in 'Eve'
RELATED: 'D.P.' Season 2 Reveals Official Main Cast With Jung Hae-in, Son Suk-Ku, and More – Here's Everything We Know
The K-drama has already proven that fans are in for a wild ride of twists and turns within the first episode. Eve's added detail of Ra-el having a husband was unexpected and had one fan on Twitter stunned. The K-drama is quickly establishing the root of Ra-el's pain and backstory. Fans saw how she could switch personas with her husband and daughter to entice Yoon-gyeom.
The first episode also revealed what happened to Ra-el as a teenager and to her parents at the hand of someone close to Yoong-gyeom. Fans on Reddit are tagging Eve as a "makjang" K-drama. A "makjang" drama entails storylines that push the boundaries on adultery, secrets, affairs, murder, and illegal actions.
One fan commented, "This genre is my guilty pleasure to be honest. I'm always on the lookout for these for a dose of crazy." Eve was one of the year's most anticipated K-dramas, marking the return of actor Seo Yea-ji.
RELATED: 'Yumi's Cells' Hinted at Yu-mi's Future Marriage – but Who Does She End up With in the Webtoon?