'Evermore': How Did Taylor Swift Poke Fun at Her Role in 'Cats'?
Musician Taylor Swift's December 2020 album, Evermore, has been quickly dissected by listeners, as they work to distinguish what's fictional and what draws from her personal life. But one small detail likely no one was looking for was a nod to her role in the 2019 movie-musical Cats.
Taylor Swift appeared in 'Cats'
Aside from a handful of acting roles, Swift's work in Hollywood is scarce. She only chooses projects she's very interested in. And Cats was undoubtedly one of them. "I said yes right away," Swift told Variety, noting that director Tom Hopper offered her the role outright. "I didn't do any screen tests."
Swift portrays Bombalurina, a flirty cat who sings the song "Macavity: The Mystery Cat" at the Jellicle Ball near the film's end. Though she didn't have a significant role, Swift eagerly attended extra rehearsals, saying she "wanted to be a part of it." "There's just never been a movie made like this, which is why it was so fun to be a part of," Swift added.
The film received poor reviews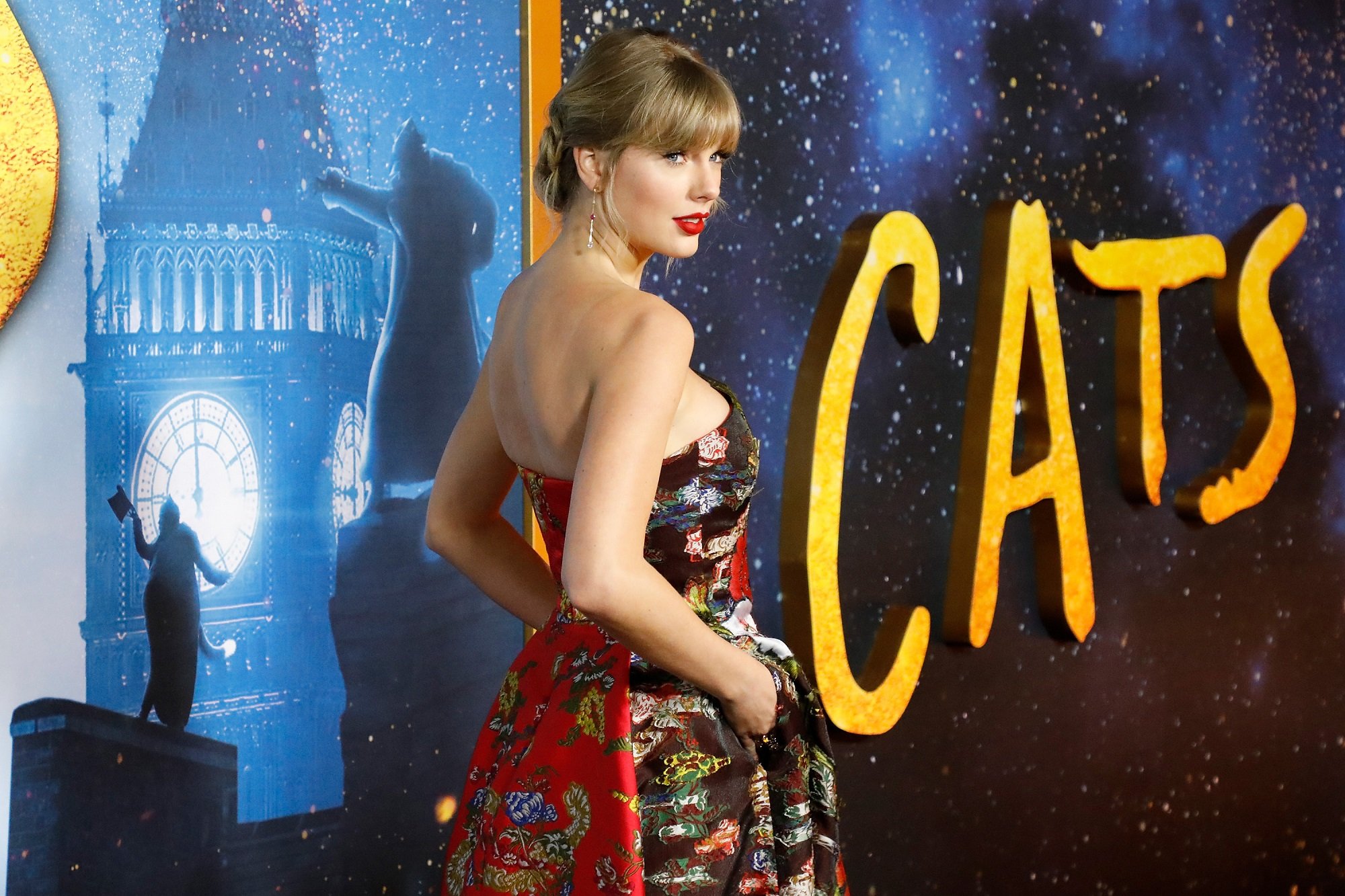 Cats premiered in December 2019. The film was reportedly rushed in the final stages, specifically in regards to its visual effects. Swift and her castmates saw it for the first time at the premiere. But Cats earned overwhelmingly negative reviews and performed poorly at the box office.
"I had a really great time working on that weird-ass movie," Swift told Variety in January 2020 as the film became something of a joke in Hollywood. "I'm not gonna retroactively decide that it wasn't the best experience," she continued. "I got to work with the sickest dancers and performers. No complaints."
Swift released 'Evermore' in 2020
Though it's only been a year since Cats, Swift has released multiple projects in the interim. She surprised her fans with two surprise albums in 2020: First July's Folklore, then Evermore in December. Both received overnight acclaim from critics and audiences alike.
"I've never done this before. In the past I've always treated albums as one-off eras," Swift tweeted of the sister albums. "I loved the escapism I found in these imaginary/not imaginary tales," she continued, noting that both Folklore and Evermore contain hints of her real life, as well as stories she made up.
The 'Evermore' lyrics that point to 'Cats'
On the title track with Bon Iver, Swift begins the first verse. She sings, "Grey November/I've been down since July," seemingly pointing to her 2016 feud with Kim Kardashian West and Kanye West. "Motion capture/Put me in a bad light," she continues, likely referring to the video Kardashian released of West and Swift's phone conversation.
However, "motion capture" (often shortened to mocap) is a term used in Hollywood to describe filming actors in special suits to animate on top of them, as was done for Cats. Swift may have chosen this particular terminology as a nod to work done in the film. But then again, fans will likely never know the truth.