Every Time the 'Friends' Cast Has Worked Together Since the Show Ended
The cast of 'Friends' have gone on to star in other TV shows over the years. Here's a look at all at every time they had a mini-reunion post-'Friends.'
There's nothing fans of Friends love more than when the cast gets together. And while we've been getting quite a few off-screen reunions recently, what we all really want is to see the six actors back in their most TV roles.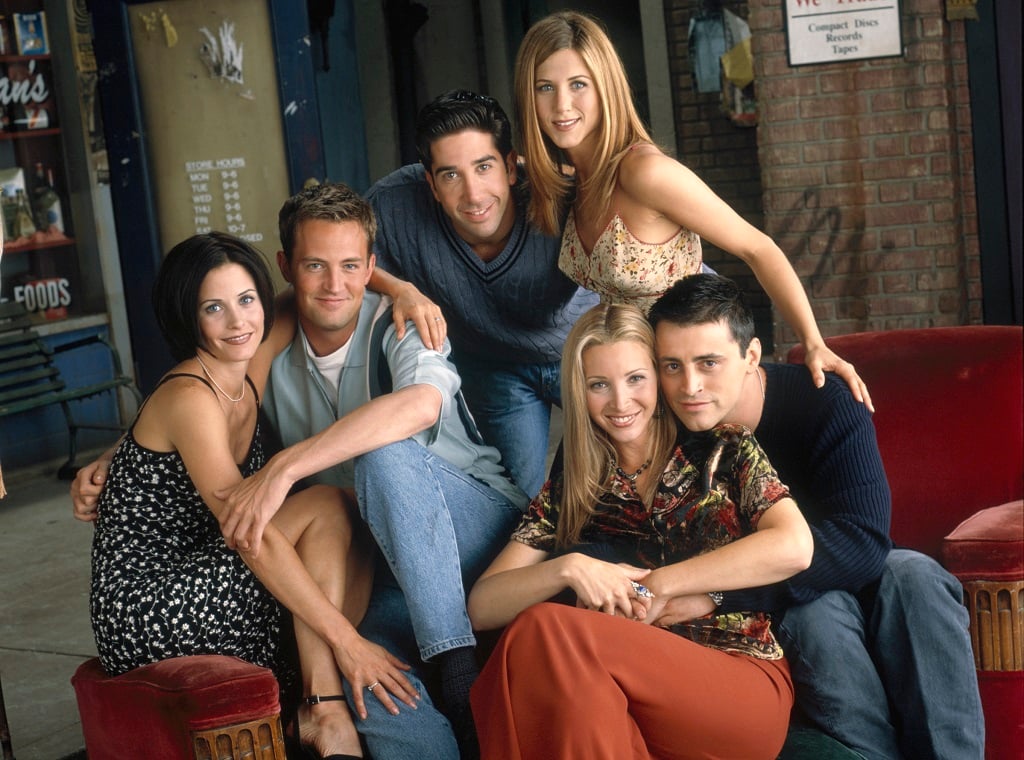 We don't have that just yet, though an HBO Max special is rumored to be in the works. But in the meantime, we can watch all of the mini-reunions they've had on other series over the years. Here are all of the times in which Courtney Cox, Jennifer Aniston, Lisa Kudrow, Matthew Perry, David Schwimmer, and Matt LeBlanc have acted together since Friends ended — and how to watch them.
'Dirt' (2007-2008)
Post-Friends, Cox tried her hand at drama. She starred in Dirt as Lucy Spiller, the editor of a high-end tabloid. Cox also executive produced the FX series. It ran for two seasons, though the second was cut short by the 2007-2008 Writers Guild strike.
Only one Friends star appeared in Dirt. Aniston guest starred as Tina Harrod, an editor at a rival publication, in the Season 1 finale. Tina and Lucy have a complicated past. This was Aniston's first TV appearance after Friends ended. (Dirt is available to for purchase on Amazon Prime.)
'Cougar Town' (2009-2015)
Next, Cox starred in (and executive produced) the sitcom Cougar Town. It originally aired on ABC, but after its cancellation, was picked up by TBS. Cox portrayed Jules Cobb, who begins the show as a recently divorced single mother. And three other cast members from Friends guest-starred on the show over its six-season run.
Kudrow was the first to appear. She played Dr. Amy Evans, a dermatologist who dates Jules' ex, in Season 1, Episode 11. Next is Aniston as Glenn, a therapist who Jules sees in the Season 2 premiere. Finally, Perry portrays Sam, who Jules goes out with (despite being happily married). (All seasons of Cougar Town are on Hulu.)
'Episodes' (2011-2018)
Following his unsuccessful Friends spinoff, Joey, LeBlanc struggled a bit. But then he landed a lead role in Episodes. The series is about a British couple who move to the U.S. to remake their popular TV series. LeBlanc portrays a fictional version of himself who is cast in their show. He later becomes their friend.
In the fifth episode of Season 4, Schwimmer similarly portrays himself. Matt is paid to appear at a party in a foreign country, where he runs into his former Friends co-star. They catch up and exchange anecdotes about the strange scenario that they're in, only for David to drop a bombshell on Matt. (All episodes of Episodes are on Netflix in the U.S.)
'Web Therapy' (2011-2015)
This Showtime comedy was spun out of a web series of the same name, created by Kudrow. In it, she stars as Fiona Wallace, a therapist who creates her own kind of short and, in her mind, more effective therapy. And nearly all of her main Friends co-stars made appearances. (All four seasons of Web Therapy can be purchased on Amazon Prime.)
Cox plays Serena Duvall, a psychic, in Season 1 Episode 8. At the end of Season 2, Schwimmer has a four-episode arc as Newell Miller, a client who is obsessed with her. LeBlanc appears in Episodes 7 and 8 of Season 3 as Nick Jericho, who has an online gambling addiction. And Perry plays Tyler Bishop, a compulsive lying lawyer, in Episodes 10 and 11 of Season 4.
'Go On' (2012-2013)
After Friends, Perry had a string of unsuccessful TV shows. Among them was Go On, in which he plays Ryan King, a sports radio host who is part of a grief group after the death of his wife. The series only lasted one season, so there was only time for one cameo from a former cast mate.
In Episode 20, "Matchup Problems," Cox plays a widow, Talia. Ryan's group mate, Anne, attempts to set them up, but when they all go out together, Talia reveals that she's interested in both of them. So they compete for her affection. (Go On is available to watch on NBC.com or the NBC app.)