'Everybody Loves Jeanne' Is Witty Melancholy Perfection
'Everybody Loves Jeanne' is a quirky romantic dramedy for our time.
Romantic comedies aren't exactly hitting the nail on the head for women over 30. Therefore, when a film gets it right, it sits with you for quite some time. As is the case with Céline Devaux's debut feature, Everybody Loves Jeanne. Jeanne Mayar's (Blanche Gardin) life isn't exactly going to plan. Just as her career as an environmentalist is set to launch to the next level, a mishap with her self-powered sea cleaning machine causes all of her investors to pull out at the last minute, effectively bankrupting her. 
Now swimming in debt, she has no choice but to take her brother Simon's (Maxence Tual) advice and travel to Lisbon, clean out their deceased mother's massive apartment, and put it up for sale. Jeanne has been actively avoiding her childhood home and the tragic circumstances surrounding her mother's death for the past year. Returning there is the very last thing she wants to do.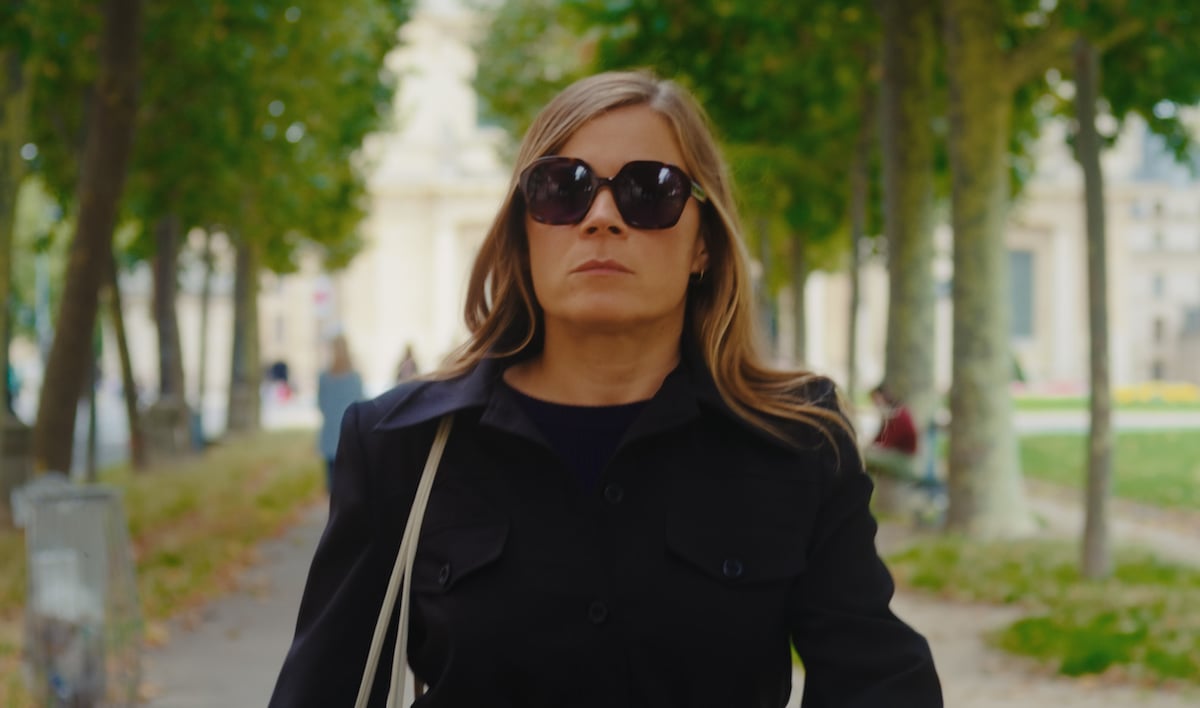 'Everybody Loves Jeanne' mixes live-action and animation
Mentally and financially drained, the stoic woman — dressed in all Black — leaves for Lisbon to begin trying to pack up her mother's life and, in turn, put her life back together. During her trip, she crosses paths with two men from her past. Jean (Laurent Lafitte) is an obnoxious classmate from high school with a long-held crush on Jeanne. Then there's Vitor (Nuno Lopes), a former lover with a lush beard and deep dimples. 
Though Everybody Loves Jeanne could have easily been a straightforward romantic dramedy, Devaux takes it a step further using a bold mix of animation and live-action. As Jeanne pushes through her time in Lisbon, her inner thoughts are illustrated in the form of an animated hairy creature whose quippy commentary is as hilarious as it is heartbreaking. 
Céline Devaux understands how to illustrate grief on-screen
Devaux also refrains from setting her film against touristy and picturesque backgrounds often used to depict Lisbon on-screen. Instead, she chooses to address the gentrification and overdevelopment that has taken over the hilly coastal city, displacing its residents.
Accurately depicting the rage, chaos, and pain of grief in film is always a challenge. However, under Devaux's direction, Gardin masterfully flits from disbelief, exhaustion, and anxiousness on a whim. Jeanne is overwhelmed by the current status of her life, and the film highlights how baffling it feels to keep pressing forward following major life events. Her pesky inner voice fills in any of the gaps that her haunted memories and visions of her mother aren't able to. While this worked seamlessly nearly the entire film, there was only one misstep. The screen becomes saturated with a red hue during a beach scene, giving it a misplaced and inauthentic feeling that doesn't fit the film's tone. 
'Everybody Loves Jeanne' is an updated 'Bridget Jones's Diary'
Though there are some tender and devastating moments, much of the film is sharp and laugh-out-loud funny. Jeanne keeps running into the overzealous Jean and his young niece, Theo (Lisa Mirey). Moreover, she still has some major sexual tension with Vitor and scratching that itch may help her forget her troubles. 
A more cynical and updated Bridget Jones's Diary, Everybody Loves Jeanne, is witty, melancholy, and unlike anything seen in cinema before. A phenomenal debut, Devaux doesn't force her characters to try to figure it all out or come to some life-altering conclusion. Instead, she allows them both the grace and the space to be who they are, even when they find themselves standing in a mess. 
Everybody Loves Jeanne was screened at the Cannes Film Festival on May 21, 2022, as a part of Unifrance's Inaugural Critics Lab.