'Everybody Loves Raymond' Alum Patricia Heaton Reveals the Un-Hollywood Moment She Knew Her Marriage Would Last
Patricia Heaton became a legendary sitcom star through her long-running series Everybody Loves Raymond and The Middle. Portraying a married mom in both shows, Heaton had plenty of practice in real life as the mother of four boys.
Married for 30 years to actor-producer David Hunt, Heaton noted in her 2002 memoir that staying wed in Hollywood tends to be rare. The Carol's Second Act star shared the not-so-romantic moment she realized she and her husband would go the distance.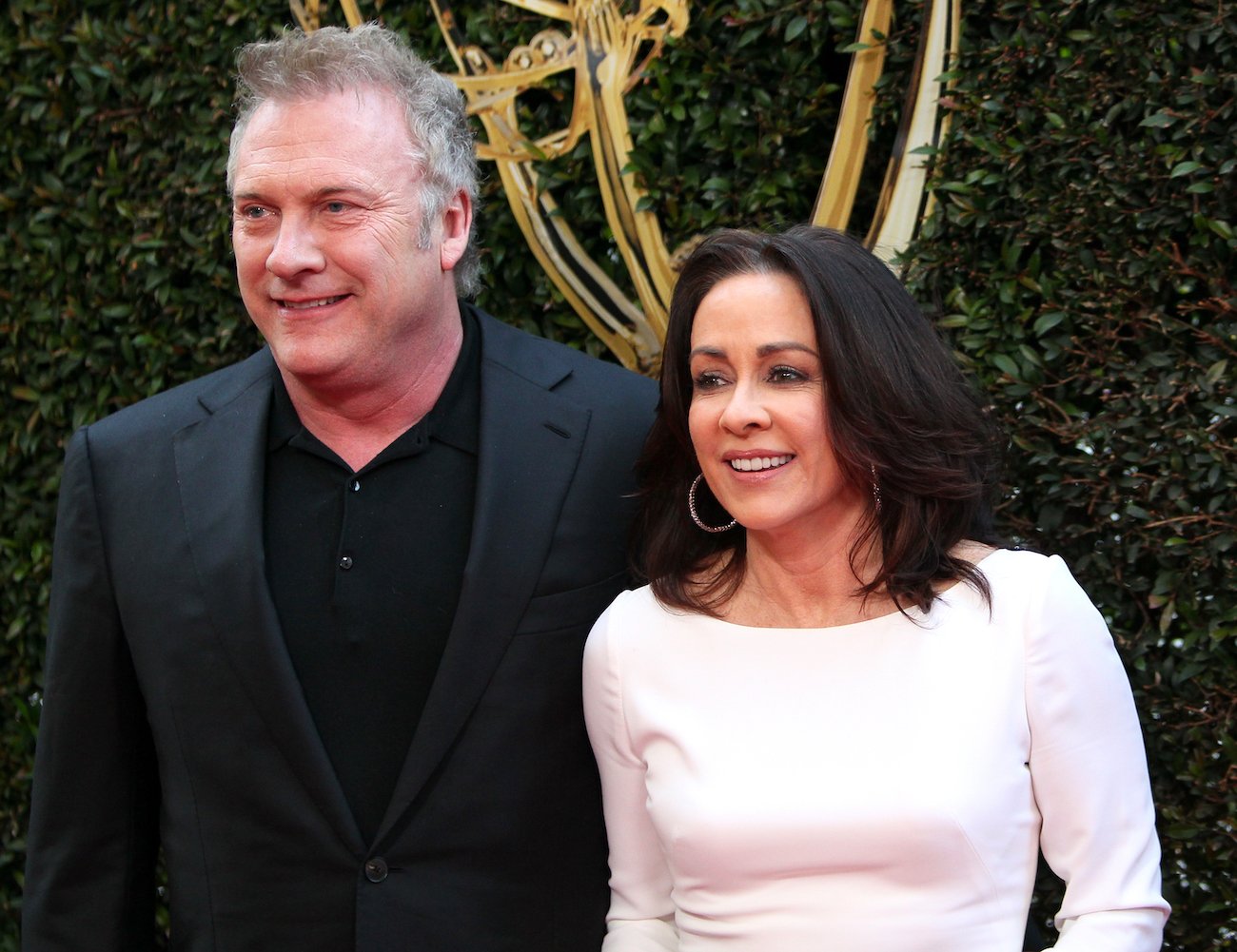 Patricia Heaton shared the screen with her real-life hubby
Hunt has his own impressive list of acting credits. As a Julliard School graduate, the British-born thespian landed roles on numerous TV shows including Blue Bloods, Mad Men, and Homeland. Heading Heaton's recent show Carol's Second Act as executive producer before being cancelled after one season, Hunt and Heaton have their own production company named FourBoys Entertainment.
The husband-and-wife team collaborated onscreen as well. Hunt guest-starred on Everybody Loves Raymond as Bill Parker, Ray Barone's smart-aleck neighbor. He appeared in seasons 3, 4 and 6 of the sitcom.
In the midst of juggling their television projects, the couple welcomed four sons – Samuel, 27, John, 25, Joseph, 23, and Daniel, 21. No wonder why Heaton's roles as a mom of many came so naturally!
'Everybody Loves Raymond' star gets real on marriage
In her 2002 memoir Motherhood & Hollywood: How to Get a Job Like Mine, Heaton described the differences between Hollywood onscreen relationships to real-life unions.
"You remember being in junior high school, with the full flush of first love?" Heaton wrote. "That very same kind of heady blood rush and love lust still thrives on movie and television sets and in theaters to this day. They are artificial and temporary worlds where the actors have a hard time separating the roles they play onscreen from the reality offscreen."
The Middle actor spoke of the phases of marriage in a 2014 interview, sharing that in real life you're going to go through ups and downs.
"It's tough to be with one person for the rest of your life, when you both grow at different rates and in different directions," Heaton told Parade.
"You have to figure out how to grow differently 'together.' There's a misconception that romance you had when first married is supposed to be there all the time, or that's a sign the marriage is over or that you no longer love each other. When things get tough, you have to be able to withstand the pressure."
Patricia Heaton describes a fairy tale based in reality
When the sitcom star married Hunt in 1990, she knew they would have their share of challenges. Heaton said the "exact moment I knew my marriage had a chance" was due to their harsh experience during Christmas 1994 when their son Sam became sick.
"Two days before Christmas, little Sam became feverish, throwing up every hour, stopping only long enough to splash me with diarrhea," Heaton wrote in her memoir. "Dave and I were running around changing his compress and rewashing his crib sheets."
Unfortunately, it wasn't long before both Heaton and Hunt caught the virus and had to juggle trips to the bathroom with taking care of their infant. A few days later when they had recovered, Heaton recalled a toast her husband made to her at a dinner with friends.
"Dave lifted his glass and, gazing lovingly across the table, gave thanks for all his blessings and toasted me, his bride," Heaton shared. "I thought, 'Wait a minute. Just two days ago this guy saw me with greasy hair, purple circles under my eyes, and skid marks on the back of my jammies. Either he's legally insane or madly in love!' I pick madly in love – and you can quote me on that."