'Everybody Loves Raymond': Why Doris Roberts Didn't Want the Barones To Argue
Everybody Loves Raymond gave viewers an inside look at the loving yet dysfunctional Barone family. Starring Ray Romano, Patricia Heaton, Brad Garrett, Doris Roberts, and Peter Boyle, the CBS comedy brilliantly portrayed a married couple dealing with kids, sibling rivalry, and meddling in-laws.
While there were often many heartwarming moments on the show, conflict was almost always in the storyline. Yet Roberts wasn't thrilled with the amount of arguing featured on the sitcom.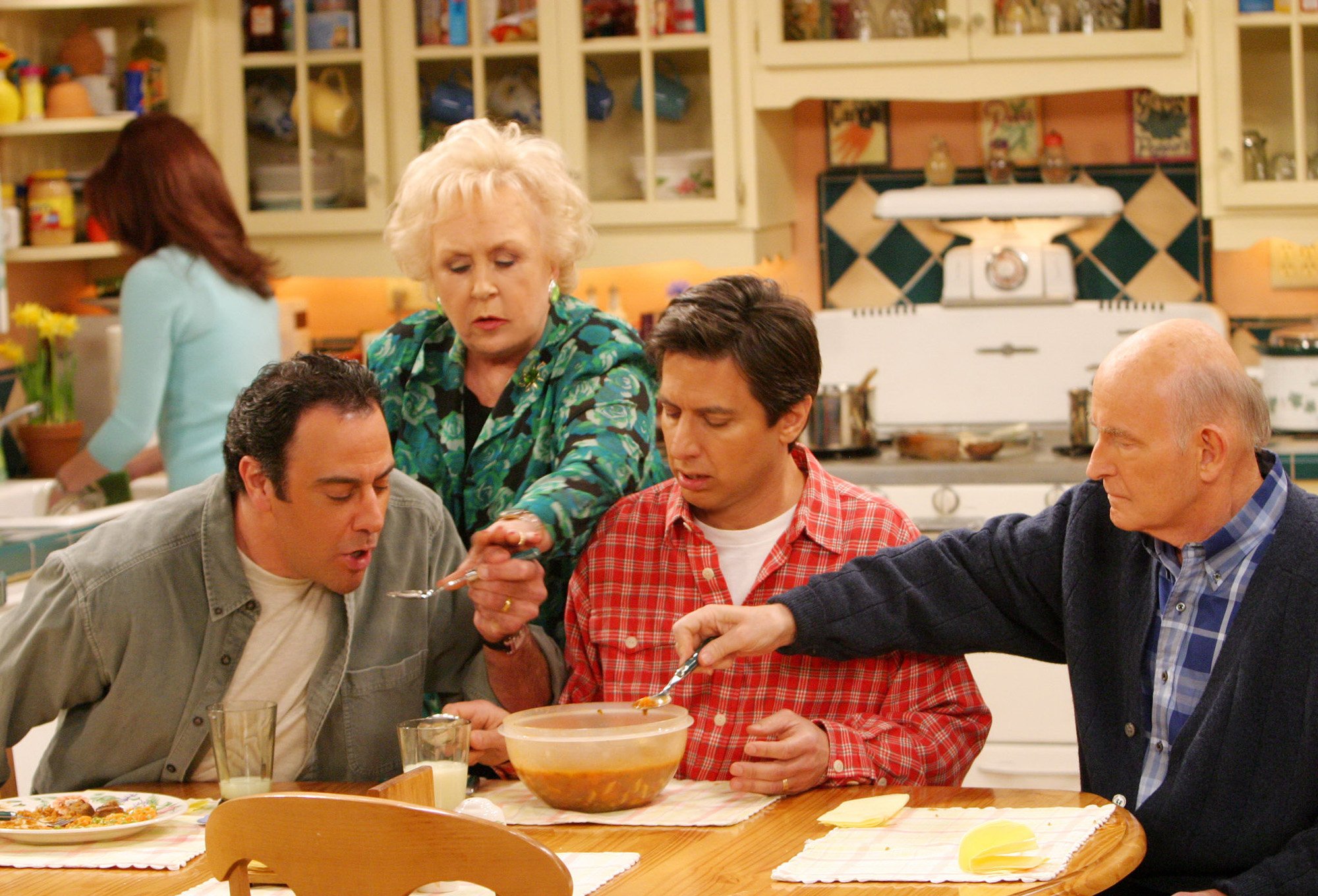 Doris Roberts lands the role of Marie Barone
Roberts was already a seasoned actress when she auditioned for the role of the Barone matriarch Marie. She had performed in theater for years and recently won an Emmy for her role as a homeless woman on St. Elsewhere. When it came time to try out for the part, the busy actor had a scheduling conflict.
"I believe over 100 women read for this part," Roberts told Larry King in 2002. "At that time, I was directing a play and I didn't have any time. They said I had an appointment at CBS at 3:30 on a Monday. I said, I can't. I've got 23 people and music and all. They said, yes, we talked to your producer. You're going in 3:30 on Monday afternoon. And I did. Here I am, six years later."
Fans of the legendary sitcom know that many of the storylines are based on real events and people in the lives of Romano and show creator Phil Rosenthal. After Roberts' death in 2016, Rosenthal recalled her audition in a tribute he wrote for the Hollywood Reporter. 
"Doris Roberts came in and there wasn't even a close second," Rosenthal shared. "She was so hilarious and she just hit it out of the park and she got the mother that was in my head because it was my mother in tone and spirit."
Lots of fighting amongst the Barones
With Roberts portraying the overbearing mother to Ray (Romano) and Robert (Garrett), many storylines involved a clash between Marie and Ray's wife Debra (Heaton). She also had plenty of skirmishes with husband Frank (Boyle) and her sons.
In his book You're Lucky You're Funny: How Life Becomes a Sitcom, Rosenthal revealed how Roberts was uncomfortable with the many battles played out onscreen.
"She was a veteran of stage and screen, and where she was coming from, likable was important to her," Rosenthal said of Roberts. "She didn't want to bicker with her onscreen husband. In fact, Doris told me that she had gotten great advice when starting in television: 'The victim wins the Emmy.'"
Doris Roberts finds her motivation as Marie
At the time, Rosenthal realized he needed to give Roberts an incentive for Marie's argumentative nature.
"We needed Marie to be strong, to stand up to Frank, to intrude, butt in, be jealous of her daughter-in-law, favor one sone over the other, to be anything but a victim," Rosenthal explained. "How could I tell Doris she was supposed to be the villain of the show? What could I tell her to justify such behavior?"
Rosenthal soon realized Roberts' motivation could be the same reason Marie acted with such determination within her family.
"I told her, 'Everything you do comes from love,'" Rosenthal shared.
His take on the character apparently worked for Roberts, who earned multiple awards for her role on Everybody Loves Raymond.
"She won five Emmys for her portrayal of Marie Barone," Rosenthal said. "It's a testament to her and her abilities and her warmth and humor."