'Everybody Loves Raymond': Why Ray Romano's Co-Star Staged a Work Walkout
The hit sitcom Everybody Loves Raymond showcased the Barone family to a massive audience on CBS for nine seasons. Making household names of cast members Ray Romano, Patricia Heaton, Brad Garrett, Doris Roberts, and Peter Boyle, the show had some behind-the-scenes tumult when one of the stars didn't show up for work for a few weeks.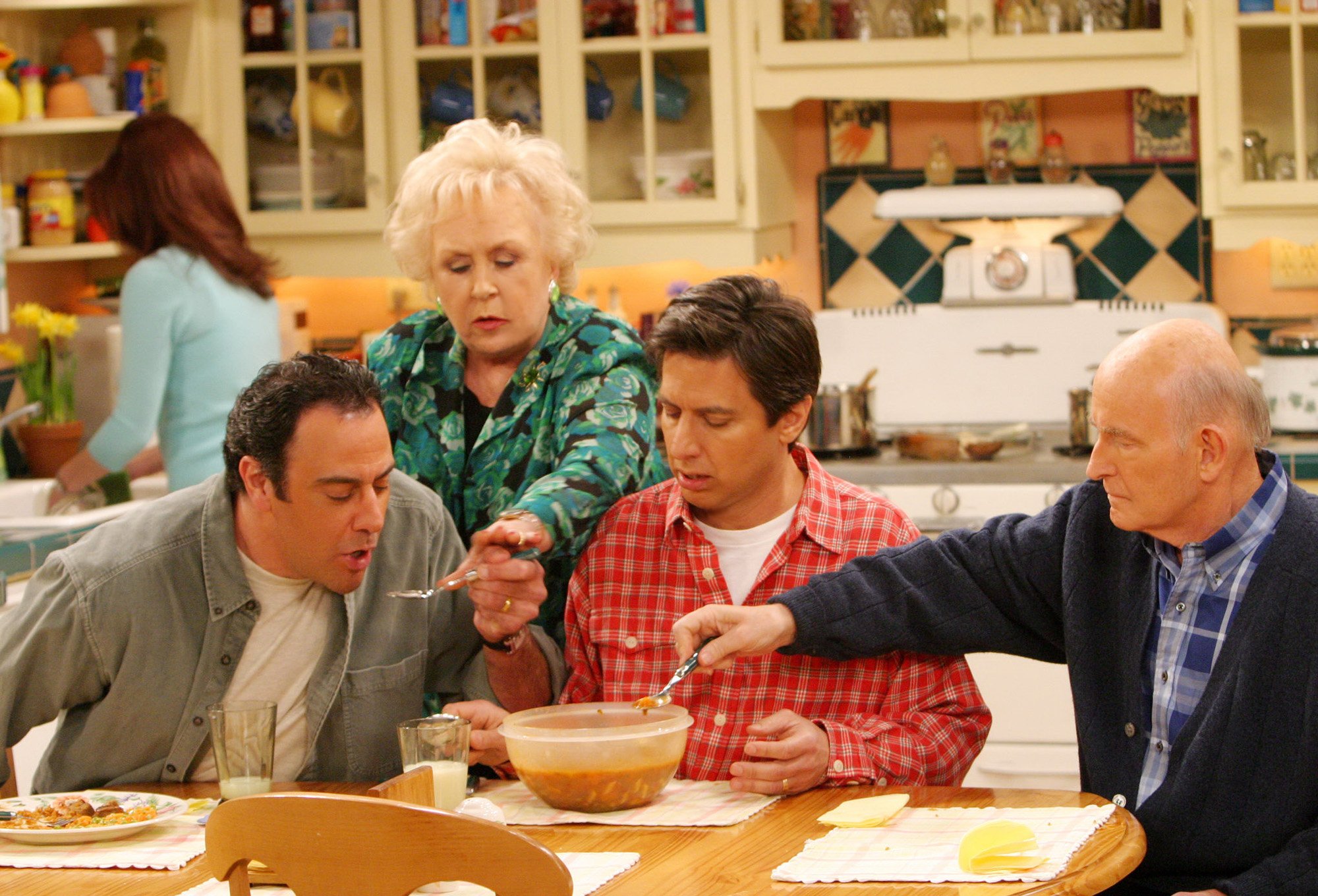 Robert Barone is based on Ray Romano's real-life brother
Premiering in September 1996, Everybody Loves Raymond went on to become an Emmy-winning fan fave. Somewhat based on the lives of Romano and show creator Phil Rosenthal, the sitcom incorporated the idiosyncrasies of some of the team's family members.
Garrett portrayed Ray's brother Robert, a New York City police officer. The character reflected Romano's real-life brother Richard, an NYPD cop. Despite the noticeable height difference between the two – Garrett is 6'8″ and Richard is 5'10" – Garrett embodied the role right down to Richard's eccentric habit of touching things to his chin. The iconic quirk became one of Robert's trademark habits.
"Ray's brother does that. Rich really does that, if he's sweating out a Yankees game … out of a nervous thing, he'll touch the remote to his chin," Garrett told the Television Academy Foundation. "He did it with remotes, he did it with food all the time … I think it's kind of a nervous twitch. I think [Everybody Loves Raymond] helped him stop doing it."
Salary issues on the set of 'Everybody Loves Raymond'
When season 7 of Everybody Loves Raymond came to a close in 2003, Romano received a pay hike from the network of at least $1.8 million per episode, according to the Los Angeles Times. The salaries of his co-stars paled in comparison, which didn't sit well with Garrett.
According to E! Online, Garrett was earning approximately $150,000 per episode. After hearing of Romano's raise, the Everybody Loves Raymond co-star didn't show up for work for over two weeks. Though there was no coordinated walkout, Heaton, Roberts, and Boyle also stayed away from the set using medical reasons as an excuse.
"I'd do exactly the same thing as this cast did," Romano said in 2003, according to People. "I don't hold anything against anyone, not the cast or CBS. I'm loyal to both of them … I wanted it to get resolved, but I knew it had to play its course."
Garrett's absence resulted in being written out of the season 8 opener, but also got the attention of the network for negotiations to begin.
Brad Garrett gets a better deal for everyone
E! Online reported that Garrett was in such demand, the network, production company, producers and Romano all relinquished some of their own profits to bring the actor back. Getting a salary increase to approximately $315,000 per episode, Garrett also received "retroactive compensation" for previous seasons. Another perk of his negotiations benefitted the entire cast, where they would all receive a cut of syndication dividends.
"I'm thrilled to be back working with the best cast on television," Garrett said in a release, according to E! Online. "CBS, Ray and Phil really stepped up to make this happen. I'm looking forward to the new season where I'll take the art of overacting to a whole new level."
Roberts, who portrayed family matriarch Marie Barone, was relieved the conflict was resolved. "It was icky," Roberts, who passed away in 2016, said at the time. "But everybody was glad to come back to work."
Rosenthal saw the monetary dustup as a sign of the sitcom's success. "We had a big contract negotiation," he said. "Now it feels like a hit show."