'Everything Everywhere All at Once' Star Michelle Yeoh Emotionally Describes Her Role: 'This Is Something I've Been Waiting For'
Michelle Yeoh's acting career has been nothing short of successful. She earned her first acting credit in 1984. Since then, she has worked alongside Jackie Chan, Pierce Brosnan, and Jet Li, among others, and starred in hit movies such as Crouching Tiger, Hidden Dragon, Crazy Rich Asians, and Everything Everywhere All at Once.
Yeoh almost quit acting after a horrific injury, but it's a good thing Quentin Tarantino talked her out of it. Otherwise, she would have missed out on the role of a lifetime in Everything Everywhere All at Once.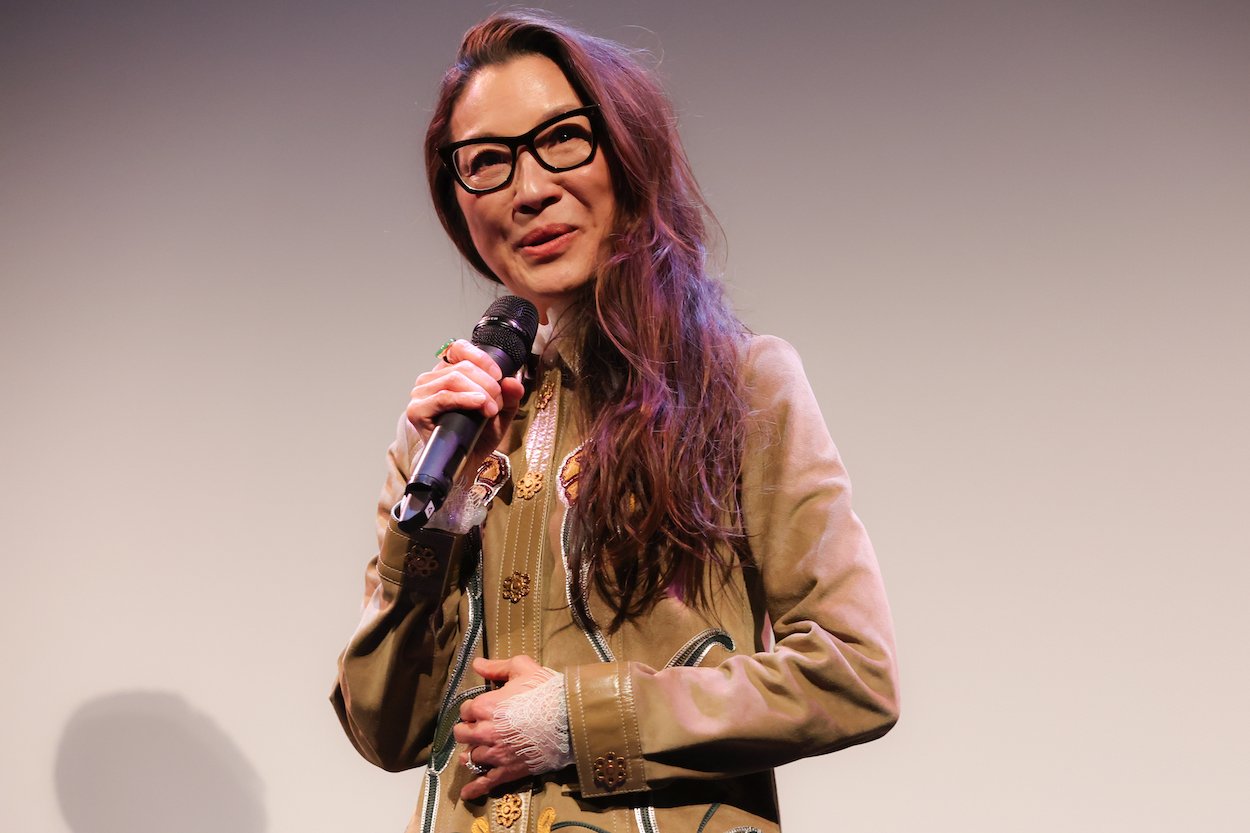 Yeoh's role 'Everything Everywhere All at Once' is one she has 'been waiting for'
Yeoh's early roles in martial arts-heavy films, such as the Supercop franchise, allowed her to apply her athleticism to her characters. Crouching Tiger, Hidden Dragon and Crazy Rich Asians let her to show off her acting skills. Yet none of Yeoh's previous roles felt as tailor-made for her as Evelyn in Everything Everywhere All at Once.
She plays a struggling laundromat owner being audited by the IRS. The twist is that she can tap into the knowledge of other Evelyns who live in alternate universes. The other Evelyns took the another path when she made important life choices that led to her current situation. It's a wild concept concocted by the Daniels — Daniel Kwan and Daniel Scheinert — who also twisted audiences' minds with the Sundance hit Swiss Army Man. 
Evelyn is several characters in one. It's unlike any part Yeoh's played before, but it's one she connected with. She knew it as soon as she finished reading the script, and she got emotional recalling how deeply and immediately she fell in love with the character.
"When I met them, I didn't tell them. When I read the script, I thought, 'This is something,'" Yeoh tearfully told GQ. 
"This is something I've been waiting for for a long time, that's going to give me the opportunity to show my fans, my family, my audience what I'm capable of: To be funny, to be real, to be sad. Finally, somebody understood that I can do all these things."

Michelle Yeoh
Evelyn refuses to give up at any point in her journey, which spoke to Yeoh. 
"For me, this whole journey was about Evelyn, the character who understood she will never give up. That also reflects on me as a person because I refuse to give up. I think when you give up or give in, you've already lost," Yeoh told GQ. "[I]f you find that character, and you connect, you're almost living vicariously through that character. That's when you really love what you're seeing or feeling."
Even though she knew she was perfect for the part (or it was perfect for her), Yeoh wasn't convinced to sign up until she met Kwan and Schienert face-to-face.
Yeoh took the part after seeing the passion of the Daniels
Yeoh wanted to play Evelyn, but she wasn't 100% on board until she met Kwan and Scheinert in person.
"I met with the Daniels — had to meet with the Daniels — because I would only take on a project if there is real passion, if when I speak to them, I see the passion in their eyes, I hear it coming [from the heart]," Yeoh said, per GQ. "Because I'm not going to leave my family, people I love, for three or four months at a time on lip service, on doing something even you don't believe in. How are you going to convince me to be a part of that?"
Yeoh wanted the part, but she also wanted to see the Daniels' passion for Everything Everywhere All at Once and be sold on their vision.
It's safe to say the filmmakers delivered.
Small-screen, voice work, and a blockbuster on tap
Everything Everywhere All at Once won't be the last time fans see — or hear from — Yeoh in 2022.
She lends her voice to ARK: The Animated Series (as Mei-Yin Li), Minions: The Rise of Gru (as Master Chow), and Paws of Fury: The Legend of Hank (as Yuki), per IMDb. 
Fans will get to see Yeoh on the small-screen as Scian in The Witcher: Blood Origin series. She'll be on the big screen as Dr. Karina Mogue in Avatar 2, both of which are in post-production, according to IMDb. Avatar 2 is slated for a December 2022 release. Yeoh is signed on to reprise her role in the following three films of the franchise.