Everything We Know About Lana Del Rey and Azealia Banks' Nasty Twitter Feud
Lana Del Rey and Azealia Banks lit up social media with a fued that started over Kanye West but ended with threats of violence. Here's what we know.
Azealia Banks is certainly no stranger to feuding with other celebrities. She has had beef with Cardi B, Elon Musk, Russell Crowe, Nicki Minaj, and Iggy Azalea to name a few. Recently, she decided to get into a battle with Lana Del Rey and the songstress hit back hard.
This social media war between the two women got nasty pretty quickly and included everything from body-shaming to allegations of drug use to threats of physical violence and getting lawyers involved. Race and mental health issues were also brought up several times.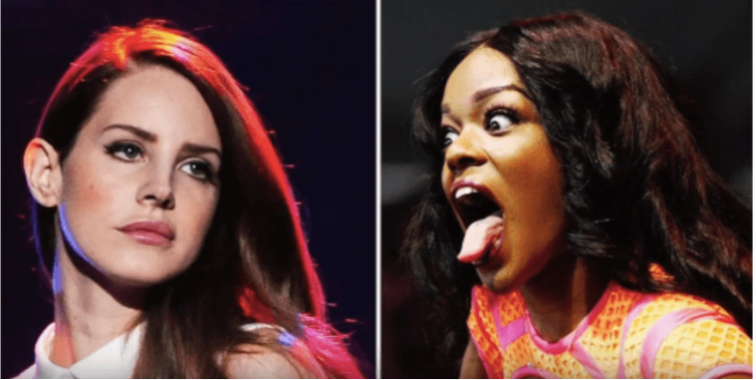 Here's everything you need to know about their explosive Twitter fight and where things stand now.
How it started over Kanye West
Their feud actually started over something  Kanye West said. Fresh off his Saturday Night Live speech in which the hip-hop artist declared his support for Donald Trump, West shared a photo of himself on social media with a "Make America Great Again" cap.
He then made some bizarre comments about the 13th amendment and Del Rey responded to him writing, "Trump becoming our president was a loss for the country but your support of him is a loss for the culture. I can only assume you relate to his personality on some level. Delusions of Grandeur, extreme issues of narcissism — none of which would be a talking point if we weren't speaking about the man leading our country. If you think it's alright to support someone who believes it's OK to grab a woman by the p***y just because he's famous-then you need an intervention as much as he does."
West did not reply and later deleted his account but Banks didn't appreciate what Del Rey had to say and called her out. "To me this just looks like the typical White woman taking using a weakened target to 'pretend' to be an ally," she tweeted before adding, "You would never in your white mind try to battle ME on my ideas … I suggest you apologize to Kanye for trying to selectively make him complicit in 45's abuse of women simple [sic] for agreeing with parts of his ideology while you frolic through society with other black male abusers."
And thus their Twitter war was born.
Lana Del Rey responded
On Oct. 9, Del Rey clapped back at Banks with this tweet: "Pull up anytime. Say it to my face. But if I were you– I wouldn't."
She shot off a few more tweets telling the rapper she would beat her in a fight and that she ruined her own career.
"Banks. u coulda [sic] been the greatest female rapper alive but u blew it," the songbird tweeted. "Don't take it out on the only person who had ur back."
Let's just say Banks wasn't amused and hopped on the social media site for round two.
Azealia Banks fired back
Believe it or not, things got even uglier after that with Banks telling Del Rey that she had awful plastic surgery, body shaming her, and alleging that the "Young and Beautiful" singer had a drug problem.
"We need her to call the surgeon who did her pointy Michael Jackson nose," Banks wrote.
https://twitter.com/SHOPCHEAPYXO/status/1049795173859950593?ref_src=twsrc%5Etfw%7Ctwcamp%5Etweetembed%7Ctwterm%5E1049795173859950593&ref_url=https%3A%2F%2Fwww.yahoo.com%2Fentertainment%2Flana-del-rey-azealia-bankss-feud-starts-kanye-west-ends-threats-physical-violence-lawsuit-152437753.html
Del Rey then tweeted, "I'll send you my surgeon's number and a good psychiatrist I know in LA — your psych meds aren't working."
Banks shot back with "The same one that got you hooked on oxy? No thanks sis…. you're on your own with that," and "Of COURSE the white woman makes fun of mental health. Showing her truest colors! How'd that trump spell work out for ya sis??"
All quiet now
Before these two ladies were done, Banks threatened to sue Del Rey for the tweet where she threatened to beat her up. When Banks said she was talking to her lawyer about it Del Rey responded with, "Tell him it's a promise, not a threat."
Banks continued posting a bit more but either Del Rey logged off early or just decided not to engage in any more back and forth.
So while it's all quiet now, this feud could erupt again as it probably isn't over for Banks who has become more well known for her online beefs than her music.
Read more: Inside Lil Kim and Nicki Minaj's Long-Lasting Feud
Check out The Cheat Sheet on Facebook!