Everything We Know About Season 2 of 'Ted Lasso' Based on Reviews
Season 2 of Ted Lasso premiered on Apple TV+ on July 23. The new season will have 12 episodes that will be available to stream on a weekly basis. Because fans will not be able to binge the new season until after all the episodes are released, some fans of Ted Lasso may be curious about what will happen in the second season.
In the weeks leading up to the season 2 premiere of Ted Lasso, TV critics were able to share early reviews of the new season online, and a number of those reviews contain telling spoilers about the show.
[Spoiler Alert: This article contains spoilers for season 2 of Ted Lasso.]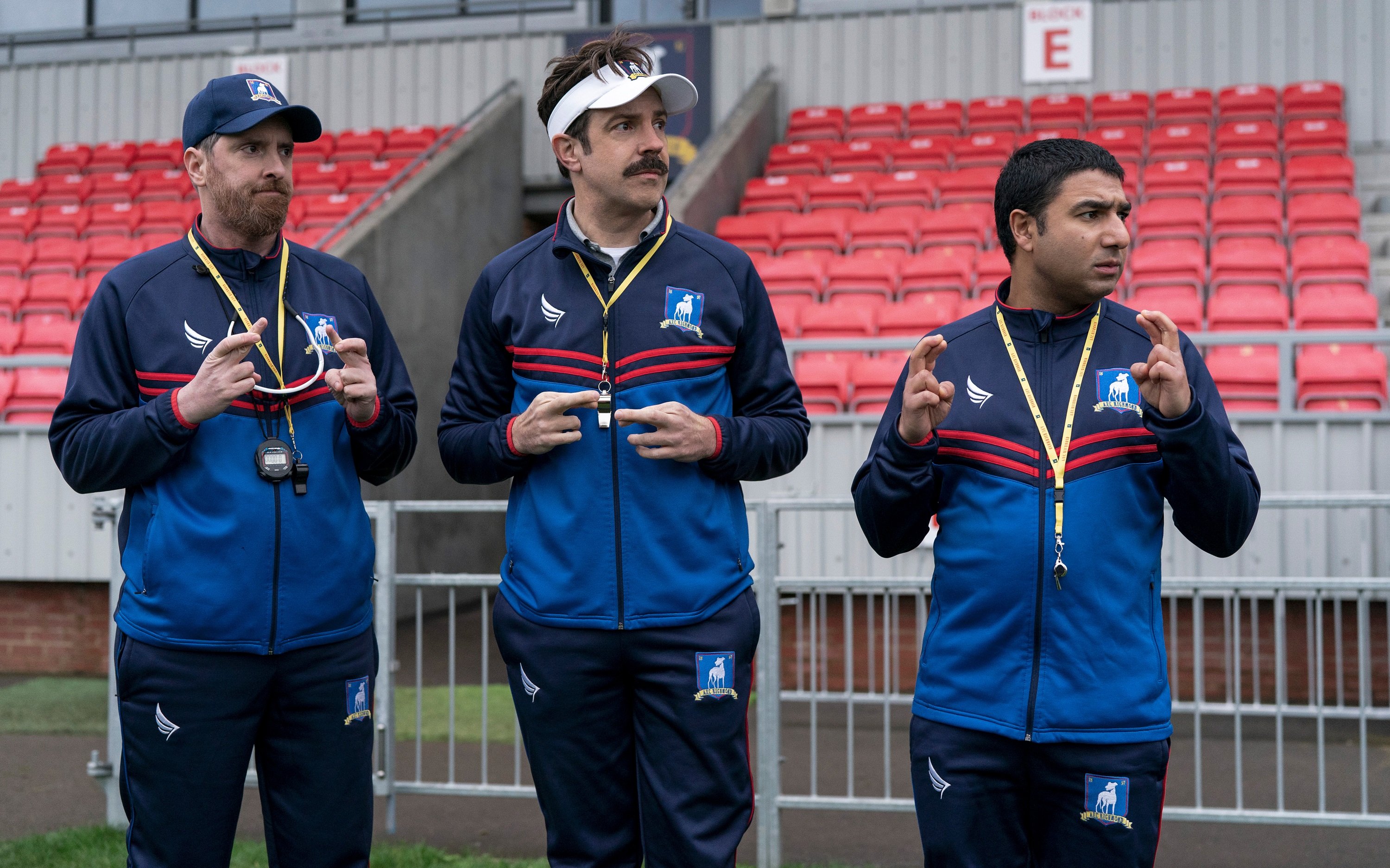 Keeley and Roy's relationship will grow more serious in 'Ted Lasso'
On Rotten Tomatoes, the season earned a critical score of 100%, meaning fans can expect the show to exceed the success of its first season.
"As comforting as a buttery biscuit from a friend, Ted Lasso's sophomore season is a feel-good triumph that plays into the show's strengths while giving its supporting team more time on the pitch," reads the critical consensus on Rotten Tomatoes.
Several of the reviews of season 2 of Ted Lasso feature reoccurring themes, including the relationship between Roy Kent (Brett Goldstein) and Keeley Jones (Juno Temple).
"Like the first, Season 2 leaves plenty of time for off-the-field romantic intrigue, as Roy (Brett Goldstein) and Keeley (Juno Temple) navigate their relationship while Roy deals with the fallout of retirement from pro soccer," writes USA Today.
RELATED: 'Ted Lasso' Star Juno Temple Reveals Fans Have Already Met the Real-Life Inspiration for Keeley Jones
Therapy will be a central part of the second season
In season 2 episode 1 of Ted Lasso, "Goodbye Earl," Sarah Niles joins the cast as a sports psychologist named Sharon. Because of his negative experience in couples therapy, Ted (Jason Sudeikis) feels weary of Sharon while the rest of the team loves her.
Based on reviews of Ted Lasso, this distrust between Sharon and Ted will grow while therapy is the team's focus.
"After a full season watching everyone find their comfort level with Ted and his perpetually positive outlook, it's fun to see Lasso on the receiving end, encountering personalities he's unaccustomed to and navigating problems he can't easily solve with a bit of Midwest wisdom," reads an interview by IGN. "This fresh dynamic is on full display when new character Sharon, a sports psychologist played by Sarah Niles, isn't immediately won over by Ted's down-to-earth charm – or warm biscuits."
RELATED: Jason Sudeikis Has 'Ted Lasso' Seasons 2 and 3 Planned Out
Jamie will return to AFC Richmond in 'Ted Lasso'
Midway through the first season of Ted Lasso, star player Jamie Tartt (Phil Dunster) was returned to Manchester City. The first episode of the second season reveals that Jamie has joined the cast of a reality dating show. According to a review by The Atlantic, Jamie will play again for AFC Richmond at some point in the second season.
"The new season brings back Jamie Tartt, a player who had left Richmond in the first season and now returns to play for the team," reads the review.
Season 2 episode 2 of Ted Lasso will premiere on Apple TV+ on July 30.