'Ex on the Beach': Why Kat Dunn and Bryce Hirschberg Were Kicked off the Show
Kat Dunn and Bryce Hirschberg were kicked off MTV's 'Ex on the Beach' following an argument. What happened? Kat revealed why in a series of tweets.
Too Hot to Handle star and Big Brother 21 houseguest Kat Dunn got into an argument during their time on MTV's Ex on the Beach, resulting in their removal from the show. Why were Kat and Bryce kicked off?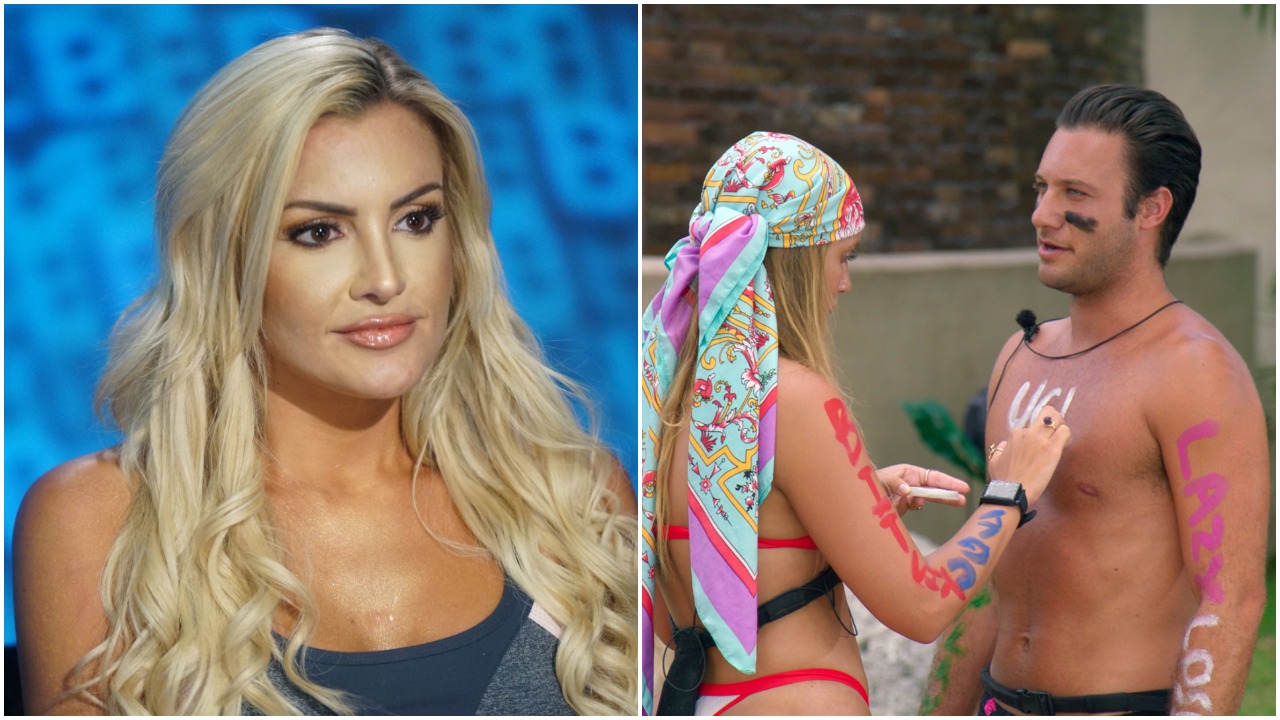 Why Kat Dunn and Bryce Hirschberg were kicked off 'Ex on the Beach'
During episode 8, which aired May 19, ex Kat Dunn and single Bryce Hirschberg got into an argument that was partially aired before getting removed from the house.
The show's narrator explained the pair had to leave because they broke the rules but didn't elaborate. Following the episode, Kat revealed what happened in a series of tweets.
According to the Big Brother 21 houseguest, Bryce called her a "b—h, a c–t," and the "r-word" during their argument. Kat claims she attempted to correct him as she pointed out it's a "slur."
She also stated she informed Bryce that she identifies as neurodivergent and said he replied, "oh, so I was right, you are r——d." In response, Kat admitted to slapping him on the bottom of his foot, adding, "and I'd do it again." Therefore, the producers removed her from the house due to physical violence and him for the use of hate speech.
Bryce apologized privately to Kat after the episode aired
After Kat revealed the reason behind their early exit, she posted a direct message from Bryce in which he apologized to her for the interaction. He claimed he would "never intentionally poke fun" at her learning disabilities.
When it comes to the other names he called her, the Too Hot to Handle star noted, "welp, let's just say I'm trying to stop using all bad words."
While Bryce claimed that he usually "corrects" others when they use the "r-word" in his presence, the reality star didn't explain why he used it. He closed by insisting that he didn't intend to make her "feel any sort of bad about yourself" with his words and reiterated his remorse.
However, Kat didn't seem to buy it as she captioned it, "not him sending an apology 9 months after it happened but less than 1 day after I tweeted about it." She also refuted his claims that she blocked him.
'Ex on the Beach' aired part of Kat and Bryce's fight
In episode 8, Ray Gantt's ex Alexis Garris arrives on the island. He opted to send his other ex, best friend Nicole Pisciotti, for the new arrival, cutting short her developing connection with Bryce.
As she left directly from the beach, the budding couple didn't get a chance to say their goodbyes, devastating the Too Hot to Handle single.
He cried to several cast members who didn't fully believe the depth of his emotions as the two only recently began connecting. That night, the episode aired a brief and seemingly harmless fight between Kat and Bryce over an air conditioning unit.
The narrator then quickly explained that the two broke the rules during the argument, resulting in their removal. However, it didn't add any context, leaving viewers confused. Ex on the Beach airs Thursdays on MTV.