MTV 'Ex on the Beach' Allegedly Called This Former 'Temptation Island' Couple for the New Season
MTV's 'Ex on the Beach' allegedly called 'Temptation Island' couple Evan Smith and Morgan Lolar to join the new season. Keep reading for more.
Evan Smith shocked everyone when he chose to leave his girlfriend of almost a decade for Morgan Lolar, a real estate agent he met on Temptation Island.
The couple got engaged in March 2019 and were seemingly happy until Lolar revealed Smith had "nightly sleepovers with 21-year-old Instagram models."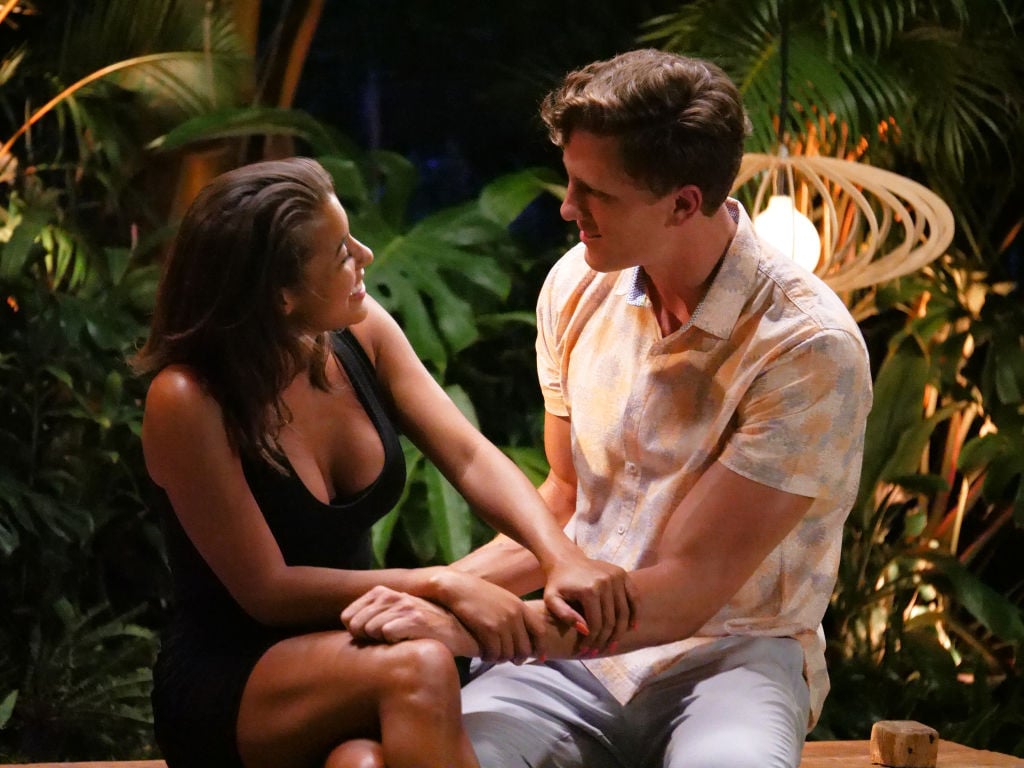 Due to Lolar's vagueness and confusing timelines, fans began believing the couple faked their breakup to get on MTV's Ex on the Beach. Even though the TI star denied those are her intentions, the network allegedly called them to appear on the new season.
MTV's U.S. 'Ex on the Beach'
Based on the UK series with the same name, Ex on the Beach revolves around single reality stars living with their exes. While the former lovers live in the same house, they can decide to get back together or end things and move on to someone else.
The show premiered in April 2018 and instantly became a hit. The second season slightly dropped in ratings and had no success stories despite Nicole Ramos (The Challenge) and Chad Johnson (The Bachelorette) attempting a relationship after the show wrapped.
In Season 3, the singles knew their exes were coming, unlike the previous seasons. Many fans did not like the cast and felt they faked relationships and breakups only to get cast, and the ratings dropped again.
The fourth season of the show titled Ex on the Beach: Peak of Love, is the winter-themed version and takes place in a chalet in New Zealand as opposed to a beach house in Hawaii.
For the first time, they included UK stars such as Georgia Steel and Callum Izzard. Unfortunately, the ratings have continued to decline.
'Temptation Island' couple Morgan Lolar and Evan Smith recently broke up
On January 2, 2020, fans noticed Morgan Lolar wiped all the pictures with her fiance, Evan Smith, off her Instagram feed. After making it seem as if the couple had not broken up for several days, people began accusing her of faking the break up to get on another show.
The former cheerleader responded, "nothing that I am going through has anything to do with a show." A couple of days later, she then revealed Smith left her in Virginia for California, where he has allegedly been having "nightly sleepovers with 21-year-old Instagram models."
Shortly after the accusation, Lolar told a Twitter user that she had "been crying for weeks" as a result of her fiance's actions, which again confused followers as she previously tweeted she was about to move across the country.
While Smith still has pictures with Lolar visible on his profile, both of them deleted each other's names from their Instagram bios and removed saved Temptation Island stories that detailed their experience.
MTV allegedly called Morgan Lolar and Evan Smith for 'Ex on the Beach'
According to a spoiler account, MTV is currently casting for Ex on the Beach and allegedly asked Lolar and Smith to join the next season. Fans already believed they faked their breakup for this, as many claim Big Brother couple Mark Jansen and Elena Davis did for Season 3, to get back on reality television.
After appearing on Temptation Island, Lolar and Smith both stated several times they wanted to compete on The Challenge. For example, Paulie Calafiore made his debut on the MTV competition reality series only a few months after his season of Ex on the Beach aired.
Finally, three Temptation Island stars, Allie DiMeco, Carlos Chavez, and Cameron Sikes, are currently on this season of EOTB. Therefore, it would make sense for MTV to at least reach out to the formerly engaged couple and see if they are interested.
Additionally, Smith's ex, Kaci Campbell, has also vocalized her reality television aspirations and recently started communicating with Lolar on Twitter.
Because the show usually casts more than one ex, Campbell could also make an appearance. As of now, the network has not announced any casting decisions or a renewal of the show.