Exclusive: Janel Parrish Would 'Absolutely' Do a Virtual 'Pretty Little Liars' Reunion (And Her Dreams for Mona After 'The Perfectionists')
The tenth anniversary of the series premiere of Pretty Little Liars is right around the corner. The hit teen mystery drama, which aired from 2010-2017, is still a pop culture staple years later. Showbiz Cheat Sheet caught up with star Janel Parrish to talk about her character, Mona Vanderwaal, her time on the show's spinoff, and her thoughts on doing a virtual reunion.
Janel Parrish starred in 'Pretty Little Liars' and 'The Perfectionists'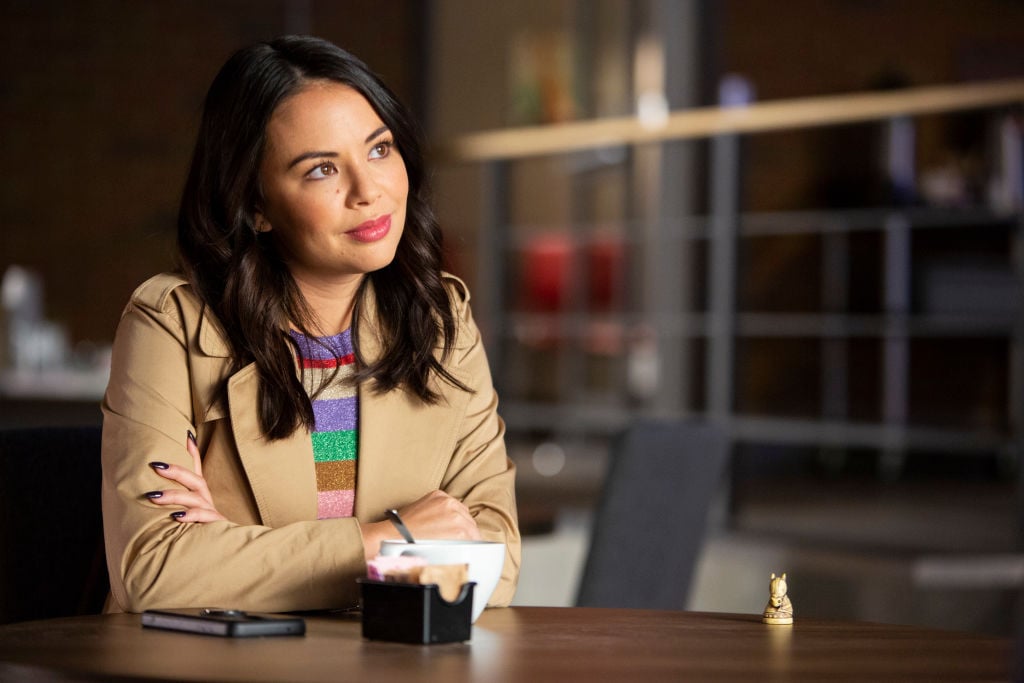 Parrish has starred in a host of films, TV shows, and theater productions. But she's perhaps best known for portraying Mona in Pretty Little Liars. Mona is the first villain in the series, revealed to be the tech genius "A." The character evolves throughout the show's seven-season run, eventually solving the final mystery.
Not only did Parrish have a recurring (and eventually main) role in PLL, but she also starred in the short-lived spinoff. Pretty Little Liars: The Perfectionists aired for one season on Freeform. In the show, she reprised her role as Mona, who is now a member of the administration at a university. There, she finds herself wrapped up in yet another deadly mystery.
Parrish calls her 'PLL' co-stars 'family'
From the beginning of filming PLL through the series finale of The Perfectionists, Parrish spent nearly a decade working with many of the same people. In an email interview with Showbiz Cheat Sheet, she said, "When working on a TV show every day with each other, you really become a family."
Given the current measures during the coronavirus (COVID-19) pandemic, a physical reunion is off the table. But when asked whether she'd be interested in doing one of the Zoom calls like the Victorious cast recently did for their own 10-year anniversary, Parrish said, "Absolutely. We all still stay in touch!"
Where did she see Mona ending up?
Unlike Pretty Little Liars, which neatly wrapped up its mystery and sent the characters off happily, The Perfectionists didn't get the same treatment. The season 1 finale left audiences with a cliffhanger, and then season 2 never came. So what would Parrish have liked to see happen for Mona?
"I would have loved to see her end up happy and in love," said Parrish. "I loved seeing her friendship with Alison grow and I like to think she ended up helping the Perfectionists and Ali and finding a happy home in Beacon Heights."
Parrish's grandmother was one of her biggest supporters
Right now, any acting projects Parrish had in the works are on hold. But she does have a new release: Her jewelry line, To The Stars, from RivalWorld. The pieces in the collection all have a celestial theme, as inspired by her grandmother, whose nickname was Moony, and who passed away in late 2019.
"We were extremely close," Parrish said of her relationship to her late grandma. She said Moony was a big supporter of her career, including the show that made her famous. "PLL had a lot going on every episode, so she would put the TV on in the background while she worked around the house and then run to the TV every time she heard my voice."