Exclusive: Marvel Comics Legend Roy Thomas Reveals New Details About Ghost Rider and X-Men Hero Storm
Marvel Cinematic Universe fans quickly grew familiar with long-time Marvel Comics head Stan Lee. However, Stan Lee's right-hand man, Marvel Editor Roy Thomas helped create some of the most popular Marvel characters ever, like Wolverine. Other Roy Thomas' creations include Ghost Rider, co-created with Gary Friedrich, and X-Men hero Storm with Dave Cockrum. As Black History Month winds down, Thomas revealed some new details about Marvel's first black female superhero Storm, Ghost Rider, and their predecessors, The Butterfly and Hell-Rider, created by Friedrich and Skywald Publications. And Roy Thomas comics will soon include more uncanny Mutants with X-Men Legends in 2022.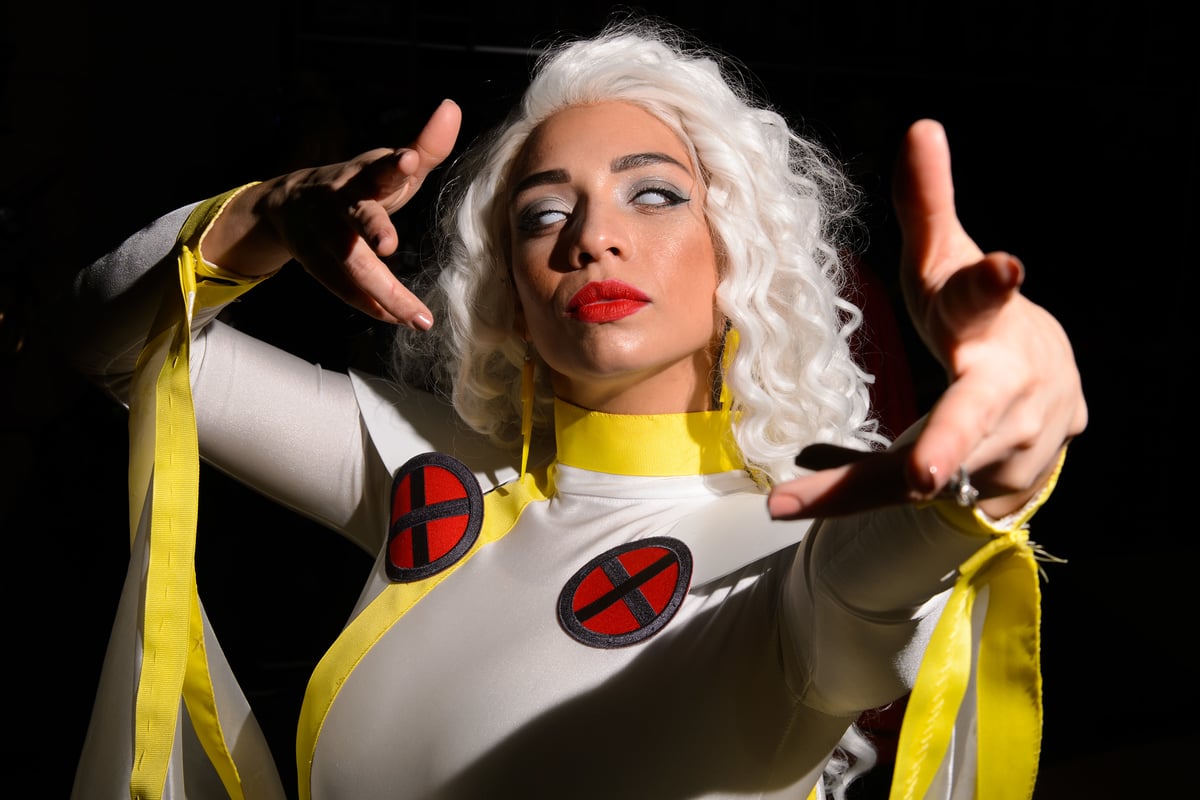 Marvel editor Roy Thomas made suggestions to Storm creator Dave Cockrum
Before Black Panther became the first black superhero in mainstream American comic books in 1966, most comic heroes had very similar traits. However, after T'Challa burst onto the scene in Marvel Comics, more Black superheroes followed.
In 1975, Marvel writer Len Wein and artist Dave Cockrum used Giant-Size X-Men #1 to introduce Storm, Nightcrawler, Colossus, and more to the X-Men universe. However, Storm almost debuted as a very different hero called Typhoon. While Storm was not a direct Roy Thomas creation, he played an important part in her origin.
The creative team did not want the comic to feature an all-male cast. Ghost Rider co-creator Roy Thomas suggested that Cockrum transition Typhoon into a female hero.
"There was no 'higher up' involvement in GIANT-SIZE X-MEN #1 once it got going, except to the extent that writer Len Wein was also editor of the color comics," Roy Thomas said in an exclusive interview. "My suggestion was merely made in passing when I popped my head into a room where two or three guys were discussing the characters and having problems [regarding] Typhoon."
The X-Men series introduced one of the most important black female superheroes with Storm. However, Thomas' close friend and comic writer Gary Friedrich created a pair of heroes that predated Storm and their co-created Ghost Rider.
Before Ghost Rider and X-Men hero Storm, there was Gary Friedrich's Hell-Rider and The Butterfly 
In December 1970, in addition to working with Marvel Comics, Friedrich freelanced for the short-live Skywald Publications with editor Sol Brodsky and associate editor Herschel Waldman.
"Gary wasn't on staff [at Marvel] by then," Roy Thomas recalled, "so he wrote for Skywald. He and Sol Brodsky, the 'sky' in 'Skywald,' had always got along when Sol was production manager at Marvel."
They brainstormed motorcyclist daredevil Brick Reese, aka Hell-Rider, and Marian Michaels, the Butterfly, widely accepted as the first Black superhero. She debuted four years before Storm in Giant-Size X-Men #1. Fans of Marvel Comics' Ghost Rider movies and comics might find the flamethrower-wielding Hell-Rider very familiar.
"[Gary] liked motorcycle movies, I think," Thomas said, "and found motorcycles appealing, even though he never owned one and only seldom rode one."
Music also played an important role in both Thomas and Friedrich's lives. In an interview with Alter Ego Magazine, Thomas mentioned they even formed a band called The Gaberlunzies, later called Galaxies, years ago. It seems appropriate that Friedrich wrote The Butterfly's secret identity, Marian Michaels, as a musically gifted jazz singer.
"Gary and I both liked jazz to some extent," Thomas said, "although we weren't aficionados."
However, the Skywald Hell-Rider series would only run for two issues, with a third teasing a Zodiac Killer-themed villain. While Skywald disappeared, the X-Men stuck around, and Thomas returned to write the team again in 2022.
Roy Thomas returns to write Storm and the X-Men with a Silver Age flare in Marvel Comics 'X-Men Legends'
Since Ghost Rider comics started and Storm debuted with the X-Men, the characters have changed a lot. Johnny Blaze earned adaptations in the Nicholas Cage Ghost Rider and Ghost Rider 2. Halle Berry played Storm in X-Men (2000), X-Men: The Last Stand, and other Fox X-Men movies.
However, Roy Thomas returned to write the uncanny Mutants again with X-Men Legends.
"It was fun," Thomas said about returning to the X-men comics. "I only enjoyed writing X-MEN as much as AVENGERS et al., during the brief period when Neal [Adams] and I were doing it, but it's nice to come back to it and to be able to plop a bit of 'retroactive continuity' into a story, just for a lark."
Marvel comics and movies would look vastly different if not for creators like Stan Lee, Roy Thomas, Gary Friedrich, and others. Storm, Ghost Rider, Hell-Rider, and The Butterfly mark important or popular landmarks in the comic world.
And Thomas can't wait to jump back into the X-Men comics for more adventures. X-Men Legends #1 goes on sale May 18, 2022.
RELATED: 'Morbius' Creator Roy Thomas Revealed How Spider-Man Came to Fight a Living Vampire in Marvel Comics