EXO Fans Celebrate After Chen Announces Plans to Marry Pregnant Fiancée
Chen of EXO announced his plans to marry his pregnant fiancée, and fans could not be happier for him.
Chen of EXO just announced his plans to marry his pregnant fiancée, and his fans could not be happier. The EXO singer and SM Entertainment confirmed the news in separate statements. After the announcement, EXO fans celebrated on social media and posted well-wishes for Chen.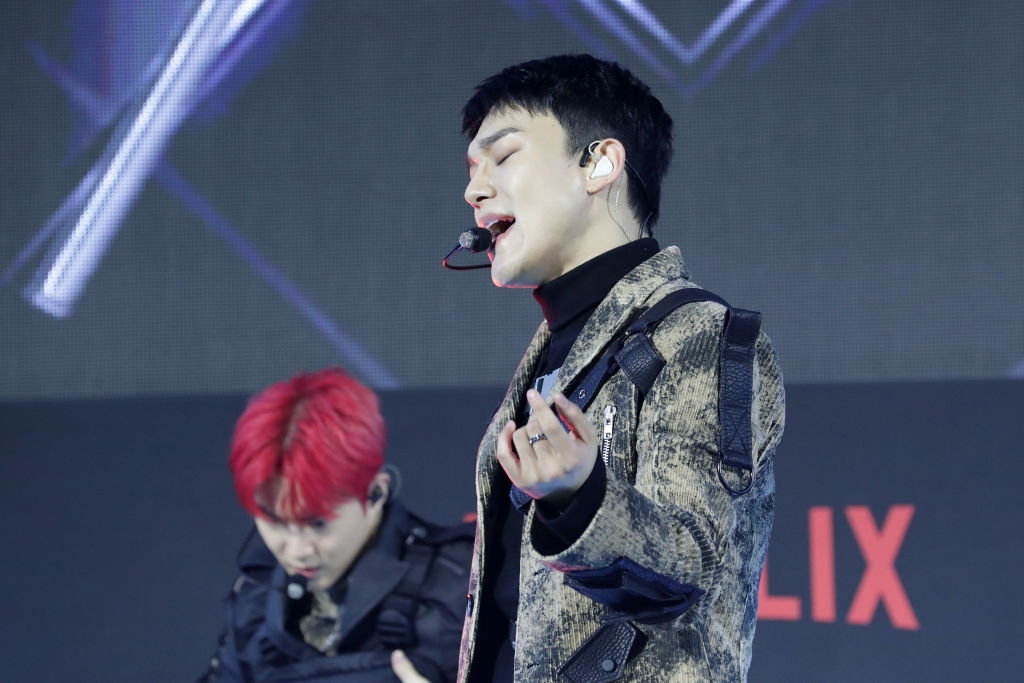 SM Entertainment released a statement
On Jan. 13, SM Entertainment released a statement that announced Chen planned to marry his fiancée.
"Hello. This is SM Entertainment. Chen has met someone precious to him and will be getting married. The bride is a non-celebrity, and the wedding will be held privately with only their families in attendance," reads a translation of the statement by Soompi.
SM Entertainment also asked fans and media to respect the privacy of everyone involved.
The statement continues, "To respect their families' opinions, the wedding and everything related to it will be held privately, so we ask fans and reporters for their kind understanding. Chen will continue to work hard as an artist. We ask you to send Chen lots of blessings and messages of celebration. Thank you."
According to Soompi, a source from SM Entertainment also confirmed that Chen's fiancée is pregnant. However, the agency cannot confirm any other details.
Chen wrote a handwritten note for EXO fans
In addition to SM Entertainment's statement, Chen let EXO fans know of his plans to marry his pregnant fiancée in a personal handwritten letter.
"Hello, this is Chen. I am writing this because I have something to tell our fans. I don't know how to start this, and I'm very nervous. Although these words are not enough, I'm writing this letter because I want to honestly tell our fans, who gave us so much love, first," Chen told fans in the letter.
He continued, "I have a girlfriend I want to spend the rest of my life with. I was worried and concerned about the situations that would arise as a result of this decision, but I had been discussing with the agency and our members because I wanted to announce the news at least a little bit earlier so I wouldn't surprise you with the sudden news."
Chen then seems to allude to his fiancée's pregnancy.
"Then, a blessing came my way. I am also taken aback, as I cannot do what I had planned with the agency and members, but this blessing has given me more strength. I couldn't lose any more time thinking about when or how I should announce this, so I mustered up my courage," he said according to a translation by Soompi.
In the latter part of the letter, Chen thanked EXO fans for their continued support.
"I'm really thankful to my members for genuinely congratulating me after hearing this news, and I deeply thank our fans for sending me so much undeserving love. I will never forget this feeling of gratitude, do my best in my place without changing, and return the love you have given me. Thank you always," he concluded.
Fans celebrated the news of Chen wanting to marry his pregnant fiancée
After fans were alerted of the news, "IM SO HAPPY FOR HIM" trended on Twitter because of the number of fans posting about their excitement. While Chen said in his letter he was nervous to tell fans the news, it seems a majority of EXO fans are supportive of him.
"OUR BABY HAS A GIRLFRIEND AND IS GETTING MARRIED? WHAT IS HAPPENING! IM SO HAPPY FOR HIM IM SO INCREDIBLY HAPPY FOR HIM LETS SUPPORT HIM AND SHOW HIM SO MUCH LOVE," a fan tweeted.
"CHEN IS GETTING MARRIED IM SO HAPPY FOR HIM MY HEART IS FULL KNOWING HE IS HAPPY AND ABOUT TO SPEND THE REST OF HIS LIFE WITH THE WOMAN HE LOVES," one fan wrote on Twitter.
"I'm glad that Jongdae was able to tell us EXO-Ls about his marriage plans before any news outlets. What he did was very personal and I'm so proud of him for being brave in telling us about the next big chapter in his life ㅠㅠ We wish you all the happiness Chen Congratulations," a Twitter user wrote.
One fan joked about Chen's child joining SM Entertainment's group NCT Dream, tweeting, "chen's baby in nct dream 2033."