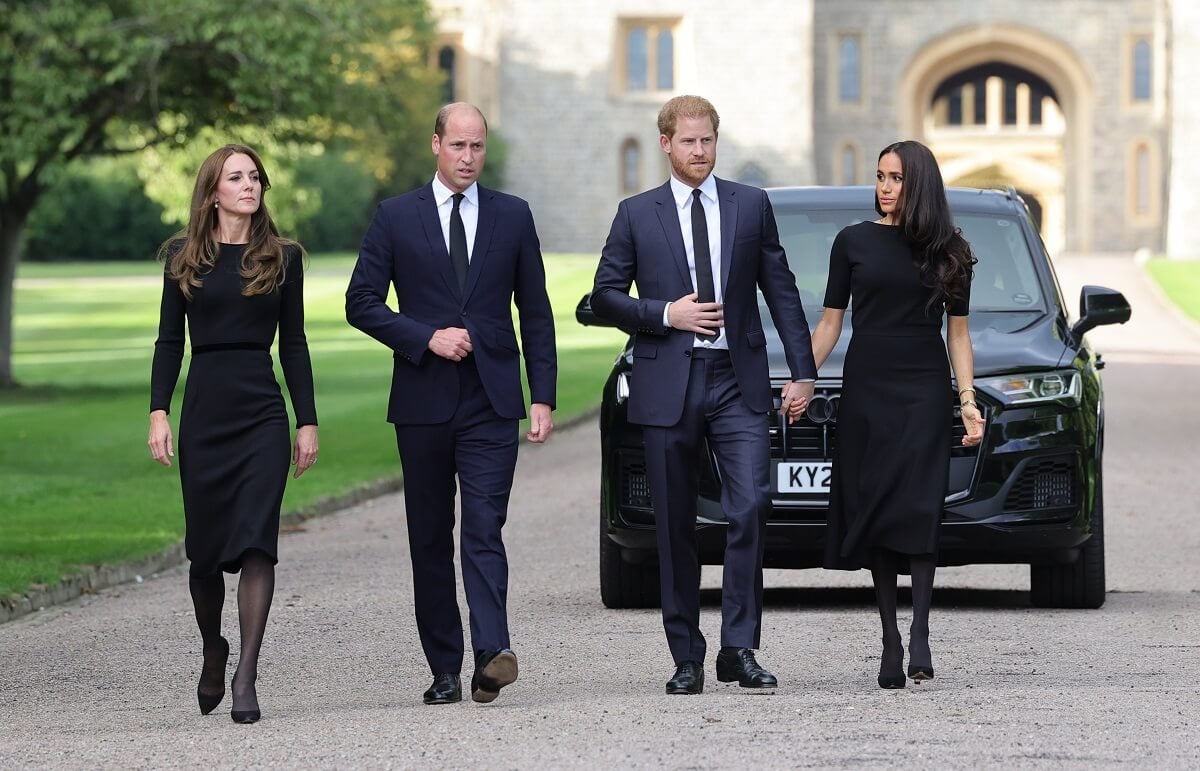 Expert Breaks Down Moment Kate Middleton Let Her True Feelings for Sister-in-Law Meghan Show With 1 'Stormy Gesture'
Here's what a body language expert saw the Princess of Wales do during one of her last appearances with the Duchess of Sussex that showed Kate's true feelings for Meghan.
Royal watchers everywhere were surprised when just days after Queen Elizabeth II's death Prince William, the Princess of Wales (formerly known as Kate Middleton), Prince Harry, and Meghan Markle reunited for a walkabout to thank well-wishers outside Windsor Castle.
The couples knew what was expected of them during their staged appearances and despite their rift, they were tasked with putting on brave faces and acting cordial. To many, they appeared to pull that off. But a body language expert actually noticed something others didn't pick up on as William's wife couldn't completely hide her true feelings for Harry's wife and made a "storming" gesture past the duchess.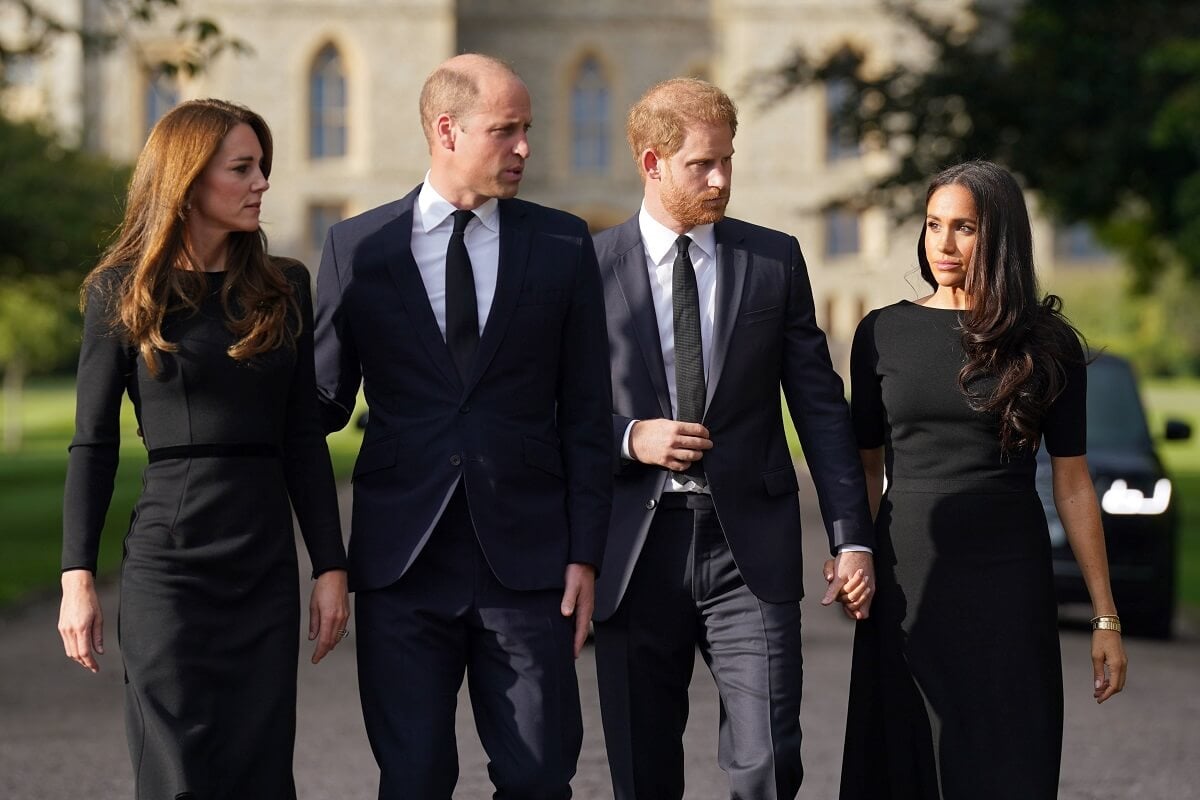 The princess stormed past the duchess when they got out of the car
Body language and behavioral expert Judi James analyzed footage from that September day in 2022 and spoke to The Mirror about what she observed.
"A close analysis of four key body language behaviors suggests it was 40 minutes of gruesome tension from two couples united in grief but irrevocably split apart by anger and resentments," James told the publication. "Kate was clearly, like the others, mourning a beloved grandma and mentor but in many ways, she looked firmer and more resolute than ever before."
The expert continued: "As the car drove up it was clear the two couples had shared the ride. The right-hand doors opened and Harry got out, followed by William. Despite their differences, the brothers kept close together and even stood together to make their greetings. Kate got out the other side with Meghan behind her. Kate's first gesture of intent came as she stormed around the car to join the brothers without as much as a backward glance at Meghan. She was clearly going to make no attempt to play at small talk or unity.
"Meghan went to follow at a distance but held back as though unsure whether to join the others or not. While Kate ignored the Sussexes, it was William who noticed Meghan and extended an arm to invite her to join them. Meghan hung back in the group, and Harry squeezed round behind his brother to get to his wife who was standing nervously tossing her hair."
Kate's gesture fans did notice and how Meghan reacted
One gesture from Kate that fans did notice is when she stepped toward Meghan after the walkabout was over.
Just before the couples got into their car, the two women looked directly at one another. Then in a blink-and-missed-it moment, the princess took a step toward Meghan. The duchess appeared a bit startled and backed away from her sister-in-law before the two of them turned to the crowds again and began smiling and waving. The group then got in their waiting vehicle.
Fans will never know what was said in the car they shared as they drove up the Long Walk. But the Princess of Wales reportedly mentioned to one of her aides that having to do the walkabout with the Sussexes and smile through it all was tough.
In his book titled Our King: Charles III: The Man and the Monarch Revealed, royal biographer and historian Robert Jobson touched on some of the things that went on behind the scenes shortly after the queen died including the impromptu walkabout.
"Catherine later admitted to a senior royal that, such was the ill feeling between the two couples, the joint walkabout was one of the hardest things she'd ever had to do," Jobson wrote per the Daily Mail.
Showbiz Cheat Sheet acknowledges conditions and cultures can impact body language and is sensitive to all backgrounds.