The $275,000 Gift Robert Downey Jr. Bought Chris Evans When Filming on 'Avengers: Endgame' Ended
Robert Downey Jr. gave his Avengers: Endgame costar Chris Evans a $275,000 gift when filming on the record-breaking superhero movie ended. Downey Jr. played Tony Stark, also known as Iron Man, in the Avengers movie franchise for more than a decade. Evans — who joined the cast a few years later — played Steve Rogers, better known as Captain America. 
Downey Jr. and Evans have become friends after having spent a lot of time together on and off the set. In fact, Downey Jr. once called his co-star "our team leader in the Avengers" during an interview. As the Marvel franchise progressed, the Iron Man actor began sharing memes of himself, Evans, and their superhero counterparts on Twitter cementing their bromance status. 
So, when it came time for Avengers: Endgame in which Iron Man died and Captain America went back in time to be with Peggy Carter (Hayley Atwell), Downey Jr. felt it appropriate to give Evans a parting gift–a $275,000 gift to be exact.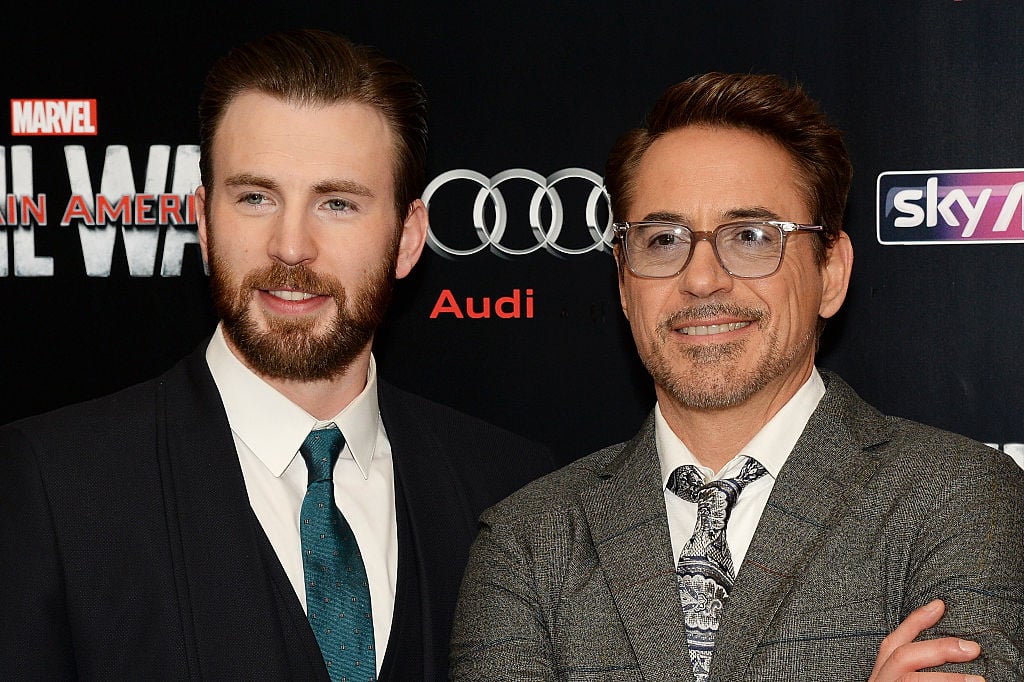 Robert Downey Jr. gifted Chris Evans a Captain America car
What did the Iron Man actor give his co-star? A fully restored and modified 1967 Chevy Camaro RS. When filming on Avengers: Endgame wrapped, Downey Jr. surprised Evans with the Camaro decked out with Captain America touches. 
The superhero's shield is emblazoned on the car's steering wheel and the color which Evans calls "melted army man green" — selected by Downey Jr. — is reminiscent of the character. There's also a plaque that says "Steve Rogers' Special Edition," according to CNBC: Make It.
The car is out of Chris Evans' 'league'
Evans doesn't know much about cars. In a short clip from an episode of Jay Leno's Garage all about Evans' Camaro, the Captain America actor and Leno popped the hood of the car. 
When asked by Jay Leno if the Camaro is the most powerful car he's ever driven, "without question," Evans replied. When they examined the engine, Leno described what he saw. "Might as well be Spanish to me," the actor said.
"This is way out of my league," Evans added, saying the first car he ever had was a 1995 Mazda Protege followed by a Jeep Cherokee. 
He thought Robert Downey Jr. might buy him a car
The Camaro wasn't a complete surprise to Evans when it showed up on set. The 38-year-old actor told Leno that Downey Jr. kept asking him if he liked cars they saw on the street. 
Get more details on the Camaro in the video from Jay Leno's Garage below.
"In my head I'm like, 'Is this guy going to give me a car? There's no way he's going to do this.' And, then, sure enough, I showed up on set one day and it was there," Evans said.
Chris Evans only drives the car in Massachusetts 
In a cover story for the May 2019 issue of Men's Journal, Evans showed the publication his Camaro from Downey Jr. which he only drives in Massachusetts — instead of L.A. because it would be easy to spot by paparazzi.
When he does take the car out for a drive, it draws attention from "old dudes and their old cars" who often ask him to pop the hood. Evans obliges and tells them, "I don't know a f*******  thing about it."