'Extreme Makeover: Home Edition' Is Back To Doing The Impossible, Now On HGTV
It's been about seven years since Extreme Makeover: Home Edition's been on the air. The beloved show that completely renovates the homes of deserving families is back, this time on HGTV.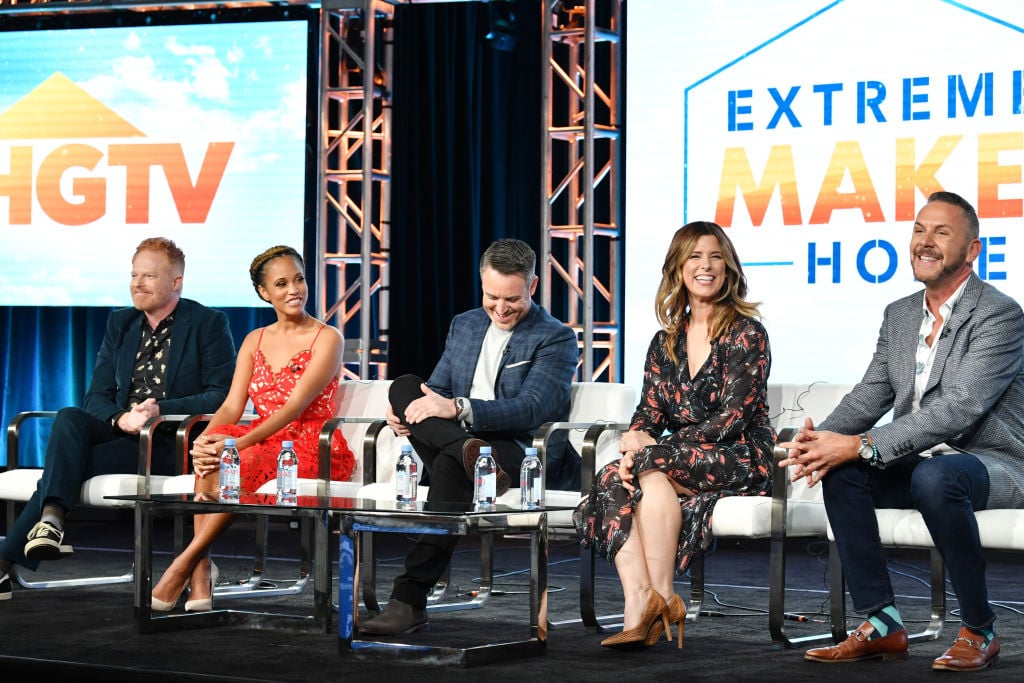 Designer Carrie Locklyn thinks the show's new channel is for the best.
"I believe the show finding a home on HGTV is a way it has kind of changed and reinvented itself. Before, it was a network show on ABC and now that it's on HGTV it's going out to the fans who love home decor and really understand how design can change someone's life," she told Showbiz Cheat Sheet.
The new cast includes host Jesse Tyler Ferguson and designers Darren Keefe and Breegan Jane, along with Locklyn. The season will also features special guests like Anthony Anderson, Derek Hough, Ty Pennington, LeAnn Rimes, OWN's Laila Ali, Food Network's Tyler Florence and HGTV stars David Bromstad, Tamara Day, Tarek El Moussa and Jasmine Roth.
While the show's faces might have changed, the deadline hasn't. The designers and 1,000 volunteers (per episode) are still tasked with rebuilding a home in just five days.
"When we signed up for the show, they said, 'You're not gonna believe it. You're not gonna believe how fast the house goes up.' It's surreal to watch. It truly is magic. You walk away for five minutes, literally, and you walk up and the garage is completely up. It's pretty amazing," Keefe told SCS.
How the 'Extreme Makeover: Home Edition' team builds a house in five days
How exactly does one build a home in five days? With a lot of help, a lot of planning, and a good attitude.
"I've been on job sites where a plumber will have a disagreement with an electrician because they're sharing the same space and none of that happens on the house, which is really kind of amazing because you've got plumbers and electricians and framers and roofers, all these people working simultaneously together and it is a dance. It is a well-choreographed dance," says Keefe.  
Jane says there wasn't a "competitive spirit on set at all." Just a whole lot of collaboration and asking, "Can we make this better?" She says it's easy to agree on design elements (even when the deadline is five days) when you remember what you're doing it all for.
"The best part is the families. That's why you do the show, that's the magic of the show, giving a family a fresh start," says Keefe. It's the best part for the audience, too.
Getting to know the families
Locklyn explained to us the process of how they go about designing homes for the families.
"The cool thing is we know the families before they know they're getting the show. The minute that we knock on their door and they run out, we already know what their favorite subject in school is, what their favorite color is, what their favorite band is… we know so much about them, the design aesthetic. They've filled out like a four-page essay, what it is that they want and their dream. So we really know them on a deep level before they know they're being selected," she said.
The result, thanks to a well-choreographed dance and 2,000 hands, is a perfectly customized home for a deserving family.
"It's all heart, and it's the spirit of America, helping your neighbor, lifting someone else up and helping them move forward. I think that's why the show's so important. Hopefully, people will watch it and be inspired to do that in their own communities," says Keefe.
 Extreme Makeover: Home Edition is premiering February 16 at 9 PM.