Facts About Princess Diana's Ring Now Sported By Kate Middleton
Several weddings among the royal family remain memorable decades later. One of them was the marriage between Prince Charles and Princess Diana. People still talk about the type of dress she wore at the ceremony.
Of course, there is the ring she had worn since her engagement. While Diana is gone, another royal family member has put it to good use. There are plenty of facts about the ring for people to learn about.
Princess Diana chose a sapphire ring after the proposal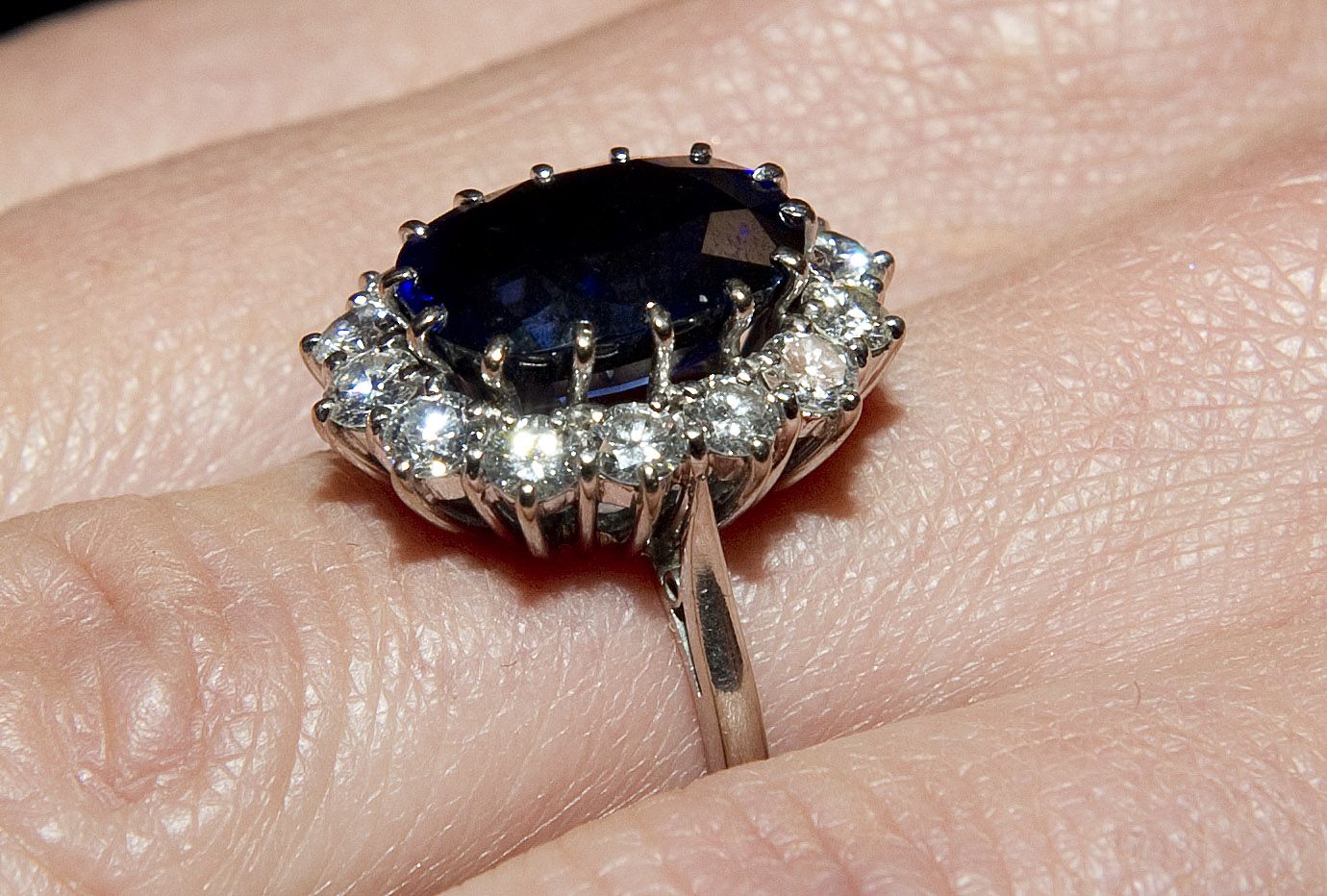 When people think of a wedding proposal, they might imagine someone getting on their knees and presenting a ring. In Diana's case, Charles did not have one to give her. Instead, she had to choose her own engagement ring from a catalog.
According to Marie Claire, Diana picked a ring from a selection from the then crown jeweler Gerrard. Many people found the situation unusual since royals typically go for an heirloom or a custom one. The ring Diana went with was a 12-carat oval Ceylon sapphire, but she altered it slightly after receiving it.
Approximately 14 solitaire diamonds surround the sapphire gem, and they formed a marguerite design. Additionally, the gemstones were in 18-karat white gold. A few people have speculated as to why Diana chose this ring. One theory is because it resembled her mother's engagement ring, but others believe it was because the wedding band matched her eyes.
While Diana selected it from a general catalog, the ring still had some connection to the royal family. Prince Albert once created a broach and gifted it to his wife, Queen Victoria. The broach inspired the design of Diana's engagement ring.
The engagement went to Prince Harry first
Naturally, Diana's engagement ring would become a family heirloom. Prince Harry would be the one to inherit it after her passing. She had wished for him and his older brother to sort through her jewelry to give to their future partners. Harry wanted to own the sapphire ring as a memento.
However, people may have noticed that Catherine, Duchess of Cambridge was the one to finally wear it. Harry passed the engagement ring over to Prince William for his proposal to Kate on a trip to Kenya. The reason was that Harry felt it would seem fitting for her to have it instead.
Harry did not see himself getting married anytime soon, so he did this selfless act. Additionally, William is in line for the throne due to being the eldest sibling. The younger prince felt that it would honor their mother's legacy if the ring sat upon the throne with William and Kate.
Through the ring, Diana would be a part of the excitement of her son's life.
Prince Diana's ring is popular and worth a lot
Not everyone loved Diana's engagement ring when she first got it. After all, it came from a selection that an average person had access to instead of a private royal collection. Still, she did not take the wedding band off even after the divorce.
Years after Diana's death, her engagement ring would remain popular among fans of the royal family. Meghan, Duchess of Sussex got the idea to alter her ring from the late princess. She added diamonds to it before the wedding began. Other engaged couples have wanted a similar style.
Also, Diana's ring would be worth a lot of money to this day. At the time, Charles bought the ring for roughly $38,400. However, its value has increased due to its history as well as inflation.
People estimate the ring's worth to be somewhere between $400,000 and $550,000 today. Someone might consider it to be priceless instead.
RELATED: Here's Why Princess Diana Was Forced to Give Up Her Dream of Being a Dancer