'Falcon and the Winter Soldier': Anthony Mackie Confirms He Is the New Captain America
It's official, Anthony Mackie is the new Captain America in the upcoming series Falcon and the Winter Soldier. Following the conclusion of Cap's (Chris Evans) story in Avengers: Endgame, Mackie just confirmed that he will be taking up the hero's mantle in the upcoming Disney+ series. Evans played the iconic character since 2011, and Mackie just dropped some big hints about what's to come.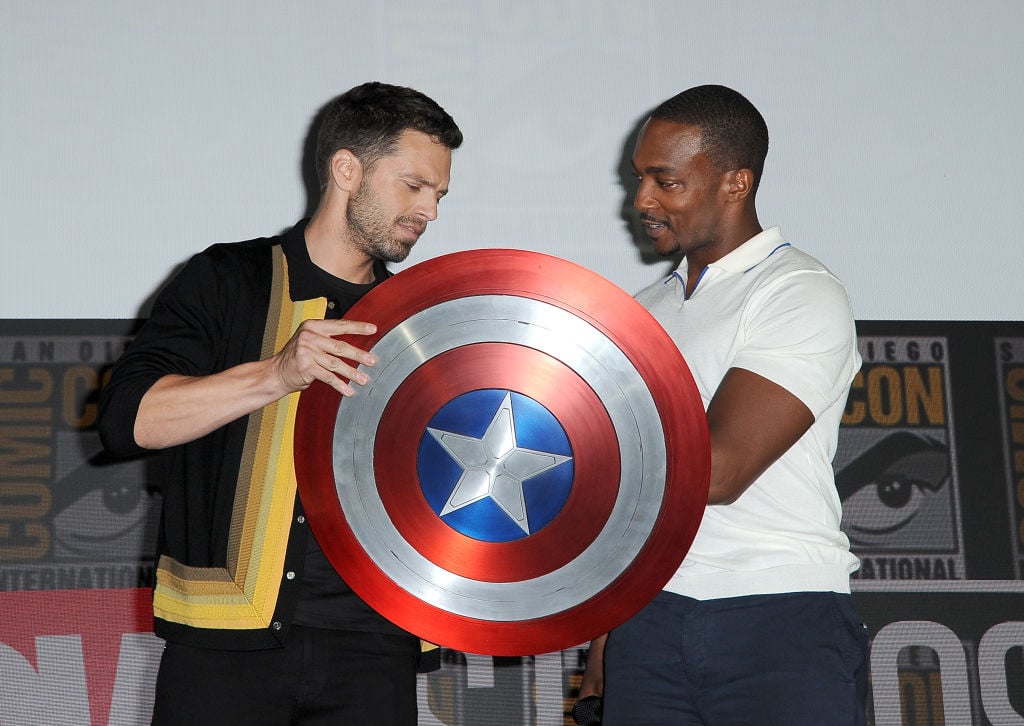 Chris Evans says goodbye to Marvel
Before we move on to Falcon and the Winter Soldier, let's take a look back at Chris Evans' time in the MCU. Evans first appeared as Steve Rogers, a.k.a. Captain America, in the 2011 film, Captain America: The First Avenger. Over the years, the actor has reprised the role for two additional stand-alone films, plus five crossover projects, including the most recent Infinity War Saga.
His story came to a fitting conclusion in Endgame following the defeat of Thanos (Josh Brolin). As fans will recall, Cap was tasked will returning the Infinity Stones at the end of the film in order to prevent a split in time.
But after putting the stones in their correct timelines, Cap decided to stay in the past and live the life he always wanted with his long-lost lover, Peggy. He then reappeared to Sam Wilson (Mackie) and Bucky Barnes (Sebastian Stan) as an old man, giving his shield to Sam to continue his legacy.
The events in Endgame made it clear that Mackie's character, also known as The Falcon, was taking up Cap's mantle moving forward. Marvel has kept a tight lid on what's next for Sam and Bucky, though Mackie recently opened up about what's ahead for the characters in Falcon and The Winter Soldier.
Anthony Mackie confirms he's the new Captain America in 'Falcon and the Winter Soldier'
Mackie opened up about taking on the iconic role in Falcon and the Winter Soldier during the premiere of the new season of Altered Carbon. According to Canoe, Mackie revealed that his main goal is making the character relatable to everyone in the country, regardless of race.
"At this day and age in America, I think we are open-minded to the idea of having my face represent us, as a country," he shared. "And my race represent us as a country because we're truly a melting pot. So, there is no distinctive look or feel or design of an American. We're all Americans."
The actor went on to discuss what's ahead for his character in Falcon and the Winter Soldier. Without giving away too many details, Mackie revealed that fans will dive deeper into Sam's backstory and will learn more about him than ever before, something that was lacking in the Marvel Cinematic Universe.
Mackie also teased that the upcoming Disney+ shows are completely different from the Marvel films. He assured fans that each series is unique and that none of them are origin stories. Instead, they are more akin to "a day in the life" type of stories, which is super exciting.
It is unclear when Mackie will appear as the new Captain America on the big screens, but it definitely sounds like Marvel has big plans for his character.
Mackie opens up about the future of movies
His new role as Captain America in Falcon and the Winter Soldier wasn't the only thing Mackie discussed during the premiere. The actor also took a big shot at Fortune 500 companies and the entire film industry, saying that the future of movies is in the world of streaming services.
"To be frank about it, filmmakers don't work in film anymore," Mackie stated. "If we look at the movies we grew up loving, that we think are the best movies of all time, those movies won't be made now by studios; they'll be made by streaming services."
Mackie believes the shift to streaming services — where fans will be able to watch Falcon and the Winter Soldier — was sparked because people do not like going to movie theaters anymore. Outside of franchises like Marvel, which have massive fan bases already, it is very difficult to attract viewers to the big screens.
In contrast, it is very easy to get people to watch movies in the comfort of their own homes. As an added bonus, streaming giants like Netflix have the budget to finance mid-range projects that most studios won't touch.
"You can't go to a studio and say, 'Give me $20 million, I want to make this small movie,' because they're not going to do it. Either you can make a movie for $2 million or for $100 million. It's the worst business model of all time," Mackie added.
Will Captain America appear outside of 'Falcon and the Winter Soldier'?
While it sounds like Mackie is a little frustrated at where the film industry is going, he is excited about expanding the MCU to the small screens and not just on Falcon and the Winter Soldier.
In that same interview, Mackie revealed that he recently visited the set of WandaVision, starring Elizabeth Olsen and Paul Bettany, and discovered there was actually a shield nearby.
"The funny thing about the shield training is, I feel like everyone has had shield training. I went by WandaVision, and there was a random shield," he revealed. "I was like, everyone's getting shield training now!"
Mackie did not go into any further detail, and his comments have sparked theories that his version of Cap might appear in WandaVision at some point.
Marvel, of course, has not said anything about potential Cap cameos. Until we hear more, fans can watch Mackie take on his new role when Falcon and The Winter Soldier premieres in August of 2020.