'Family Feud': Are Steve Harvey's Jokes Scripted or Improvised?
If you watch the current version of Family Feud, you've likely busted up laughing at the hilarious lines from host Steve Harvey. Harvey has a long history of being funny, so this isn't shocking. But it is a little amazing how regularly Harvey comes up with funny reactions and one-liners. It's left fans wondering: are his jokes on the show scripted or improvised? Let's take a deeper dive and find out.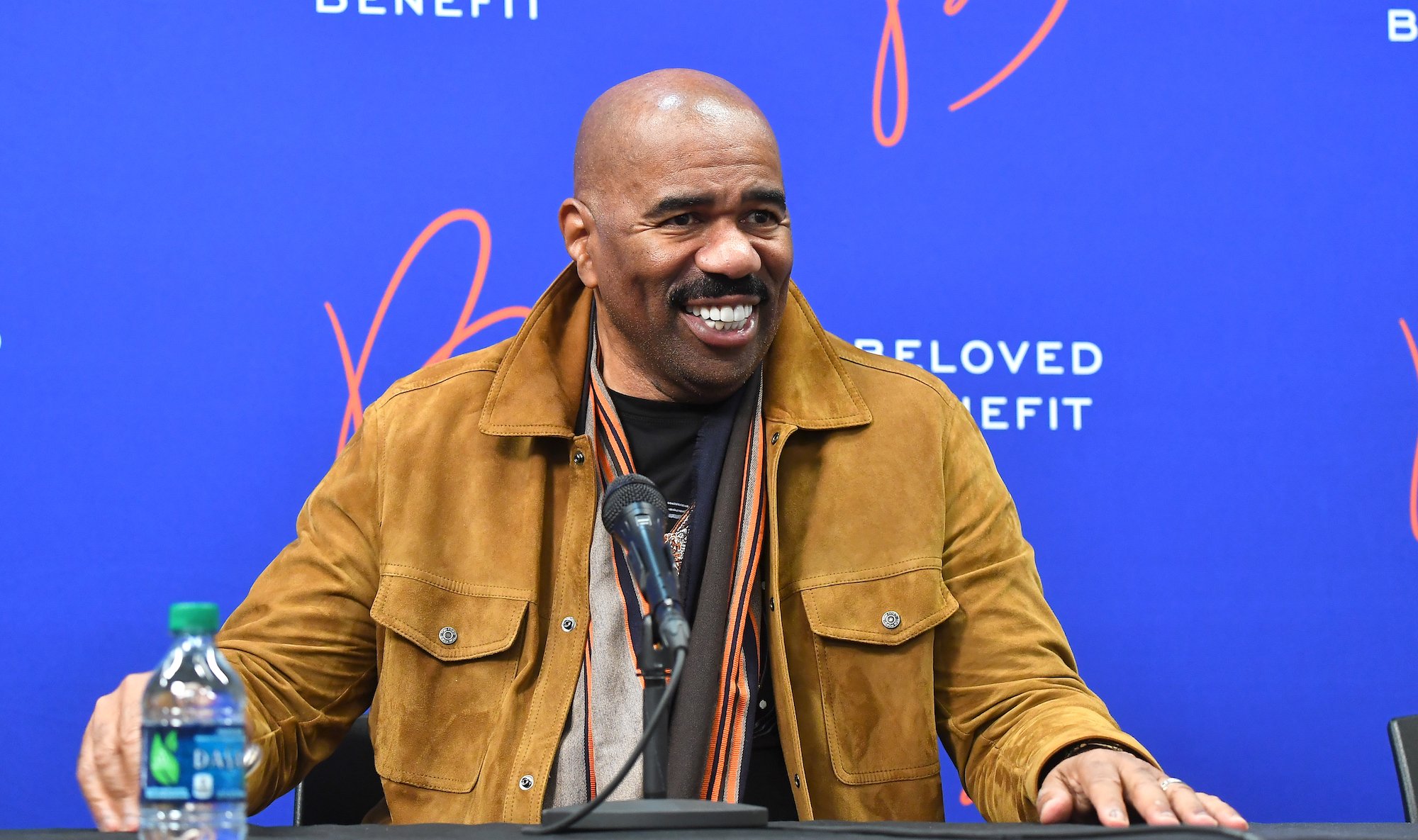 Steve Harvey's career
According to Biography.com, Harvey was born in West Virginia in 1957. He first entered the world of entertainment as a stand-up comedian. His first major gig was as the host of Showtime at the Apollo. He also starred in his own sitcom on the now-defunct WB Network. Harvey's next big break came when famed director Spike Lee included him in his seminal stand-up concert film, The Original Kings of Comedy. He starred in the film alongside DL Hughley, Cedric the Entertainer, and Bernie Mac. The film propelled all four talented comedians into becoming household names. 
Beginning in 2000, Harvey started hosting his own radio show that still runs to this day. He's also an author, using the content from his show to write the book Act Like a Lady, Think Like a Man. The book was so successful it spawned its own movie franchise. He later hosted a couple of daytime talk shows and now has settled into his current role as the host of Family Feud.
How Steve Harvey came to be the host of Family Feud
RELATED: Why 'Family Feud' Had to Move Locations When Steve Harvey Took Over as Host
According to a video posted to Harvey's website, when first approached to host, Harvey said he wasn't interested. He said the reason for this was because he observed how the previous host interacted with the contestants. The story Harvey told (which may or may not be exaggerated for comedic effect) was that the host asked the contestant to name favorite pets. The contestant returned with the inexplicable answer of, "Cow," and the host didn't react at all. Harvey knew he would have reacted differently.
According to Harvey, his approach to the show is to portray himself as a representative of the viewing audience at home: "You know what I'm going to do while I'm hosting this show, I'm going to say what the people watching on their TV set is probably thinking." The producers asked Harvey how he'd handle it, and he responded he'd ask the contestants why they said what they said. He said that because he was a professional comedian, he had to be funny in his role. When he performed in a rehearsal show, the cameramen laughed so hard they had to stop filming to recover.
Family Feud has had many great hosts during its long, illustrious run on TV. It's fair to say that none of those hosts have been as funny as Harvey. But how does he stay so consistently funny for such a long stretch of time?
Are Steve Harvey's jokes on Family Feud scripted or improvised?
Harvey's performances on the show are so hilarious, many fans are left wondering if he has a team of writers assisting him or if it's all made up on the spot. According to one former contestant, it's all Harvey. Cole Simmons, a former Feud contestant, did a Reddit AMA about his time on the show. He said that before playing the actual show, he participated in a rehearsal version with a non-Harvey host. Here's what he had to say about the experience overall as captured by E Online:
"They have a stand-in Steve Harvey (don't remember his name but he was pretty funny) and play a mock game with all of the lights, effects, etc…Everything is completely unscripted. Steve's jokes are made up on-the-fly."
So there you have it: Harvey improvises his performance. For anyone who's ever seen his stand-up or listened to his hit radio show, this should come as no surprise.