'Family Feud' Fans Think They Found The Worst Contestant
America's favorite game show, Family Feud, has been on the air since 1976. The concept of Family Feud is simple. Two families, consisting of five contestants each, compete for cash prizes. Host Richard Dawson brought family fun into the nation's living rooms with his trademark kiss. In 2010, comedian Steve Harvey revived the show, making it one of the top five syndicated television programs.
Harvey rejuvenated Family Feud, replacing the signature kiss with laughter, quick wit, and high energy. In 2016, he met his match coming up against the worst contestant ever to play the game.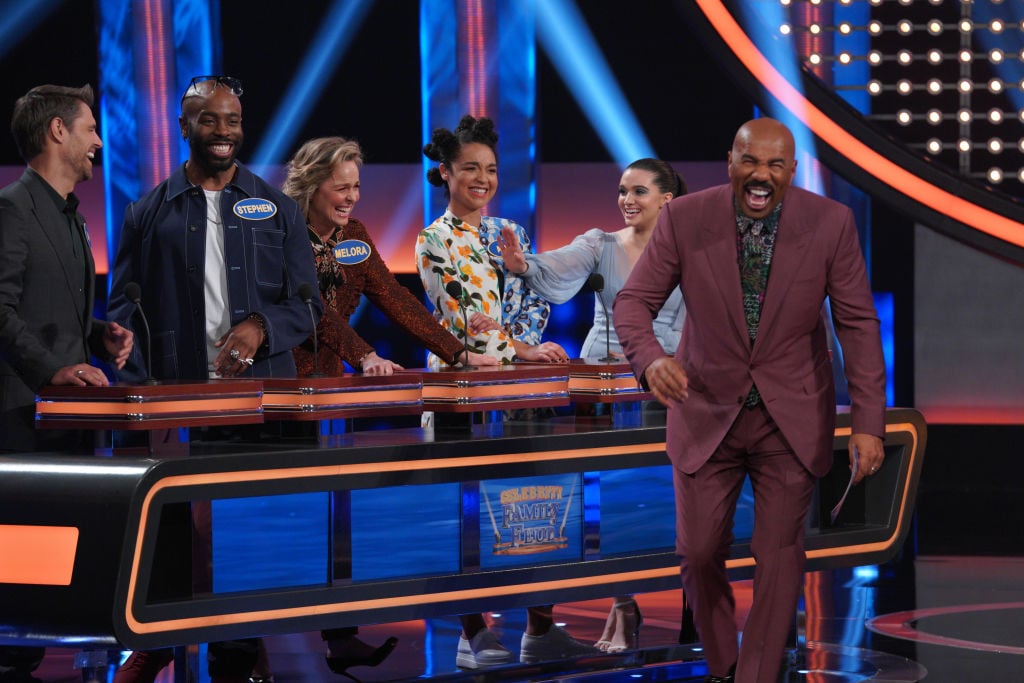 Fans think this contestant was hilariously the worst
Harvey once told late-night host Seth Meyers that the dumbest answer he ever heard was from a player that was asked, "Name a word or phrase that begins with pork." The contestant answered "cupine." That was before Harvey met Sheila Patterson. who repeatedly gave the same answers seemingly thinking they were different words depending on how they were pronounced. This left Harvey wondering if she even knew how to play the game.
The Patterson family got the question, "Tell me another way people say 'mother.'" Patricia successfully named "Mommy" as the number one answer. Yolanda got the first strike with "Nanny" and Cecilia got the second strike with "Nana." The pressure was on for Sheila to avoid the third strike.
Looking perplexed, she answered, "Nana," but pronounced it differently than Cecilia had. Harvey appearing confused, and explained that since it was spelled the same way, it was the same answer as Cecilia's. Patterson, still appearing confused, said, "how 'bout Mommee." Since that was already on the board as the number one answer, Harvey gave her a high five saying, "Y'all think you can take all these words that's the same and just say them different 'cuz you want to."
The guessing continued with a number of the same words being pronounced differently than on the first attempt.
RELATED: Did Lisa Vanderpump Play 'Family Feud' With the 'Vanderpump Rules' Cast?
Related post url: 
Fans couldn't handle Patterson's appearance
Eventually, Patterson tried again with another mispronounced "Nana" and Harvey led the cheering audience in a rousing rendition of "Na na na na, na na na na, hey hey hey goodbye." Patterson clapped along and the third strike buzzer finally sounded, and the Patterson family lost the game.
The Patterson family fail, combined with Harvey's antics, garnered millions of views since it first aired on YouTube in 2016. Social media users loved watching Sheila struggle for the correct answer. Although most found it hilarious how clueless she appeared to be, fans couldn't help but wonder what the last two correct answers were. The famous flub is now included in countless YouTube videos of Family Feud's dumbest answers.
Patterson's response to being the 'worst contestant ever'
Patterson gained huge media attention after the video went viral. She told TMZ she was positive that she was not the worst contestant. Patterson explained to ABC's Good Morning America, "My nerves just got the best of me." When asked by her employer, Barnes-Jewish West County Hospital, about the experience, Patterson told them, "Now it's part of our family history. Nobody's a loser on this show because it's all about family fun and the experience."
When asked by HuffPost Entertainment about his reactions, Harvey replied, "It was like being at a Richard Pryor concert – I had the audience running around in that theater screaming, laughing, man. It was one of the great moments of TV."