'Family Karma': Brian Benni and Monica Vaswani Describe Season 2 as 'Courageous' and 'Vulnerable' (Exclusive)
Monica Vaswani and Brian Benni from Bravo's Family Karma dished about season 2. They shared that viewers will see a vulnerable cast who make some pretty bold moves.
After being "friend-zoned" last season, Benni moves on from pursuing a romance with Vaswani and begins dating Dr. Monica Shah. At the same time, Vaswani also falls for longtime friend, Rish Karam, who has officially joined the Family Karma cast. Both Benni and Vaswani said viewers will see a more open cast this season, which leads to deeper storylines with the same playful humor and fun Family Karma fans love.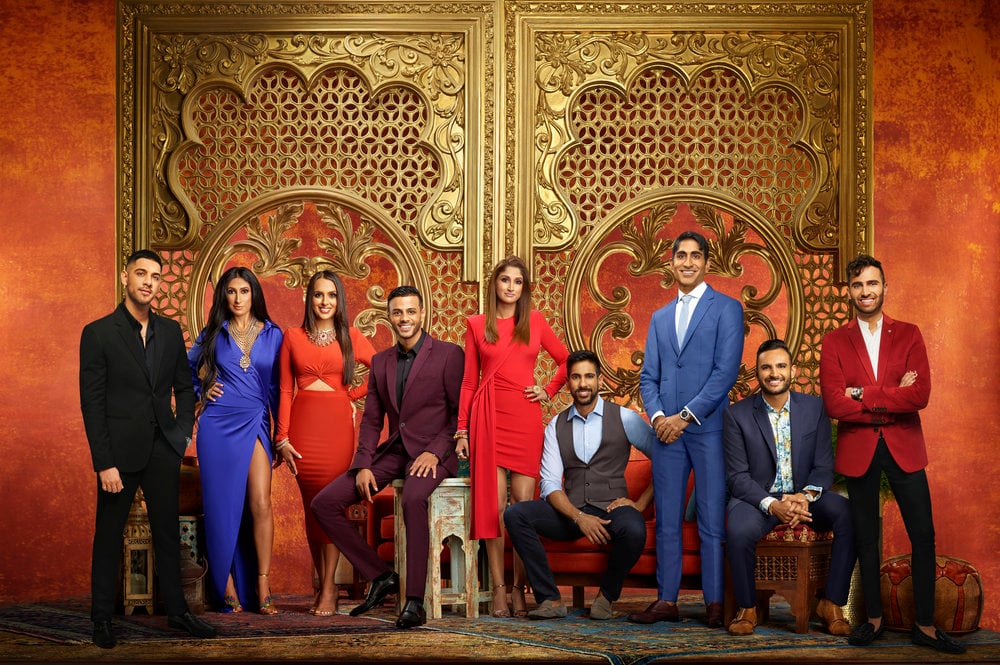 'Family Karma' Season 2 viewers will see a truly authentic cast
Benni said that filming Family Karma Season 2 was similar to what he experienced during season 1, but the cast had a different outlook this time.
"I think it's definitely different from our end as cast members," he told Showbiz Cheat Sheet. "I think season 1, especially first time, you know, we don't know what to expect. Everyone is very guarded and everything like that."
"I think this time around, everyone was just so open and just ready to commit," he said. "And, you know, talk about their personal lives and what's going on and maybe the uncomfortable things that they didn't want to share before. So I think this time, you know, everyone really kind of gave it their all and brought it. And just really was vulnerable. I think is a very all-around vulnerable effort on everyone's part. And I think that just became easier having done it the first time now. And you just get it more. I just see more realness and authenticity with everyone so special.
In a separate interview with Showbiz Cheat Sheet, Vaswani said viewers will see the cast's courage as they open up and share more about themselves this season.
"I will say that this season encompasses a lot of courage," she said. "That's one word I can bring it back to. You're really gonna see us addressing some pretty big issues in our community and with crossing the East with the West. And finding our ground and figuring stuff out and our families. Having hard conversations, you're definitely going to see that full circle. This season really encompasses a lot of courage."
Brian Benni and Monica Vaswani take bold steps into new relationships
Indeed, courage and vulnerability are going to play a big part in both Benni and Vaswani's storylines. Vaswani still lives at home, but Karam has struck out on his own and has his own apartment. She also joked about dating a "younger" man. "[Karam] is actually a childhood friend," Vaswani dished. "We've known each other since we were like nine or 10 years old. Our families have known each other going way back to when my dad was a kid in Hong Kong."
While Karam already had long-term established friendships with the cast, getting used to the cameras and production was new. "I was very curious what it was going to be like with all the cameras around," he said. "You just forget they are even there. They just kind of blend with the walls. So you just do what you can, which allows me to be as natural as possible."
Vaswani said she and Karam always liked each other since they were kids. "But I'm a year and a half older than him," she said. "So I was always like he's too young for me." Karam and Benni are friends, as are Vaswani and Shah, which set the scene for some playful but sometimes awkward moments.
Family Karma Season 2 premieres Wednesday, June 2 at 9 p.m. ET on Bravo. The cast is holding a virtual red carpet to kick off the new season, with proceeds going to World Central Kitchen to benefit COVID-19 relief in India.